Flu, colds, and sore throat aside, this chilly weather and the food it brings is L-O-V-E. I just adore this wintry weather. I hope, we have this kind of weather all year round so I could wear my cardigans and put layers on my wintry fashion more often. The crisp thin air of the morning also means snuggling and cuddling close to our love under the warmth of our big blanket after the long and blissful sleeping hours... a cup of coffee or steaming hot chocolate in bed on lazy mornings... a good time of year to stay indoors... or maybe outdoors, to do chores without getting sweat. Above all, it's about warm dishes and big elaborate meals (and delicious leftovers) are what I liked most.

Feeling feverish, I woke up late last Saturday, so I thought of simmering chicken soup. When I opened my grocery box to gather ingredients, the neglected Balinsasayaw (edible-nest swiftlet) wrapped in a small plastic bag caught my attention. So I decided to cook Balinsasayaw / Nido Vegetable Chicken Soup instead. I bought it in Coron last year when I travelled solo for a short vacation to see Kayangan Lake. I came accross a Tagbanua native inhabiting in one of the islands selling the rare ingredient at a very cheap price.
Balinsasayaw or edible bird's nest, regarded as the "Caviar of the East", is a highly-priced delicacy in Asian cuisine. According to World Wildlife Fund, a kilogram of the processed (first class) white nest can cost as much as US$3,000 to $4,000 per kilo. Tagbanua natives inhabiting the protected area harvest the edible-nest Swiftlet made of swiftlet saliva. Believe it or not, the nest is the solidified saliva of the edible nest swiflet locally called "Balinsasayaw".

A bit of history about the consumption of Balinsasayaw can be traced back to China nearly 1,500 years ago during the Tang Dynasty period (A.D. 618-907). It is believed that during that era, only the family of the Emperor and his court officials has the privilege of consuming the highly priced bird's nest. Balinsasayaw soup, often times called "The Emperor's Soup" or "Longevity Soup" have high levels of calcium, iron, potassium, and magnesium. It is claimed, according to Chinese medical tradition, to provide health benefits such as; improving the voice, easing digestion, cure asthma and other respiratory ailments such as bronchitis and sinusitis. Consuming this very rare delicacy prevents colds and strengthens the immune system as well. It's an aphrodisiac, which makes them a much sought-after property. According to National Geographic, however, analysis of bird-nest soup, has not revealed any special medicinal value.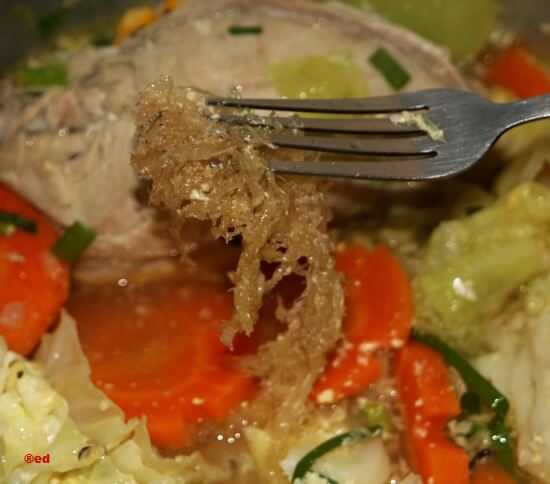 Balinsasayaw's texture when cooked was kinda gummy, sort of sotanghon noodles (bean thread noodles) aka cellophane noodles. I should've soaked the bird's nest in cold water overnight before cooking but I didn't know. It's tasted plain so I mixed it with chicken, spices, vegetables and other flavors. Fortunately, it didn't take too long to make this soup.
Here's the complete list of ingredients;
15-18 grams Balinsasayaw / Nido / Edible bird's nest
2 tablespoon cooking oil
4 cloves garlic, minced
1 medium red onion, chopped
2 eggs
1 medium cabbage
2 medium carrots, chopped
2 medium chayote, chopped
2 medium chicken breast
2 knorr chicken cubes
1/2 cup sweet corn kernels
5 cups chicken stock
Green spring onions, chopped
Ground black pepper to taste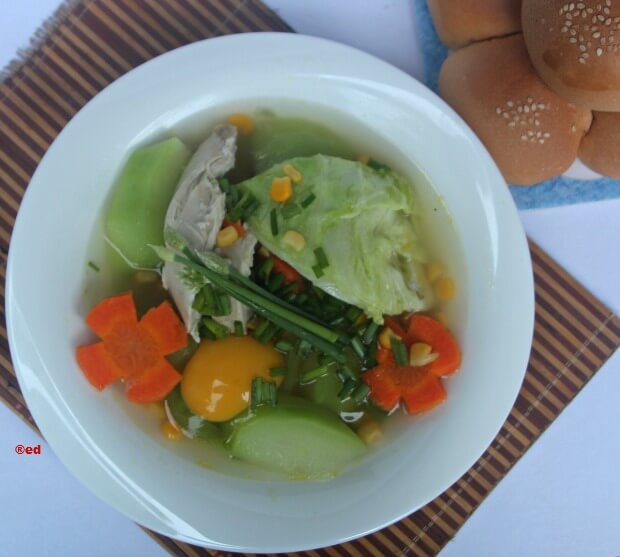 In a stock pot, boil the chicken breast in 5 cups of water for 30 minutes to produce a homemade chicken broth. Separate and disassemble the chicken: Pull as much meat off of the chicken bones that you can, set aside. Throw away all of the bones and large pieces of fat.
While the chicken breasts are in the pot, heat the cooking oil over medium high heat in a wok. Add the mirepoix and sauté for about 4 minutes, until the onion has softened.
After the onion has softened, add the chicken stock, Balinsasayaw, black pepper, garlic and 2 knorr chicken cubes. Bring back to a simmer over medium heat and simmer for 5-6 minutes.
Add in the chicken meat and eggs. Stir and simmer for about 10 minutes until a light foam forms. Skim this foam with a spoon.
Have a taste and add salt or pepper to your liking. Pour in a bowl and sprinkle with spring onions.
Serve hot with Boling bread.
Recipe Notes: Add evaporated milk if you want a creamy soup.