Wow! it has been long hiatus, do you miss me? I hope you do!
So, the long wait for my next post has ended (like somebody care) and I plan to revive this blog again after settling here in El Nido, Palawan. Yes, I finally decided to give-in to my desire and found an exciting yet challenging job here (will share more on my next posts). A job where I don't need a vacation from. I mean, with this view while I write this blog post, why can't I say no to destiny's offer?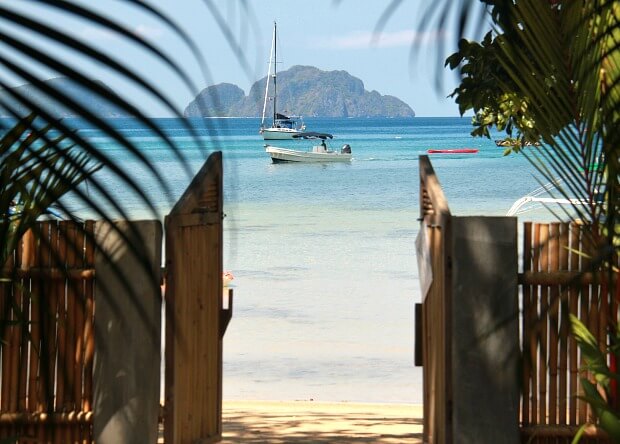 Why I resigned after 8 years in the Big Blue, IBM, was of course my personal choice. I wasn't forced nor did something wrong against the company. I am proud that in this lifetime, I had a chance to work in the world's most admire, consistent top ten Fortune 500 company. Resignation has been my decision after careful consideration of my finances and the longer than regular hours I spent working with almost nothing in return. I feel undervalued after receiving excellent performance evaluations for years, exceeding all targets and given more work to do with very little pay rise. I no longer feel that I am making a contribution and an impact to the organization. Worthless, I gotta go.
Sounds like cliche but I am very grateful to the people I met along the way, for sure, I learned something in every bitch and queens my path came across with. Working in globally competitive company is not easy; office politics, peer competition, process challenges, etc - made me a tougher and wise person I am today, and all those collective experiences I've encountered, technical, moral, professional and even personal paved way for me to be ready to face another season.
Speaking of season, cashew nut season has just ended here in Palawan and we have a lot of fried and roasted cashew nut supply from friends and relatives. So I made a recipe with lots of cashew nuts to welcome you all to my blog site again. Enjoy!
Ingredients
2 tablespoons sesame oil
1 tablespoon vegetable oil
1 tbsp. garlic, crushed and chopped (I used about 5 cloves)
1/2 cup yellow onions, sliced into wedges (I used 1 small onion)
A handful of roasted cashew nuts, unsalted
500 grams boneless chicken, cut into bite sized pieces
100 grams Broccoli
100 grams Snow Peas
Salt and pepper to taste
Ginisa Mix
2 tbsp. Datu Puti soy sauce
2 tbsp. Oyster Sauce
Add hot chili peppers if you want it hot and spicy!
Sesame seeds for garnish
Procedure
1) Marinate chicken into oyster sauce and soy sauce for 15 minutes. Ready your vegetables while marinating.
2) Add about 1 tbsp. vegetable oil to your wok or frying pan and wait for it to heat up. Then toss in your garlic stir fry for about 10 seconds, and then add in the onions. Stir fry for a few seconds until the onions become translucent.
3) Add the marinated chicken including the sauce, stir-fry for about 10 minutes or until meat is cooked.
4) Add the fresh greens Broccoli and snow peas and sprinkle with sesame oil. Add in a few sprinkles of water if your wok is getting dry, but don't add too much water. You may also want to add little sugar to have a sweet taste.
5) Grab your Ginisa Mix seasoning, salt and pepper and add it to the wok. Keep stir frying and you'll see that the sauce quickly begins to thicken and get sticky from the oyster sauce and dark sweet soy sauce.
6) Finally, add a handful of unsalted roasted cashew nuts and gently stir fry, making sure all the sauce evenly coats all ingredients.
7) Garnish with sesame seeds, sprinkle it on top. Serve on top of steaming rice bowl!
Enjoy!