Destination: Nagkaalit-kalit Falls
Barangay Pasadeña, El Nido, Palawan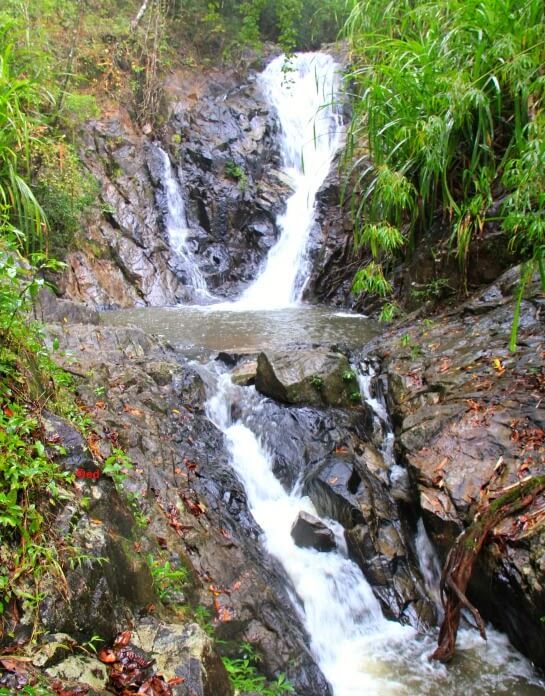 In a shrinking world where the beautiful Municipality of El Nido receives hundreds if not thousands of visitors a day this summer, the Nagkaalit-kalit Falls remains less-visited and a semi-secret attraction in the UNESCO's managed resource protected town filled with hidden caves, limestone cliffs, colorful coral reefs, crystal clear sand beaches, blue lagoons and incredibly friendly locals. Seeing it won't earn you a plus star of "has been" but you really can claim to be a globetrotter extraordinaire.
The last time Rome and Trixie went here, all island tours were cancelled because of Tropical Storm Kajiki (Typhoon Basyang) hitting the municipality. With nothing to do, they decided to trek to the falls. Trekking to Nagkalit-kalit Falls is one of the alternative inland tours in El Nido whenever weather and maritime services issue gale warnings.
Swizz tourist Daniel and his Filipina girlfriend Jazmine who were also trapped at Cliff Tower Apartelle joined them in an attempt to paint the gloomy day full of colors. Rome's cousin and owner of the apartelle , Mabel, arranged for the trip at Php 350 per pax including a visit to an inland beach.
They left the apartel after lunch, bought snacks and water from the town proper and off they went to Nagkalit-kalit Waterfalls via tricycle. It was raining non-stop on the drive from the apartel through the expanse of verdant jungle of managed resource protected area town. The road to Nagkalit-kalit Falls was bumpy and muddy 20 minutes tryke ride. One gust of wind and they were drenched in the spray. Still, it was fun accompanied by screams and laughers. Plus, they were treated to wonderful sceneries of tropical rain forest and farmlands as they passed through billowing clouds and mists almost covering the distant tropical forest. "El Nido has some jungle with untouched rainforests, vast mountain ranges and not just limestone-surrounded lagoons and long stretch of beaches", Rome said.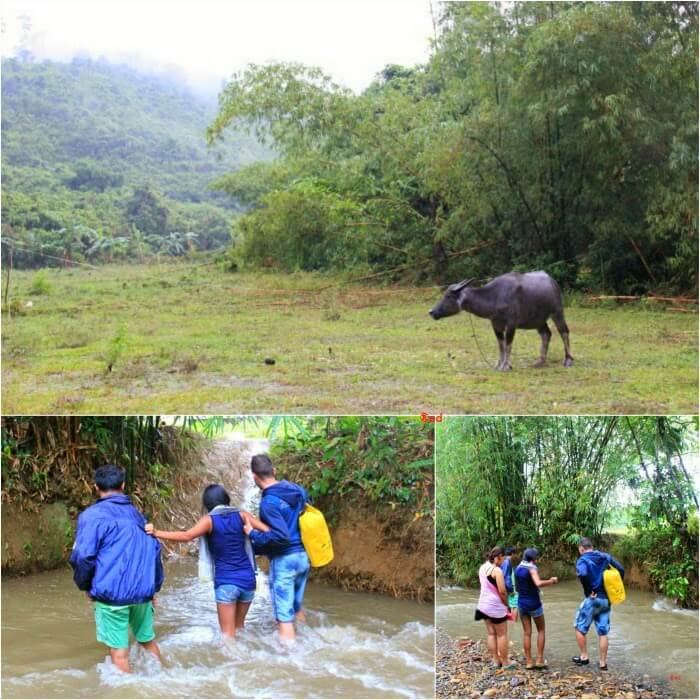 Warning: This little adventure is not for the faint-hearted: the walks cover rocky and muddy (on rainy days) terrain, steep climb and crossing a total of 7 rivers and streams for thirty to forty-five minutes to reach the falls. You need to be physically and mentally prepared to climb carrying your belongings in a rucksack in trying circumstances. It can be tough, slippery and involve some scrambling, so prepare to get your hands dirty and your muscles stretched.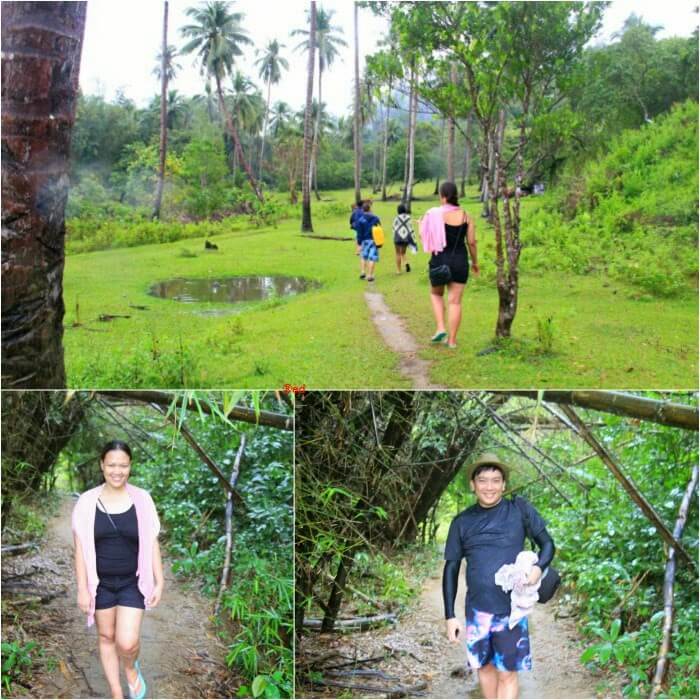 They pass through some rice fields, then winding jungle trails and the challenging slippery trail. At first, they hear a dull and distant rumble of Nagkalit-kalit Falls announcing itself before they see it. As they walked through the dense rain forest that surrounds and protects the falling water the rumble becomes an ever growing thunder....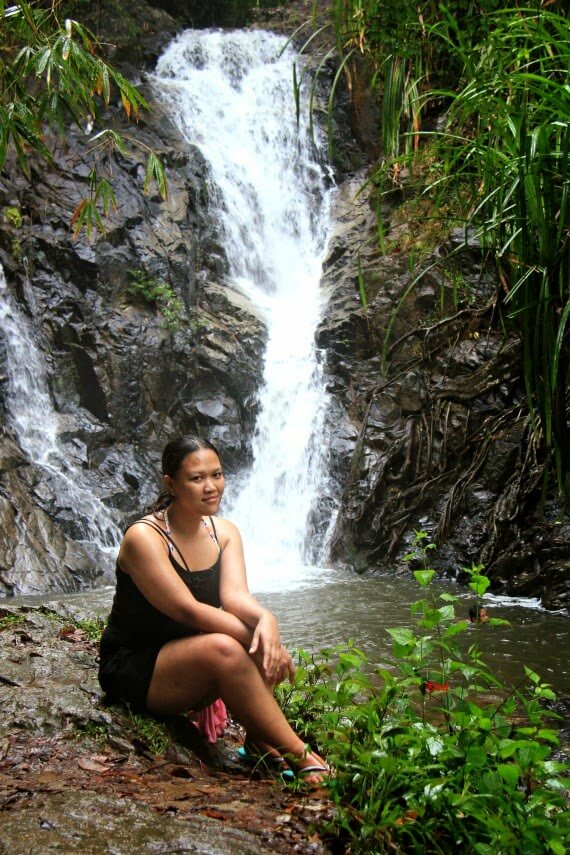 More walks and there it is! A small and humble waterfalls that is about 10 meters high. Not as majestic and just a raindrop as the others he have seen. David tried to dive from a rock and swim through the cold water. They stayed for almost 30 minutes watching the cascading waters while eating their snacks and photo shooting.
For Rome, their adventure to Nagkaalit-kalit Falls was refreshing enough but didn't seem remarkable. The limestone-surrounded lagoons and long stretch of beach beauties in El Nido live up to their legend... and that's where I bring you on my next blog posts.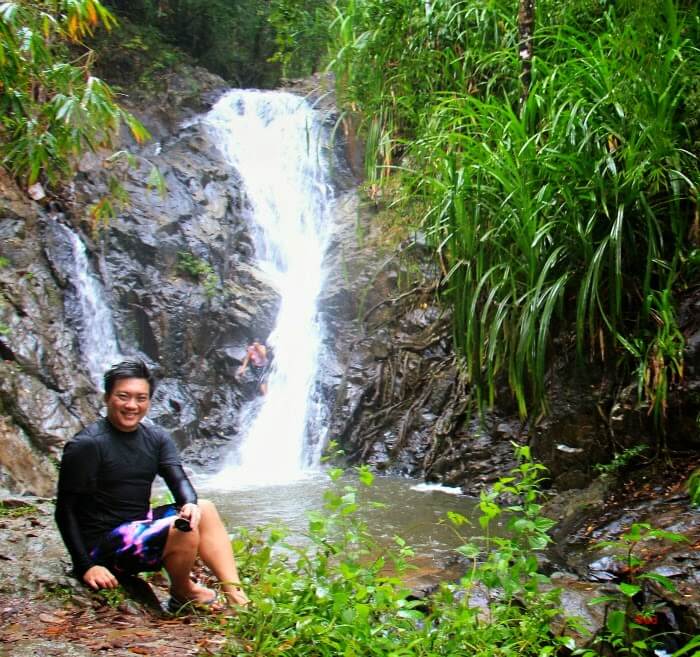 Note: The lack of rain during hot summer days and the effects of changing climate have been known to dry up the river that supplies water to the waterfall. Better check a local tour guide before signing in for a trek.