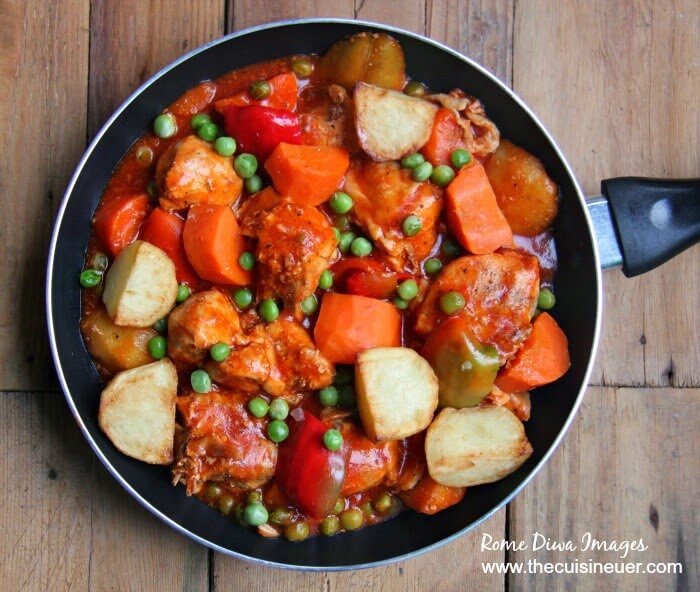 So, before The Cuisineuer go on a holiday break. I'd like to serve you the dish that lighted-up the colors of the holiday season - Chicken Afritada.
Chicken Afritada, a colonial legacy from Spain or should I say Spanish-influenced stew, is a tomato-based dish . I love tomato based dishes, who doesnt?
Menudo, Mechado, Caldereta, Pochero, and Asado are some of the few delectable Filipino dishes based in tomatoes sauce and I love them all since I was a kid. We have Chicken Afritada once every two weeks at home, substituted by the other tomato-based dishes in between days, made some tricks and tweaks until finally achieved my perfect Filipino-Spanish classic.
Every Pinoy, I guess, grew up with this dish on their table. We have it on every special occassions; birthdays, anniversaries, fiestas, and holidays. Except of course on New Year's menu. Its bad luck if you gonna have chicken dish on your table on the eve of the New Year according to Filipino "pamahiin" or superstition. Skip this dish on December 31 and try it today!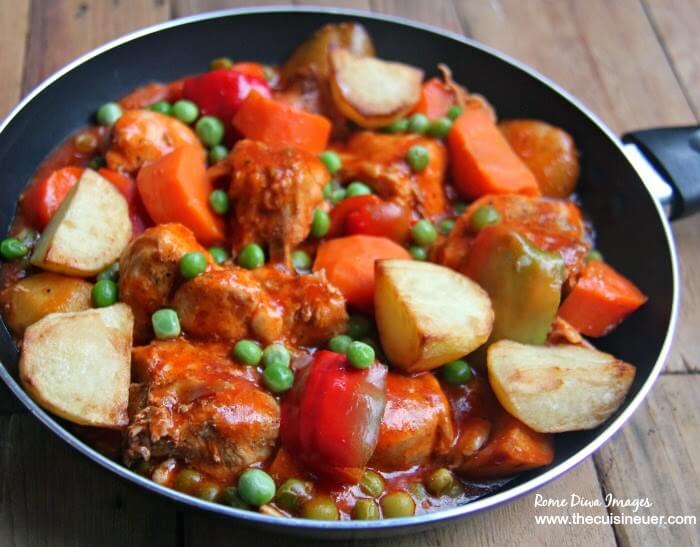 Prep up! Here are the Ingredients:
1 1/2 lbs chicken, cut into desired serving size
2 medium potato, peeled and quartered
1 large carrot, peeled and cut into 1-inch thick wedges
1 medium red bell pepper, seeded and sliced into 1 inch thick strips
1 medium green pepper, seeded and sliced into 1 inch thick strips
1 medium onion, sliced thinly
5 cloves garlic, minced
1 cup frozen green peas, thawed
500g Clara Ole tomato sauce
1 cup water
Salt and pepper to taste
3 tbsp cooking oil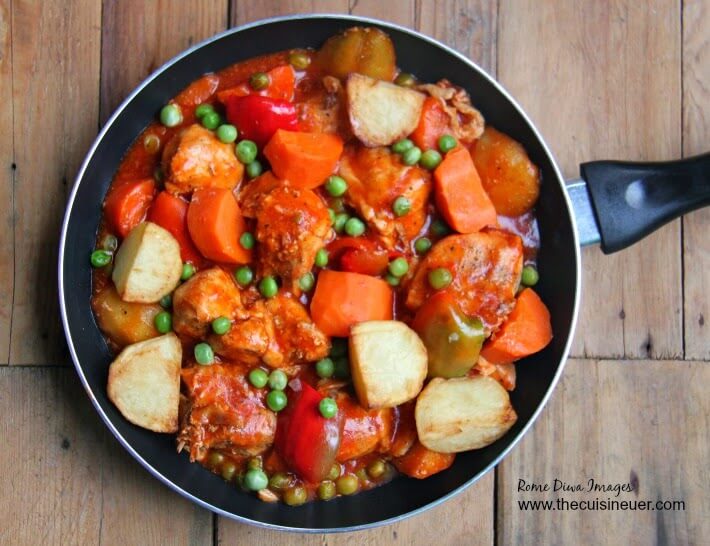 Fry potatoes and carrots in a wok over medium heat until light brown on both sides. Remove from pan and drain on paper towels.
Into the same wok, add onions and garlic, stir regularly until aroma fill the air. sauté the chicken in it, cook for about 15-20 minutes.
Add Clara Ole tomato sauce, water and bring to a boil. Lower heat, cover and cook for about 30 to 40 minutes more or until chicken is cooked. Add more water if necessary.
Add bell pepper and green peas cook for about 3 minutes.Cook for 1 to 2 minutes or until sweet peas are heated through and bell peppers are tender yet crisp.
Add potatoes and carrots and continue to cook for about 5 minutes or until fork tender and sauce is thickened and reduced.
Season with salt and pepper to taste. Serve with rice. Enjoy!
Happy 2015 up ahead everyone!