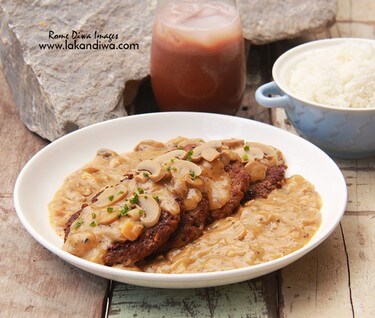 Hello everyone, happy Easter Sunday!
May the day of resurrection give us all hope, love, and peace from any worries, hatred, and uncertainties as we are facing the big crisis of coronavirus pandemic that has forced us to alter our routines and we are all stuck in quarantine.
How do you cope up? I'm sure there are so many ways, from watching Money Heist TV series and accepting TikTok challenges to reading books, cooking, and actively engaging in any online activities. Whatever it is that you are involved-in, while on self-isolation, I wish you are happy and respectful to everyone's choice of keeping their sanity. For Catholics, I hope you were able to take time to reflect and observe the holy week while maintaining social distance to everyone else.
As for myself, to take the edge off during this very difficult time for a calmer and efficient me, I've decided to make my time to be more productive by reviving this blog and taking advantage of time to learn Photoshop online and stay away from reading provocative comments on my social media platforms while trying to control any urge to be involved in any arguments by which I have tremendously failed days ago, lol!
So, here's the first batch of images taken earlier today using my old, phased-out DSLR camera and edited from Adobe Photoshop CS6. I'm trying to fine-tune the best quality of pictures for my blog and I'm just learning the basics so forgive the over exposures and inappropriate watermark placements. It will be improved along the way, promise!
This dish is one of my favorites made easy, lifted and altered a bit from my favorite food blog,
The Peach Kitchen
.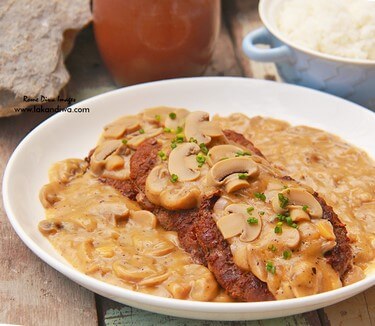 Ingredients
4 pieces of prepared beef burgers I bought from Tuko Restaurant before the lockdown
¼ stick of butter for frying
Mushroom Sauce
¼ stick of butter
3 clove garlic, minced
1 small onion, chopped
1 knorr chicken cube
2 tbsp flour
2-3 cups of water
½ cup sliced button mushrooms,(I used canned mushroom)
Salt and pepper to taste
To Serve
Steamed Rice
Directions
Heat butter in a non-stick skillet until dissolved and fry thawed burger patties until cooked. Place in a plate and set aside.
Using the same pan, put more butter in low heat. Add garlic and onions until onions becomes translucent. Then add the chicken cubes and dissolve.
Add the mushroom. Simmer for 4 minutes.
Add the flour, mix well until it forms a roux.
Pour in water and whisk until free of lumps. Add more water if sauce is too thick.
Season with salt and pepper to taste.
Put the patties back in the pan with the sauce. Cook it a little bit with the sauce for tastier burger patties.
Serve on top of steamed rice or mashed potato.