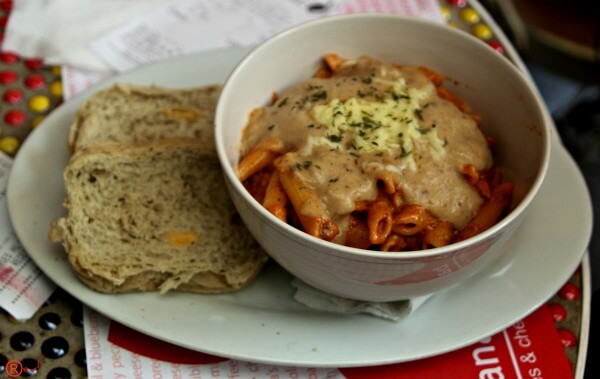 Baked Creamy Cheese Penne, Php 185.00 ($ 4.23)
The corps d'elite of IBM Global Process Services, "The Canadians", went to the Ayala Triangle Gardens for our traditional Saturday brunch. Highly anticipated since Wednesday last week, we agreed to review a friendly bakery cafe that serves freshly-baked pies, cheesecakes and desserts, as well as delectable food and coffee, Banapple. As per Banapple's facebook page, its name came from their two best sellers Banoffee Pie, and Apple Caramel Crumble.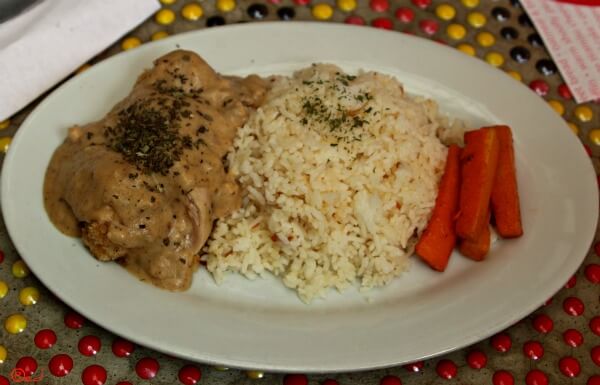 Herbed Chicken Rolls with Basil Cream Sauce, PhP 185.00 ($ 4.23)
We arrived around 8 - 8:30 AM and have to wait in line just to order because the restaurant was crowded, could be a testament of good eats, I thought. The place can only accommodate a few people inside and the al fresco area didn't help much in accommodating the number of customers coming in. So, I wont recommend to eat there especially during those times. The good thing is that the crew are very courteous, attentive and fast, they put us on waitlist when we arrived. We waited for another 30 minutes to get a table for three. Once seated, we have to order our food in the counter like fast food and minutes later our food were served fresh.
Hickory Smoked Barbecued Country Ribs, PhP 185.00 ($ 4.23)
We already decided what to order days before, I chose Herbed Chicken Rolls with Basil Cream Sauce, herb crusted chicken breast, stuffed with cheese and ham strips, and smothered with their rich basil white sauce; served with glazed carrots. Gemma had Hickory Smoked Barbecued Country Ribs, extra tender country ribs grilled in hickory smoke, glazed with their homemade hickory barbecue sauce, served with corn relish and seasoned garlic rice. Nath tried Baked Creamy Cheese Penne, a luscious white cheese sauce and meaty tomato sauce, with al dente penne pasta and sauteed Hungarian sausage, served with pesto bread. We had a Blueberry Cheesecake for dessert. Their servings are for sharing, they really have big servings for the dishes. Plus, it was presented according to its value.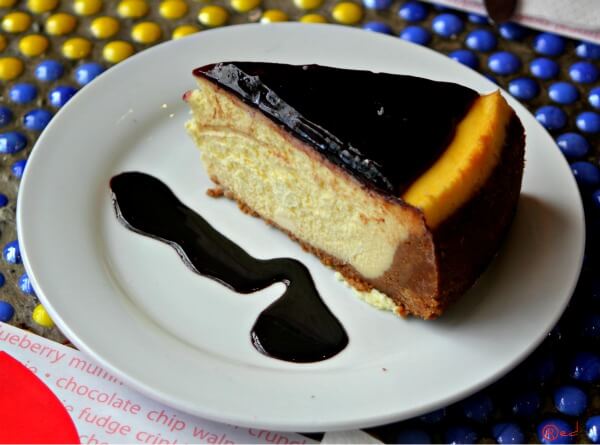 Blueberry Cheesecake Slice, Php 100.00 ($ 2.29)
So, here's our ratings;
Ambiance :

4
Service :

5
Cost/Prices :

4
The project's criteria are; Food Quality, Ambiance, Service, and Cost/Prices, where Five (5) indicates "Exceptional Experience", Four (4) indicates a place "worth a comeback", three (3) means "a casual place to eat", two (2) means "acceptable", and one (1)) means "poor".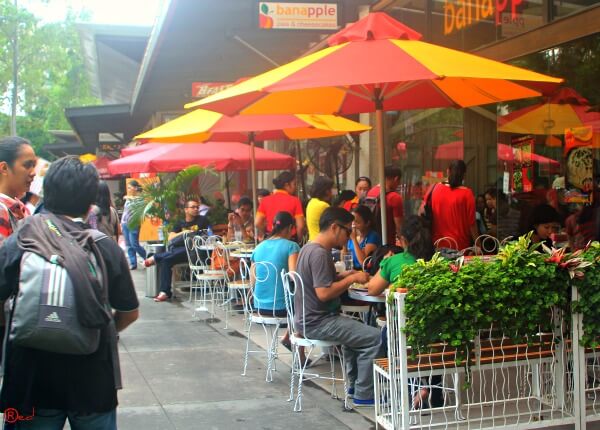 photo taken from where I stood while waiting in line.
The dishes that we tried were above average and the prices were reasonable. Our only complain is the long wait. I hope they would open as early as 6:00 AM and/or a 24 hours delivery service. Regardless, Banapple is definitely worth a come back.
Please note that we are non-professional critiques and we are just doing this for fun. We hope that our non-expert reviews help you decide where to dine-in if you happen to check out the restaurants in Ayala Triangle Gardens.
Banapple
Ayala Triangle Gardens
Ayala Ave, Ayala Triangle
Makati
(02) 756-2675