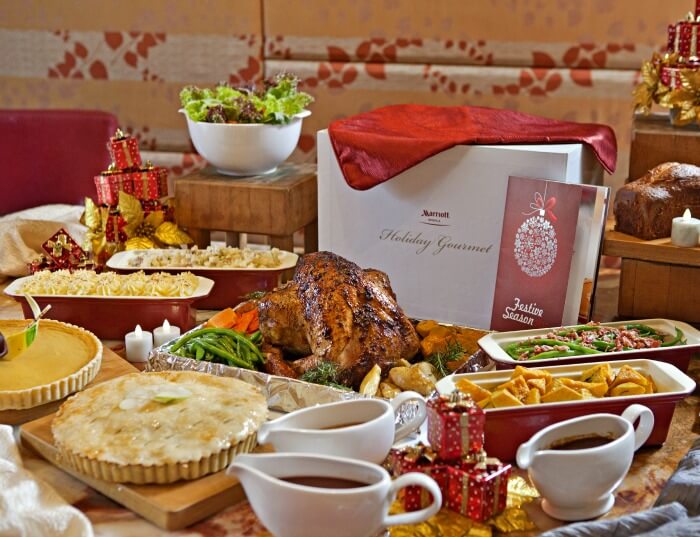 Happy holidays, everyone!
So, in the midst of all the rush, have you decided what would be the perfect centerpiece on your holiday tables? Let me guess, of all the reunions, last minute shopping, and lined-up parties, you can't find time anymore to make centerpieces for the upcoming noche buena and media noche, or worse, you haven't planned yet what would be your holiday dishes on the coming occasions.
You better not cry and better not pout, coz' I'm telling you how are we going to celebrate a fuss-free yuletide season. Read: You and me will leave the time-consuming kitchen job to Marriott Manila's executive chef Meik Brammer. He will be preparing a perfectly roasted turkey for us that can satisfy a family of ten. There's nothing petite about this hunk of meat, from the good bones that give it stature to the perfectly marbled flesh and skin in the steer laden with giblet gravy. For only P7, 500 net let's bring home this package that can satisfy our family and guests, absolutely fuss-free! This classic centerpiece includes accompaniments - from the freshest lettuce salad with Italian dressing, potato salad, buttered mashed potato, sautéed green bean bacon, and baked pumpkin. Place these on white tableware and
voilà, you have a perfect holiday set-up that you and your family will definitely enjoy.
While these fixins already provide the robust flavors, the two loaves of fresh-from-the-oven corn bread is an equally marvelous pair--no one at the table will miss it with the turkey for sure! Since its executive chef Meik Brammer's great hope that this package leaves anyone happier, save room for some apple and pumpkin pies. Oven baked and stuffed nothing but the goodness of all-natural fillings, its gentle sweetness and homemade charm make them a perfect foil for the Christmas feast.
Please call to order and allow 48 hours before pick up at the Java+. To know more about Marriott Manila festive season offerings, call 988-9980.