I don't know when I'll be coming back home. So I dream everything about that moment.......
I don't wanna wake up on this dream of snorkeling in Honda Bay islands' reef or aNother rare opportunity at Crocodile Farm and Nature Parkto see crocodiles at every stage of their development, basking in the sun, swimming in the pools or just watching your every move. Cruising along the stretch of Underground River, a beautiful lagoon teeming with fish marks outside of the river's mouth and entrance to a pitch dark world beneath the rugged limestone and marble cliffs. Taking a dip in the natural pool Balsahan River, a clean water from mountain springs and the unspoilt natural beauty you cannot help but admire.
Reminiscing the sisig and the exotic tamilok at
Kinabutch
. Chowlong and french bread at
Vietnamese Village
after a drinking session. Sumptuous dinner at
Ka Lui
or savoring fresh seafoods at
Badjao Seafront
After a long stroll in the Capitol, Medoza Park and Puerto Princesa Wharf. The rhythms of
Bulyaw Mariguen
and the art of
Sinika
. The romantic piano bar of
Hotel Fleuris. Breakfast at Bakers Hill After watching sunrise at Mitra's Ranch. I won't forget ate Ellen's (of Ellen's travel) treat us tuna al pesto at Gardini Dang Maria's Cafe (I heard it was closed already, why oh why?) or pizza at Neva's Place.
Immersing myself in local art amidst a warm and cozy setting while having a cup of cappuccino at
Kamarikutan
.
Nido soup at
Balinsasayaw, Grilled chicken at Chicken Inato or sharing gossip with josh at Cafe Arturo to fill the gaps between.....
I asked myself, When you left everything and everyone behind. Where do you call home?
Implies a casual often nostalgic recalling of experiences long past and gone I realized, I am missing Puerto Princesa and my province of Palawan. I remember that every month of June, we are celebrating our biggest festival,
Baragatan sa Palawan.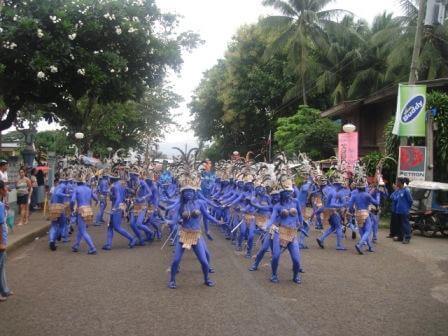 (pictures courtesy of kuya albert balmonte)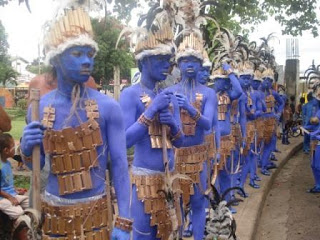 Baragatan which is derived from the Cuyonon word, bagat, which means "to meet," is a gathering of people, culture, traditions and resources celebrating the beauty and bounty of the province. It is a grand celebration where one can experience Palawan under one roof, so to speak. It is a festival of Palawan's natural and cultural heritage showcasing the beauty and bounty of the province in its people, agricultural crops, arts and crafts, tourism destinations, and environment. Baragatan will culminate with the much-awaited SAraotan sa Dalan or streetdancing competition on June 27 and the Search for Mutya ng Palawan with the talent night on June 28 and the coronation night on June 30.The grand opening of the festival is on June 21 featuring the colorful Float Parade, Pantiguan sa Baragatan. Cuyonon, the predominant culture in Palawan, will be highlighted on June 22 and 23 with the Cuyonon Day and Cuyono Rock respectively. The Cuyonon Day will feature Cuyono music, songs, poetry, dances and delicacies while Cuyonon Rock will showcase modern versions of Cuyono songs and Cuyonon translations of Pinoy Rock.
On this blog though written in English (ako kaelam da maglemeg 'y ang cuyonon maetey lamang), Im promoting and preserving Cuyono culture in the world wide web because this is my identity and my heritage and my way of manifesting love for Palawan.

Maliag kong tabedan mo ako sa pagdemdem ng kantang dya para sa ateng mga tangay jan s puerto! (correct me if wrong, joey)


Cuyo Balitaw
(Jose and Fe Tria Fernandez)
Sa kapupuroan maambeng
Kung masanag ngani ang bolan
Mga bata ig ma nga malam
Naga parasiar sa pantalan
Ma nga solteros ig daraga
Naga gitara magkaranta kada isara
Mi sara maambeng andang leba

Pagkasanag ngani dayong parakon
Sa oma, magkaingin, magsaripsip
Magpaligid kong mainit,
Maluto ron ngani ang paray sa bukid
Dayon sandang parantek
Maglelebeklebek

Amos kamo mga tangay
Masaraot saot kita nay
Lipatan ta ateng kapilay, magpanari anay
Dading loto ron ang paray, kita magkalipay.
Indi tay panombaien, ateng kabedlay.
Translation:
It's fun to be in the islands
When the moon is bright
Young and old alike go strolling to the wharf
Young men and women play the guitar and sing.
Everyone is happy.
When morning comes they go to the fields
To cut trees, clean the fields and burn them (aka slash and burn)
When the day is hot (paligid=removing weeds in upland rice fields)
When the grains ripen on the mountain
They harvest them and make pinipig (crispy rice).
Come my friend, let's dance awhile
Let's forget our weariness, let's rest awhile
Now that the rice is ripe let us rejoice!
Let us not mind our efforts.