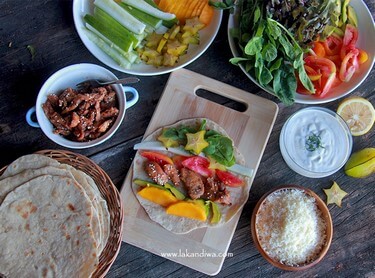 Experimenting in the kitchen during isolation is so much fun. Discovering and learning new dishes is more than satisfying but liberating to prepare. I can't complain being lock-down here in El Nido town where access to produce and basic food has been under control since the quarantine started. I am very thankful to the joint forces of private business sector and local government.
Closed establishments and restaurants started to re-open and slowly going back to business since ECQ was changed to GQ by selling take aways and offering deliveries via different social media platforms. Bored in the house, I thought of taking the avenue of Mexican cuisine with tortilla wraps I bought from Sausage with Benefits Restaurant at Php 130 - 10 pcs.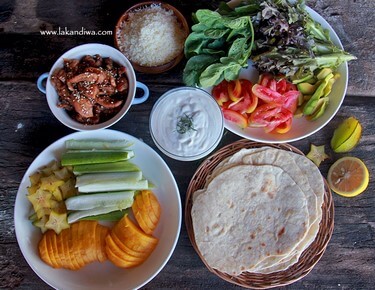 It's my first time to make a wrap so I research online and surprised with huge collection of wraps around the world. It's like blank canvass where you can paint anything you want, I decided to make my own by filling it in with ingredients available from our kitchen and local market. It's colorful and bursting with different flavors and textures.
It tasted like festive celebration of senses in every bite, I felt joy. With sauce dripping down my arms I thought of calling this dish "Fiesta Wrap" because: 1) in celebration of my town's Fiesta which was yesterday 2) It looks like banderitas and 3) It's a melting pot of different tastes. It is "fiesta" in tortilla wrap form.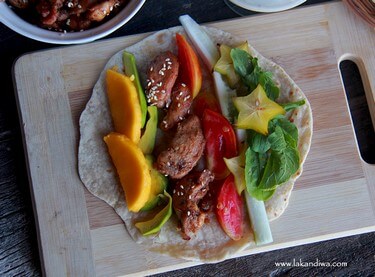 Ingredients
5 pcs Tortilla Wraps
1 medium cucumber, cut lengthwise
1 medium size mango, sliced
1 medium avocado, sliced
3 ripe tomatoes, sliced
2 Starfruit or balimbing, sliced
165 grams Eden Cheese, grated
100 grams lettuce
100 grams arugula
Sauce
Yogurt-Dill sauce (will share on my next post)
Chicken Cajun:
500 grams chicken breast fillet
1 tbsp. butter
2 tbsp. Cajun seasoning
1 tsp. salt
1 tsp. pepper
2 cloves garlic, chopped
1 small onion, sliced
Sesame seeds to garnish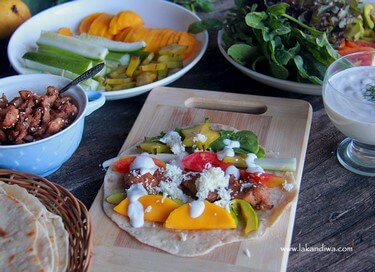 Directions
1)Add butter in a heated pan and sauté onion and garlic.
2)Add chicken and cook for about 10 minutes.
3)Season with salt, pepper and Cajun seasoning and cook for another 5 minutes.
4)Put in a bowl and sprinkle with sesame seeds.
Assemble
Heat Tortilla wrap in a pan for about 3 to 5 minutes each side.
Take and assemble everything you like from all of the ingredients
Roll it up and it's a wrap!
Happy Eating!