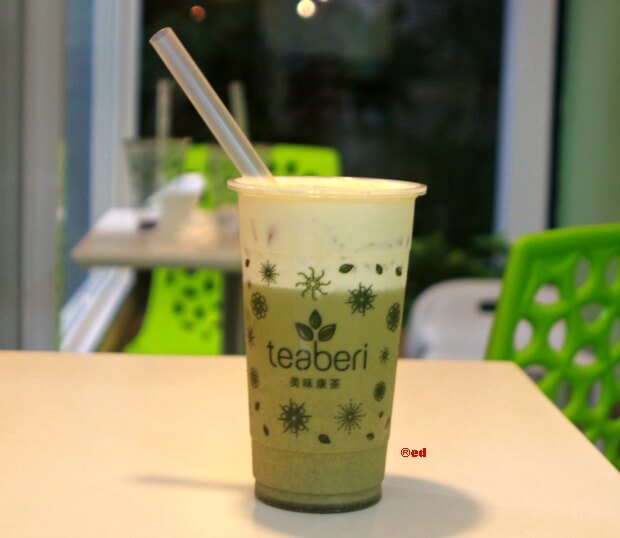 MBBCF - Matcha Black Beans Cheese Froth, Php 120.00
Comfort Drink.
That's what I need after the not so good experience with my bacon cheeseburger. So I went down my office building to try some tea drink at the newly opened tea house inside 7/11 store.
Staring at the menu, I asked the crew, "Hello, anong masarap bukod sa akin?"
(Hello, aside to me, what's yummy?)
Broad smiles and sincerest "how may I help you?" response were what I've received. I felt so good. That's how I usually ask to communicate, somehow, build connection with any restaurant's crew. Trust me, it works majority of time. She offered me to try their bestseller, winter melon tea. I am not a fan of winter melon but relieved when I saw their special fix, there was matcha green tea!
The leafy taste of green tea never failed to put a molar-to-molar smiles to my face and I'm sure, to you too. Well, apart maybe to my cousin Anney, who describes green tea as "
lasang halaman
" (grassy taste). I was told that Teaberi's tea leaves were imported from the best tea-growing regions of Taiwan.
Matcha with Black Beans and Cheese Froth was indeed a different and refreshing brew. There was a hint of the leafy taste and bits of black beans. The cheese froth complemented very well with the tea's sweetness.
Ask me if Teaberi's tea is yummy like me.
Very tea!