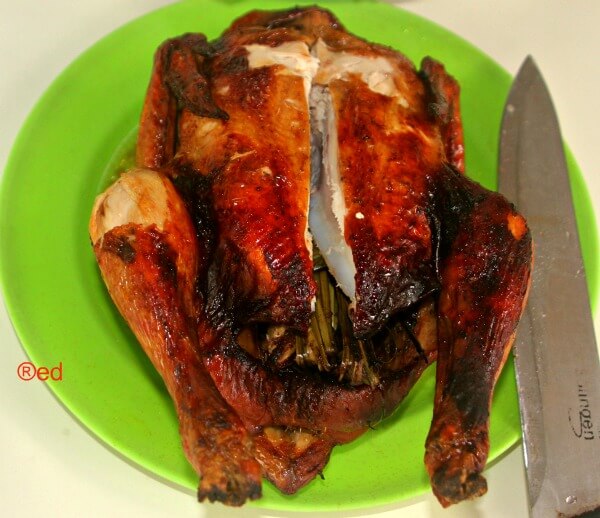 What are your plans for Noche Buena tonight?
I guess, your holiday meals are lavish,
Smoked salmon, foie grass, oysters, stuffed turkey and sparkling wine.
I'd like to come, please invite me. lol!
Last week, my Tito (uncle) roasted chicken for my cousin.
'twas Kuya Meme's birthday.
With the easiest ingredients we could find from the wet market,
we came up with Roasted Chicken in Tanglad (Lemongrass).
Sharing this easy and affordable recipe for your Noche Buena.
Prepare your kitchen to mild fragrance and your appetite to utmost satisfaction.
Ingredients:
1 whole roasting chicken, about 1 - 1.5 kilo
5 tablespoon Soy Sauce
1 teaspoons salt
1 teaspoon black pepper, ground
Garlic, 1 whole bud, (about 10 whole cloves) smashed and peeled
Lemon Grass, 2 stocks of white to light green parts.
4 tsp brown sugar
Procedure:
1) Prepare the marinade. Mix Soy Sauce, salt, pepper, sugar and garlic.
2) Prepare your chicken. Place chicken in your roasting pan, and pour marinade over top. Using your hands, smother the chicken in the marinade. Leave in the refrigerator overnight or up to 3 hours
3) Stuff the cavity of the chicken with Lemon Grass. Rub the chicken all over with the marinade.
4.) Put in a greased roast pan, cover and roast at 450 degrees for 10 minutes. Then, reduce temperature to 350 degrees and roast for 1 1/2 to 2 hours.
5) Check the roast pan from time to time to make sure there is enough moisture in the bottom (add a little more water if it is becoming dry). While you have the chicken out, use a soup ladle to scoop up the juices from the bottom of the pan and pour over the chicken. Put back in the oven.
6) Serve your roasted chicken with steamed rice.
For the side sauce, Mang Tomas was the perfect dip.
We also grilled Milfish with lots of tomato and onion stuffing. Enjoy!!!