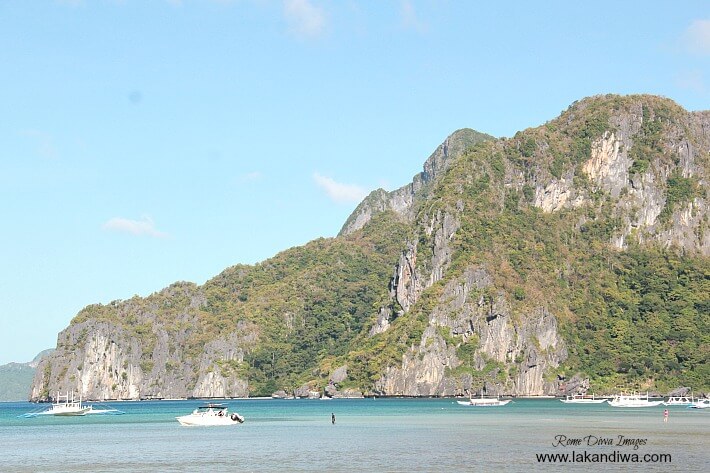 View from Panorama Restaurant
Hello, team Lakan Diwa! I was off the grid for two weeks and now I'm back armed with more experiences and more than 7000 pictures, ugh! Spent a week in Puerto Princesa City and El Nido, with side trip at the longest beach in the country located in the municipality of San Vicente, Palawan. Another week was spent in Taipei, Taiwan - got a lot of new stories to tell, new places to share, and of course more food discoveries. Please stay tuned for my upcoming blog entries and the stories behind the fantastic images I'll be sharing soon.
First stop: Panorama Beach Club and Resort, El Nido, Palawan - a boutique hotel hidden in Lugadia, Corong Corong, El Nido Palawan, about 5-minute tricycle ride outside the center of town. My cousin Mabel, a civil engineer and long-time resident of El Nido brought me here along with her sister, Ara for breakfast on our way back to the city.
AMBIANCE
The hotel has an impressive green, "modern Filipino" landscape, well designed - every space is instagrammable and photogenic from the moment we stepped in the lush greenery walkway leading to the restaurant. The resort was fully booked at the time of our visit, but the restaurant was almost empty at the early time of day with 2 tables occupied.
SERVICE
We asked for show room but the newly-built hotel is in high demand and was fully booked at the time of our visit. A night rate is Php 12,000 per night according to the receptionist. With excellent ratings on Agoda (8.8) and Booking (8.9), I got to secure at least a night the next time I'll be here to experience the "excellent service and superior facilities" the resort is known for.
The staff were accommodating and let us peek at the wooden walkway near the private area exclusively for resort's guest where their 8 rooms are located while waiting for our orders to be served. That pool surrounded by lush greens seems inviting and perfect for lounging while reading and sipping Piña Colada. Hmmm, gotta go back in El Nido anytime soon!
FOOD and PRICE
The beach-front restaurant offers the best panoramic view of paradise in El Nido while enjoying our American breakfast, showcasing an unparalleled view of the ocean and El Nido's limestone cliffs.
While late breakfast is idyllic with lesser crowd and clear view, the restaurant has the most spectacular sunsets and is best for a romantic evening meal in the breathtaking silhouette of the Bacuit bay as I've seen on their Facebook account. Scattered camas at the front is perfect lounging area after a day of island hopping.
The restaurant's menu has fair selection of local and foreign cuisine while the breakfast menu offers the following;
American Breakfast, Php 380 - slices of toasted bread with scrambled eggs bacon and cheese with signature coffee and juice
Spanish Breakfast - Php 380, 2 slices of toasted bread with olive oil, salt, and tomato jamon with signature coffee and juice.
Continental Breakfast - Php 380, 2 slices of toasted bread with fruit jam and butter, 2 pieces of French patisserie with signature coffee and juice.
American Breakfast - Php 380, 2 slices of toasted bread with 3 eggs of your choice, bacon and cheese, with signature coffee and juice.
Fruit Breakfast - Php 280, fruit platter with signature coffee and juice.
Cereals with milk - Php 280, cereals of your choice with a jar of fresh milk.
Pancake - Php 330, banana pancake with syrup & signature coffee and juice.
Big applause to restaurant's signature coffee! one of the best and perfect for afternoon break. Ara refused breakfast and ordered the creamiest mango shake.
American breakfast is huge and I'm guessing its Manchego cheese slices which is one of my favorites. Overall, I've enjoyed the breakfast at Panorama immersed in visually stimulating surroundings.
Panorama Facebook Account
Panorama Instagram Account