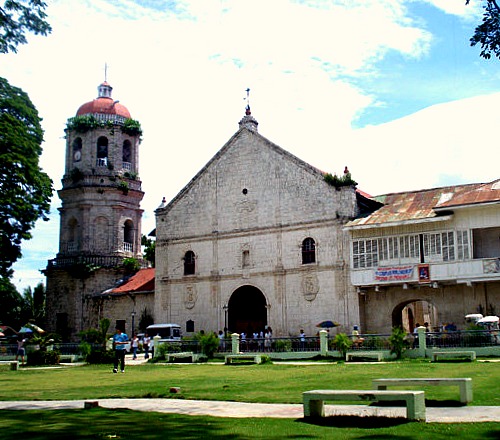 Photo Credit: Dalagute Facebook Account
Season of Lent is here. Lent according to wikipedia, in the Christian tradition, is the period of the liturgical year from Ash Wednesday to Easter. The traditional purpose of Lent is the preparation of the believer through prayer, repentance, almsgiving and self-denial for the annual commemoration during Holy Week of the Death and Resurrection of Jesus, which recalls the events linked to the Passion of Christ and culminates in Easter, the celebration of the Resurrection of Jesus Christ.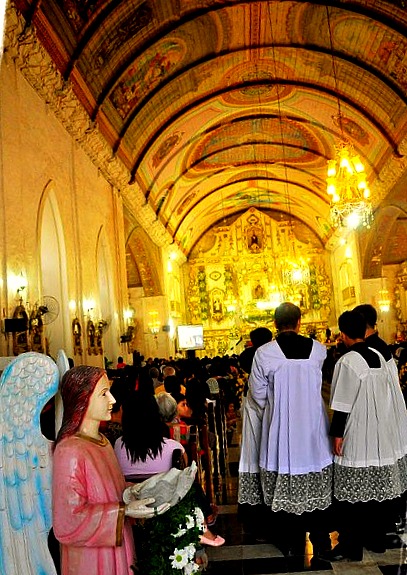 A popular Holy Thursday religious tradition for catholics here in the Philippines is the Bisita Iglesia ( Church Visit). It involves visiting several churches in which the faithful would pray the Stations of the Cross in each church. Some would go as 14 churches with each church representing one station.
One of the most beautiful churches I visited so far is the historic San Guillermo de Aquitana Church in the beautiful town of Dalaguete, Cebu. The architecture of the church is Pseudo Rococo, known for its neat and simple styling. The bell tower is a massive structure that is still in use up to this day. These massive towers not only called people to prayer, the sound of its many bells announces special occasions and serve as an early warning device against attacks coming from the sea.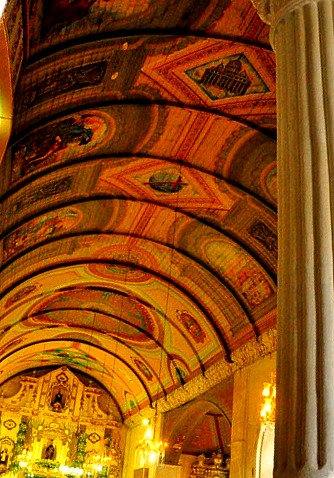 I was amazed at the beauty of the painted ceiling. The detail of the hand painted ceiling is the work of Canuto Avila, who together with Ray Francia were both commissioned to paint the churches of Bohol and Cebu from 1920's until the 30's. The paintings were depictions of biblical scenes and Catholic symbols.
Marvelous San Guillermo de Aquitana Church at night, sits in the heart of the town facing the sea. The plaza in front of the church with scattered benches was the favorite "tambayan" of the residents and tourists because the air is fresh and the environment is clean and peaceful. Some teenagers hanging out playing guitar and singing when we arrived. A typical laid-back setting of a Hispanic-Filipino Poblacion.