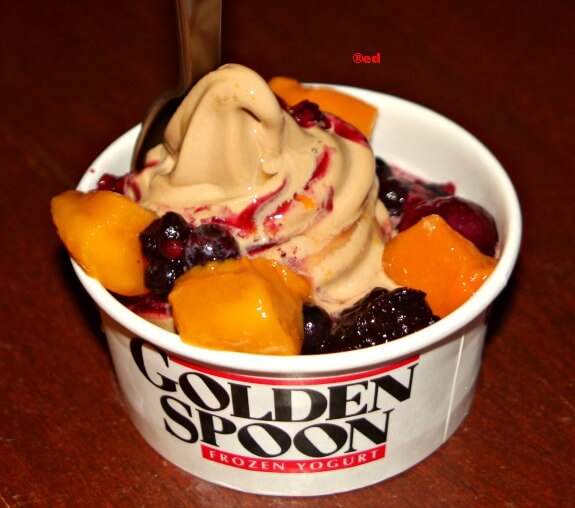 Iced cafe leche Php 159, Mixed berries Php 20, Mango Php 20
Frozen yoghurt is not just brilliant, sinless, and sweet treat but a healthy addiction. It is a valuable source of calcium and zinc, which are good for the bones and immune system. Froyo containing bacteria such as lactobacilli and bifido have been shown to help maintain a healthy balance in the gut. It's the diet secret of Hollywood stars including Kim Kardashian, Nicole Kidman, Megan Fox and Isla Fisher.
Although expensive, procuring nothing more sinister than healthy frozen yoghurt is something that I never do everyday unless there are odds to beat and inner demons to whipped. For me, froyo is one of my stress relievers.
Golden Spoon branch is in the most prominent position in the Ayala Triangle Gardens. It is spacious compared to neighboring Bannaple which is always in full house during peak or even non-peak hours. Charming smiles and sincere greetings from the staff welcomed me as I opened the door. The place was deserted when I came in so I made a small talk with the crew while I carefully examined the store. It was organize and clean. The crew knew what she was doing, she was knowledgeable with their products and very patient explaining to me each and every flavor. I end up ordering their best seller non-fat Iced Cafe Leche and topped it with mixed berries and mango.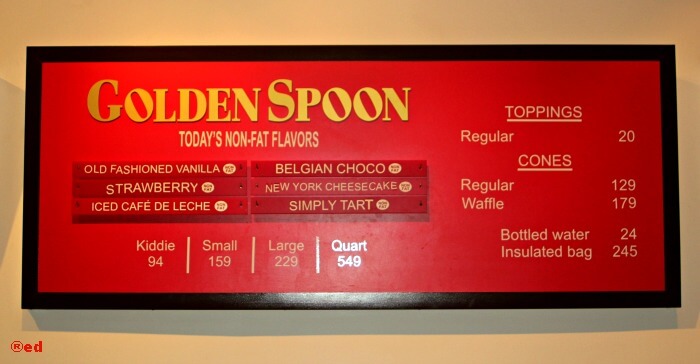 For me, frozen yoghurt is definitely a culinary pleasure minus the guilt. It is a taste of heaven I would say. Here are my rates:
Food Quality : 5
Ambiance : 5
Service : 5
Cost/Prices :3
The project's criteria are; Food Quality, Ambiance, Service, and Cost/Prices, where Five (5) indicates "Exceptional Experience", Four (4) indicates a place "worth a come back", three (3) means "a casual place to eat", two (2) means "acceptable", and one (1)) means "poor".
Golden Spoon, Ayala Triangle Gardens
Ayala Triangle Gardens, Makati Ave., Bel-Air
Makati City, Metro Manila
Philippines
(02) 759-4160