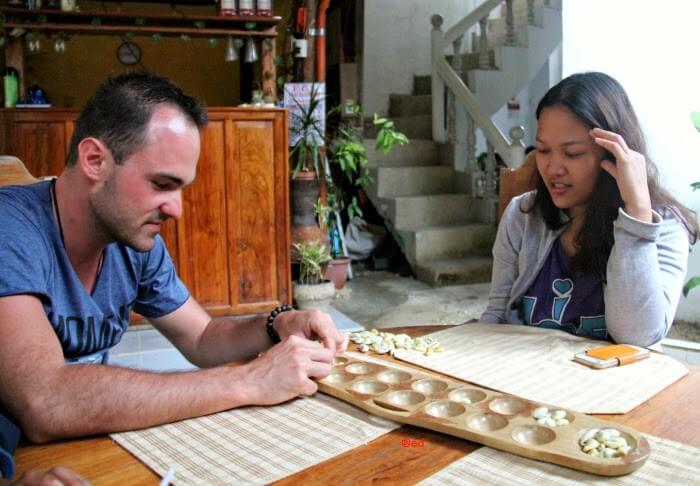 Stranded: Rome and Trixie were stranded in El Nido on the first day of their holiday. All island tours were cancelled when Tropical Storm Kajiki (Typhoon Basyang) hit the municipality.
They met Swizz tourist Daniel and his Filipina girlfriend Jazmine who were also trapped at Cliff Tower Apartelle. With nothing to do after breakfast, the couple started playing Sungka to throw away their boredom.
They watched as the couple play. Sungka is a kind of Mancala Game in the Philippines played on a solid wooden block with two rows of seven circular holes and two large holes at both ends called "head". Daniel has just learned the traditional Filipino board game and they were amazed when a foreigner and a first timer to play the game won several times. Trixie tried it but was also lost. Lol!
I can't remember the last time I played this game. Like you, I shun away the classics such as Chess, Domino and Scrabble in favor of expensive computer consoles, mobile games and oh, flappy bird to keep me entertained. Sungka maybe a good old fashioned game but it improves mathematical thinking, teaches patience and observation skills. It makes the family sit around the table and spends quality time.I seriously doubt kids these days don't know how to play Sungka anymore. Sure, there are word and number based games available in computers, apps and Facebook that provides more excitement which is why it's preferable.
There has to be an acceptance that life is different now but game play should always be an integral part of family life. Family can still connect and play together, digitally. In fact, Sungka can be downloaded from Google Play already.
Later on that afternoon, they decided to hike to Nagkaalit-kalit Falls and visit Las Cabanas Beach, alternative inland tours in El Nido when island hoping is prohibited. And that's where I'm going to bring y'all on my next posts.