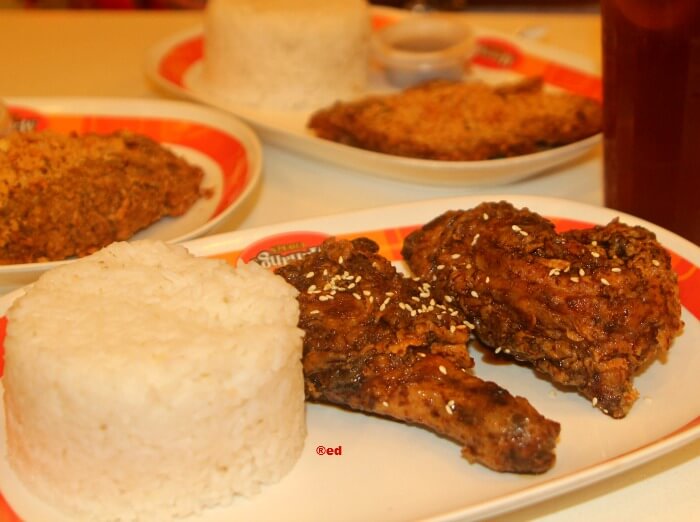 I was hearing a lot of buzz about this restaurant's special soy garlic chicken flavor since last year in Mercato Centrale but I never had a chance to try it. My teeth finally sank to the sweet, salty, crispy and juicy chicken when I was invited to try Manangs Chicken's new offerings last month at their branch in SM North Edsa. My culinary verdict? Manang's Chicken is not just another boring fried chicken with gravy but a double deep fried chicken with Manang's secret soy garlic sauce that offers true Filipino flavor.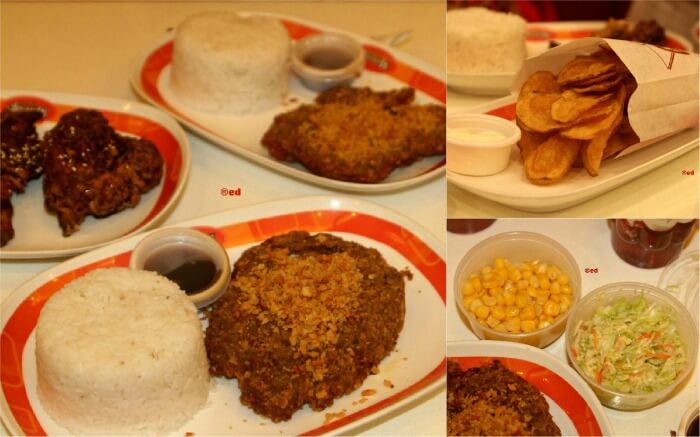 Manang's Chicken, consistent to their commitment to offer yummy but affordable food re-launched their Garlic Pork bigger and crunchier rice meal for the meat lover like me. Big pork chop deep fried until crisp with special nuts and garlic toppings was served with vinegar dipping sauce and ample amount of steamed rice. At Php 109.00 net inclusive of iced tea or lemonade, it is perfect for student and yuppies like us who are always on a tight budget.
Manang's Chicken also added fresh side dishes on their menu such as coleslaw, buttered corn and macaroni salad that are great pairs to the Garlic Pork or Manang's famous fried chicken. A new spicy ketchup dip for their potato chips was also launched but I dared not to try because I am not a fan of a spicy food. The potato chips though are real good with the classic dip of garlic mayo.
Manang's Red Velvet Sundae made of freshly baked red velvet cake and creamy smooth vanilla ice cream topped with candy sprinkles signed our dinner with right amount of sweetness.