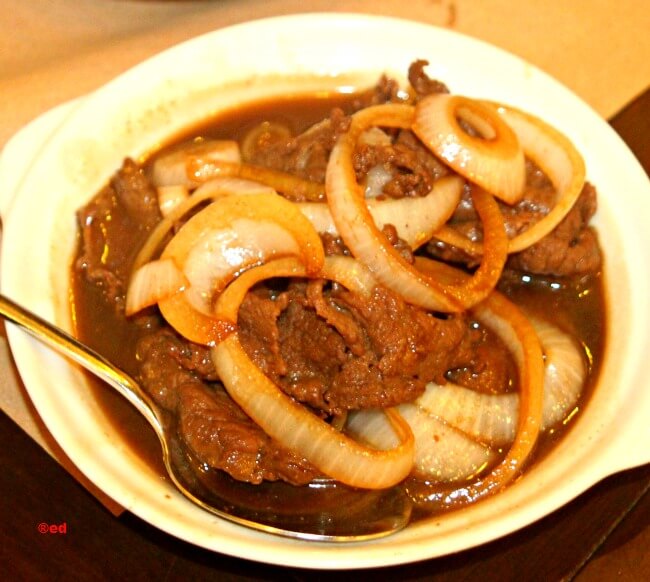 Bistek Pinoy, Php187.00
My quirk culinary project that was launched last year has been set aside for such a long time because of my other priorities and was not at least half of its phase when I last checked it. The Ayala Triangle project is my personal effort to review all the culinary offerings in Ayala Triangle Garden's line of restaurants. I've planned to dine in each restaurant and share with y'all my experiences through taste, service, ambiance and value...and now, I'm pleased to be back. May I appeal to resume on this project? Please?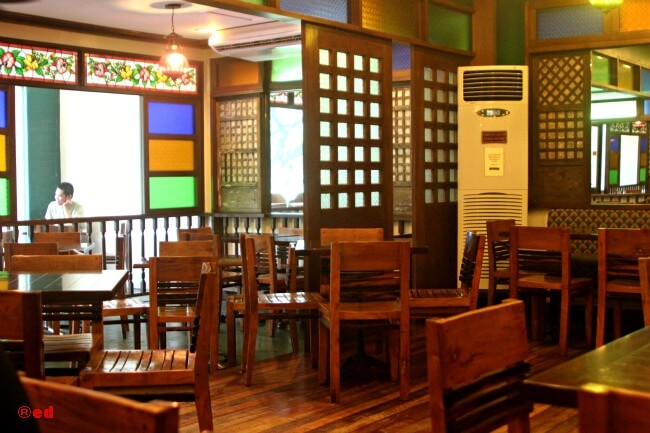 It wasn't just an ordinary comeback because it was also my birthday treat with The Canadians at the Filipino inspired restaurant - Kanin Club. Its eclectic mix of Philippine interiors are inspired by intricate wood carvings complete with translucent shell capiz windows. We gathered around a long wooden table in the corner, and get acquainted with the rough wooden seats, which thankfully are more comfortable than they look.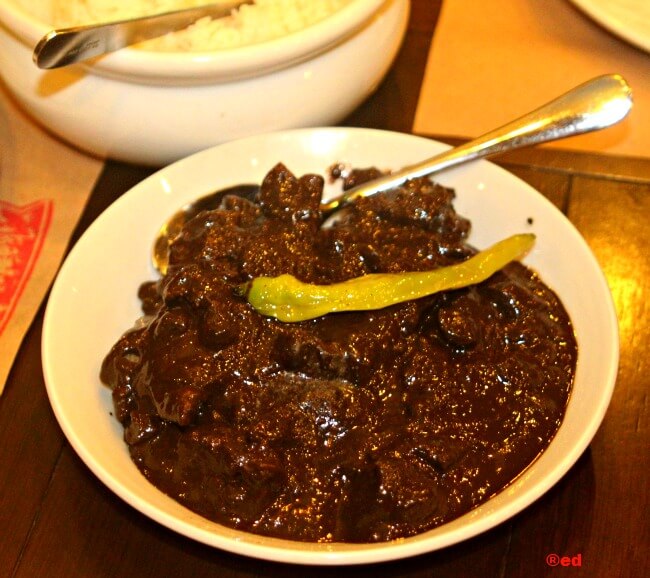 Crispy Dinuguan, Php 261.00
Kanin Club menu offers Filipino cuisine. "Kanin", which means "rice" in Filipino is where the restaurant derived its name from. An extensive mix of rice from steamed fragrant Mindoro white rice to loaded fried rice are constant favorite among their clientele. The place had got a buzz from the yuppies of Makati for their superstar dish, Crispy Dinuguan - chunks of pork heavenly deep-fried to a crisp then set in a semi-dry stew of pork blood. It was a nicely concocted Filipino dish but not that spectacular. Somehow, it is great to know that our dishes evolve in finding a permanent place in international cuisine.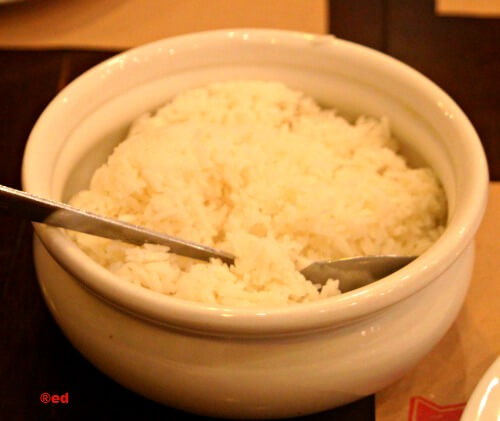 Plain Rice, Php 26.00 or All You Kanin Php 60
We skipped the appetizer part and ordered the main dishes. I ordered two of each dish; Piniritong Manok (Fried Chicken), Bistek Pinoy (Filipino Beef Steak), Laing (taro leaves in coconut milk), and Lemon Chicken.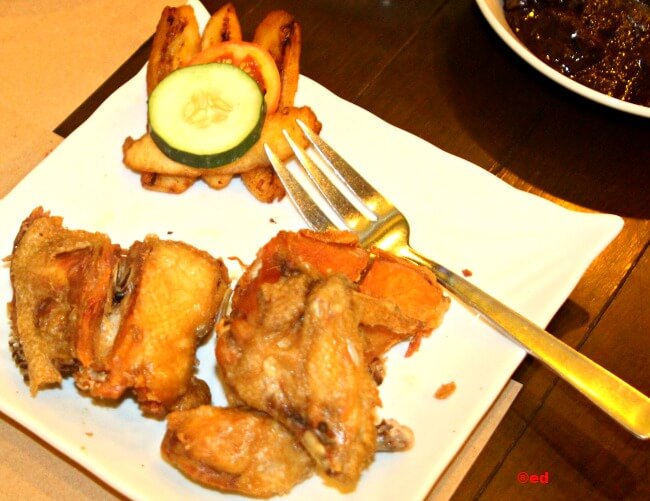 Piniritong Manok, 261.00
Piniritong Manok (Fried Chicken) features snippets of chicken (half) marinated in their secret sauce and fried to a golden crisp with fried saba (banana saba) fresh tomato and cucumber on the side. What I liked most among the dishes was the Bistek Pinoy (above picture), its a Filipino version of Beef Steak composed of beef sirloin strips quick-fried in soy sauce and onion rings.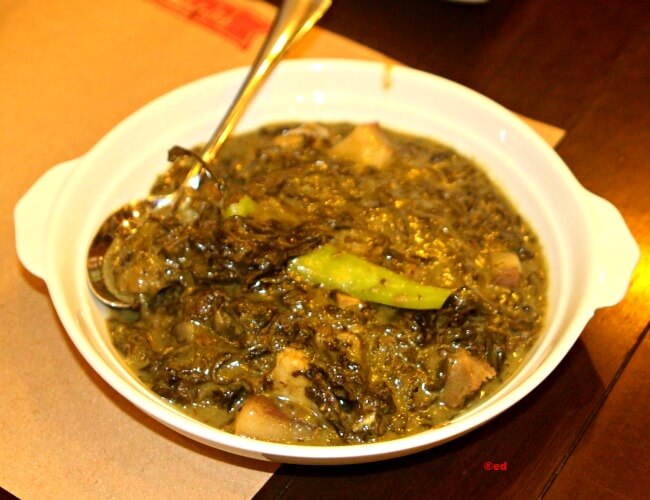 Laing, Php 172.00
Laing, I would say, is another culinary masterpiece at Kanin Club, its creaminess brought me to hhhhmmm...heaven? It tasted just right - taro leaves, slowly simmered in freshly squeezed and thickened coconut milk, and flavored with pork, dried fish, ginger and chili. We also ordered Lemon Chicken in case we run out of food - fried chicken portions coated in sweet and tangy lemon sauce, it was a great blend of food.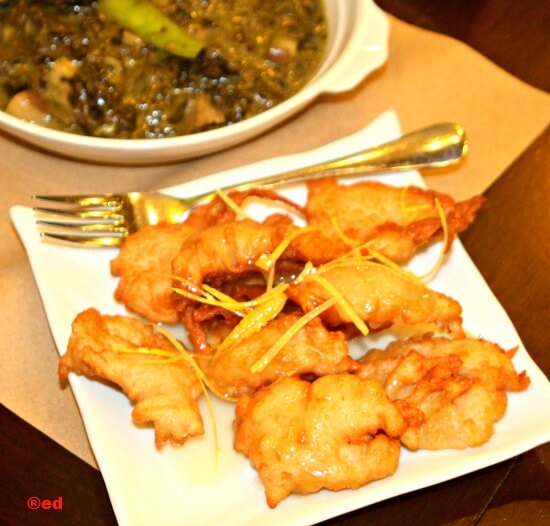 Lemon Chicken, Php 224.00
I don't like to put this on trend, but like the other reviews online, their service is something that they need to improve. I was not expecting to be worshiped in dinning at this place but I wanna feel valued especially on my birthday. Here's how I rate our Kanin Club experience.
Food Quality : 4
Ambiance : 5
Service : 2
Cost/Prices : 4
This birthday lunch is definitely worth every penny. It's a fun place to get together with friends, day or night. And if you're not in the mood for venturing out they even do takeaway. Although one trip might not be enough - I think I've still got areas on the garden to cover.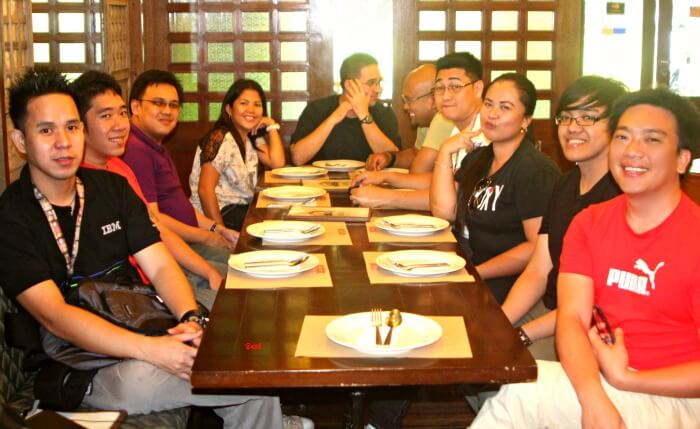 The project's criteria are; Food Quality, Ambiance, Service, and Cost/Prices, where Five (5) indicates "Exceptional Experience", Four (4) indicates a place "worth a come back", three (3) means "a casual place to eat", two (2) means "acceptable", and one (1)) means "poor".
Kanin Club, Ayala Triangle Gardens
Ayala Triangle Gardens, Makati Ave., Bel-Air
Makati City, Metro Manila
Philippines
(02) 621-6109