San Diego Restaurant
Club Punta Fuego, Peninsula De Punta Fuego
Nasugbo, Batangas, Philippines
Phone Numbers: (+63 43) 729-0180, (+63 2) 843-8700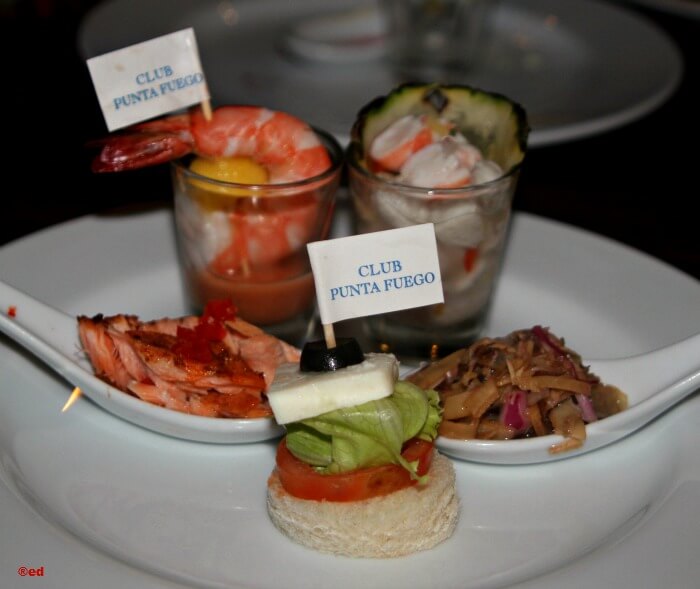 Roaming around Punta Fuego for a projected photo session with Anney was ruined by a sudden outburst of rain showers and upcoming dark night. With nothing to do on the supposed to be interactive out-of-city trip we decided to avail San Diego Restaurant's Buffet Dinner at Php 650 per person.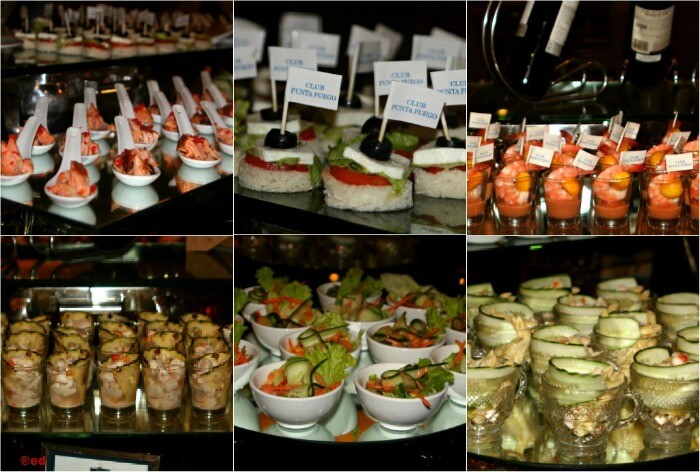 Ceviche, Cajun Salmon and Shrimp cocktail in Calypso sauce Garden Fresh Salad & Macaroni salad
Forget the in-vogue contemporary and minimalist design, San Diego Restaurant in Peninsula de Punta Fuego ,although a little bit old, has a magnificent view of the Sunset Cove and double infinity pool. Set at the heart of the Main Clubhouse, this restaurant serves intercontinental bistro and gourmet cuisine.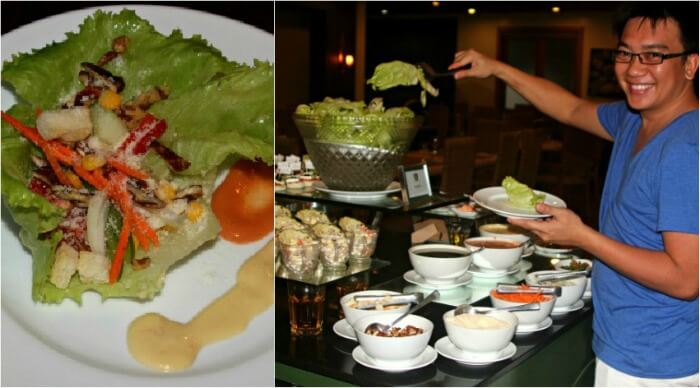 Salad Bar
The starters tickled our appetites with an array of familiar and exciting dishes such as Ceviche, Cajun Salmon and Shrimp cocktail in Calypso sauce. I liked how they transformed the simple kinilaw to a beautiful concoction of Ceviche. Peachy and Anney liked the banana bud or blossom Ceviche but my extra sensitive taste buds doesn't.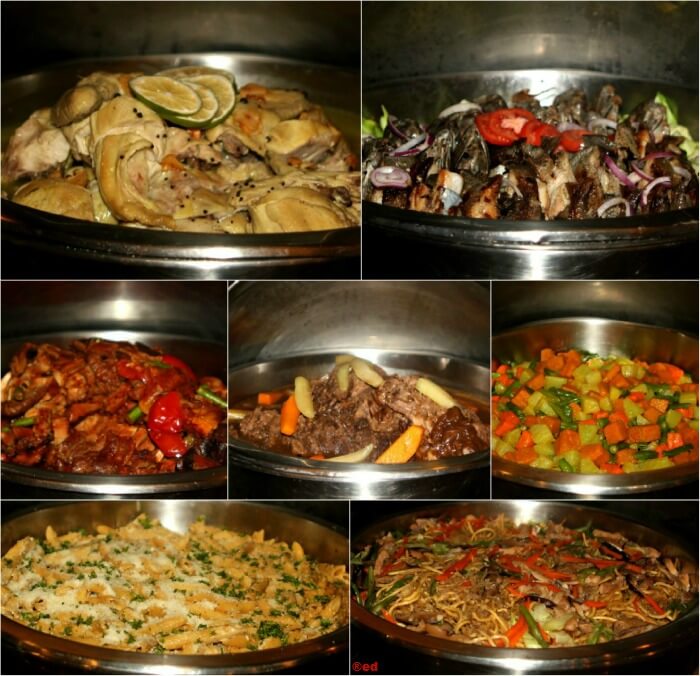 Char Grilled Pampano, Chinese Chicken with Lemon Grass, Oven Roast Pork Loin with Sauteed Vegetables, Braised Beef in Red Wine Sauce, and Buttered Vegetables were our meaty main courses. The Pampano has a sweet taste of freshness, the pork, succulent. And the beef, oh the beef, it was so tender!
I wished I had an extra large stomach to try not just a little bit of everything. Pasta and Pancit were also available. Here's my plate....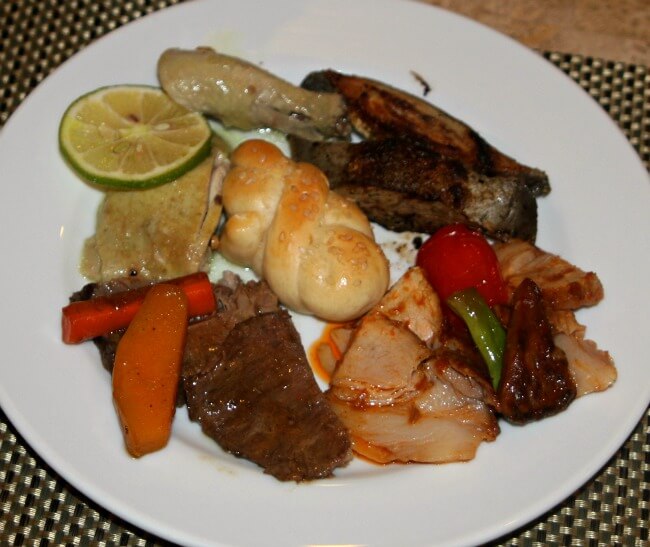 The sweet delights were fresh fruits in season and puddings of beautiful and colorful creations. I loved 'em all but I loved the leche flan the most.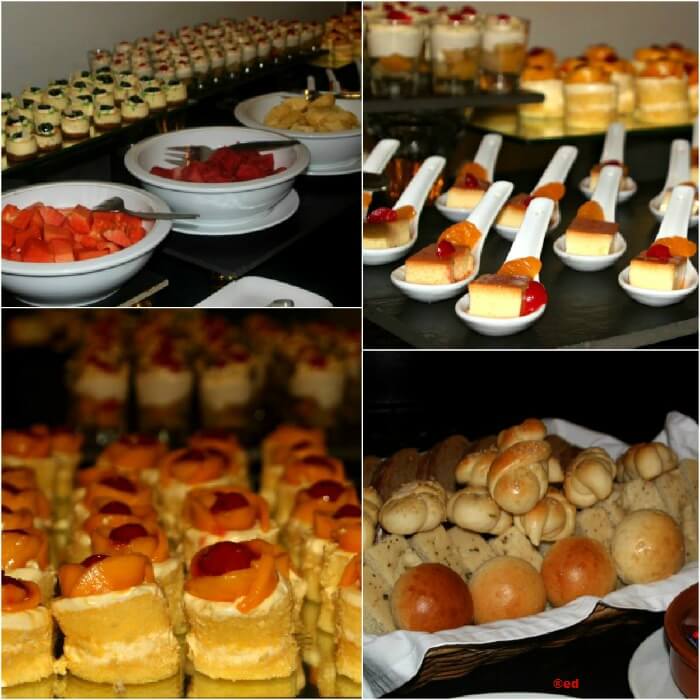 SSsshhhh...dont tell anyone, I had two plates of these desserts....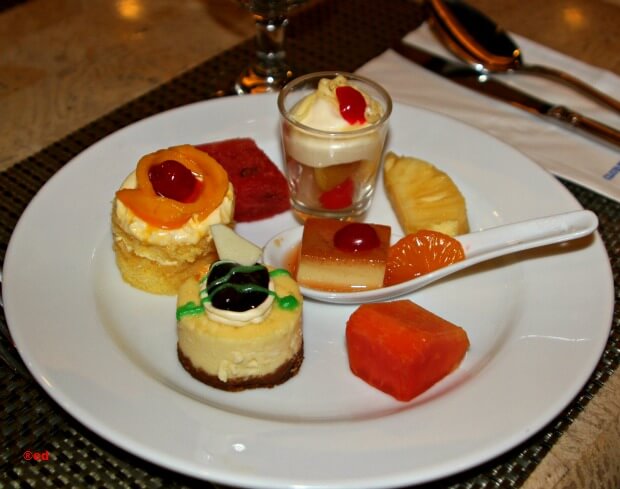 Froyo or frozen yogurt lover gotta avail this, the buffet comes with unlimited DIY froyo! Now tell me if the Php 650 per person expensive?