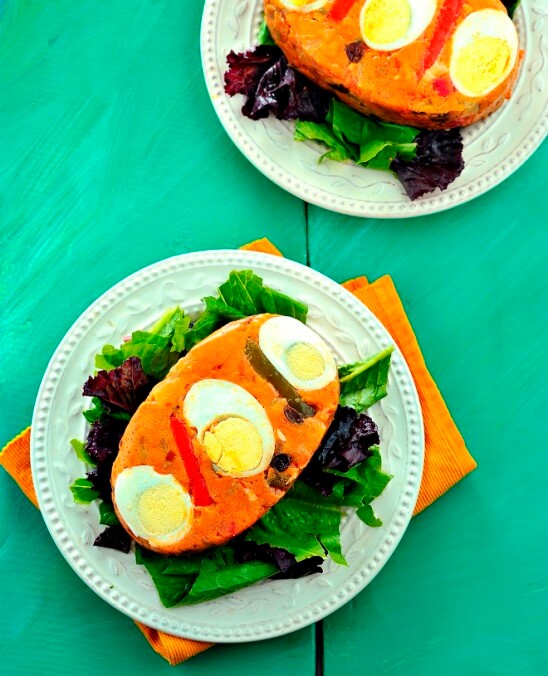 Fiestas, Mother's Day, Santacruzan,....and my birthday - they all happening in the merry month of May. So dust off your big party plates and polish your silverwares as you prepare your special dishes fit for never ending celebrations. You might wanna try Jardinera on one of those occasions. Jardinera is a mainstay of Filipino gatherings from way back. This recipe and more culinary ideas and course schedules are available on The Maya Kitchen.
Ingredients:
4 tablespoons margarine or butter
4 segments garlic, minced
1 piece large onion, diced
½ teaspoon pepper
1 kilo pork, boiled and cubed
¼ kilo chicken liver, cooked and cubed
4 pieces hotdog, cubed
1 piece chorizo de bilbao , cubed
1 cup tomato sauce
1 cup grated cheese
½ cup raisins
2 cups drained pineapple tidbits
1 cup diced sweet pickles
2 cups broth
1 cup breadcrumbs
1 cup
MAYA All-Purpose Flour
1 piece hard-boiled egg, sliced
1 piece medium red bell pepper, cut into strips
Steps:
Line six leche flan molders with banana leaves or foil. Set aside. Heat butter in a saucepan then sauté garlic and onions. Add pepper, pork, chicken liver, hotdogs, chorizo, tomato sauce, cheese, raisins, pineapple, pickles and broth. Bring to a boil and lower heat and simmer for 20 minutes. Add breadcrumbs and flour to thicken. Remove from fire.
In prepared molders arrange decoratively at the bottom of the pan the sliced egg and bell pepper. Divide the cooked mixture into s prepared pans/molders. Cover with aluminum or banana leaves then bake in a preheated 375ºF/191°C or steam for 30 to 40 minutes. Cool then invert on a serving platter.