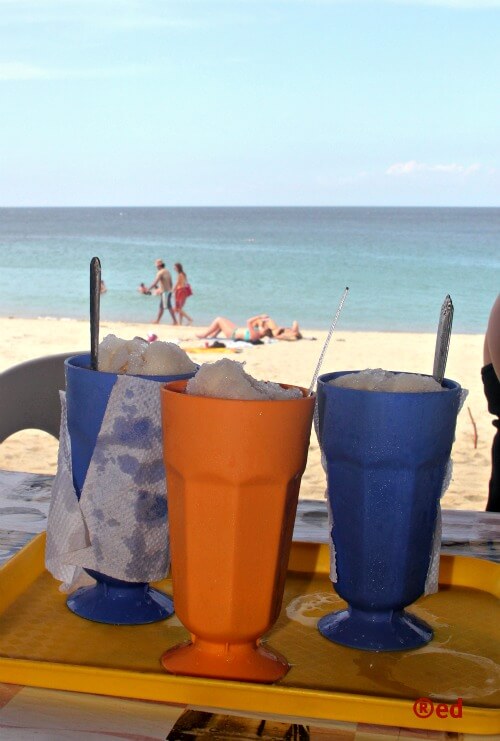 What you see is just shaved ice peeking from the tall plastic containers...
Seducing you with what's inside...
You wouldn't know what's inside until you mix it...
Here in the Philippines, this is summer's regular indulgence.... Halo-halo!
Ingredients Includes;
Sweetened, boiled kidney beans;
Nata de coco (coconut gelatin),
kaong (sweet palm fruit)
Sago (pearls similar to boba)
coconut sport (macapuno),
chickpeas,
plantains caramelized in sugar
gulaman, tapioca, and nata de coco
All of the above will be placed inside the tall container or bowl, followed by the shaved ice.
This is then sprinkled with pinipig ( pounded crushed young rice ) and topped with either (or a combination of) leche flan, purple yam (ubeng pula), or ice cream.
Evaporated milk is poured into the mixture upon serving.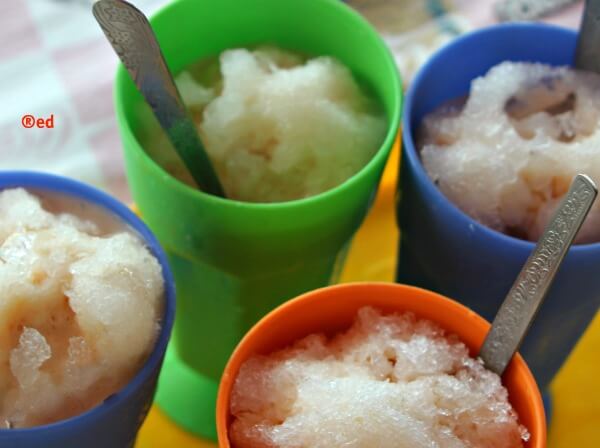 Indeed, this is a favorite Filipino dessert or snack.
I feel refreshed when I had this after a long swim on the beach of Puerto Gallera when I went there for my pre-summer getaway.
There are many variations of Halo-halo but the best is from Razon's. I think they are using fresh carabao's milk.
This dessert continues to evolve with different concoctions from different restaurants in the Metro.
Last summer, I tried one with honey puree on it. It was superb! Plus, it's healthy too. I hope that they could incorporate healthy ingredients on this favorite dessert not just sweets and sugar. Like adding Nopalea, It contains rare and potent antioxidants that are SCIENTIFICALLY PROVEN to help the body REDUCE INFLAMMATION, helps your body neutralize its inner toxins, and promotes optimal health when you take it daily. Well, why not drink Napolea directly instead. It is a tasty wellness drink sourced from the fruit of the Nopal cactus (Opuntia Ficus Indica). The healing properties of the Nopal cactus have been relied on for centuries by native peoples, and they're now available in Nopalea. Each 32–ounce bottle of Nopalea brims with the health benefits of the Nopal fruit. If you suffer from inflammation, you may want to try Nopalea for free (only pay $9.95 for shipping) by calling 1-800-203-7063.