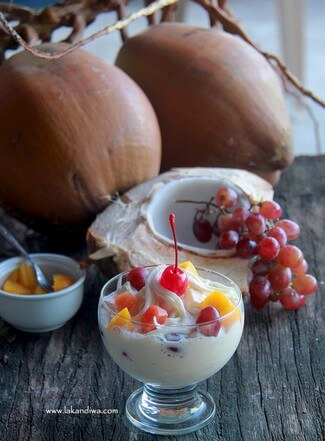 Today is my hometown's Fiesta and no one can stop me to celebrate while in quarantine because I'm going to live it up with the best food of every fiesta brings: Fiesta Buko Salad!
This salad is the diva version of Pinoy dessert and one of my favorites to make. It's very easy and fun because you don't need to cook, you just need to mix everything, freeze, and voila! …serve! The important factor that matters most to make it extra special is the selection of ingredients.
Buko Salad is the main attraction, always present on the main stage of every special occasion in Pinoy household. In fact, a well-known brand labelled their fruit cocktail product, a key ingredient to Buko Salad "Fiesta" because fiesta is the best representation of Filipino's time of joyful celebration. Fiesta is when we cook traditional, hearty food, throw open doors to visitors, elaborate multi-day festivals, parades, and themed street dance to keep our community roots alive. Each Family around the country has their own version of this Pinoy favorite dessert, I tasted some with raisins, calamansi juice, jelly, kaong, gelatin, and fresh local fruits. All were tasted well. Who wouldn't like the sweet and creamy dessert whatever in it? No one.
I'd love to doll-up my food, experiment, upgrade, and glamorize them. I'm a constant rule breaker. If there's drag race about food, I'm a sure winner baby, because I don't play extra lol! Cooking and making food are another ways of dealing with stress and boredom during this corona pandemic so here I am, adding colors, texture and flavor in our classic Pinoy dessert. To elevate whether its Buko salad or Fruit Salad, here's how my family make them.
I normally use the "imported" version of Del Monte fruit cocktail which have peaches and grapes in it. Yes, just between us squirrel friends, there are 2 kinds of Del Monte Fruit Cocktail on the grocery shelves. If you pay attention, it's normally the expensive one with a picture of peach on the label. I can't find it here in El Nido so I bought a can of peaches in syrup separately to cut and add to the local version of Del Monte fruit cocktail. I also love to add fresh grapes in my salad to add more texture, no harm intended, lol! It's better if you peel the grapes, but in this case, I'm kinda lazy so I just wash, dry and add them.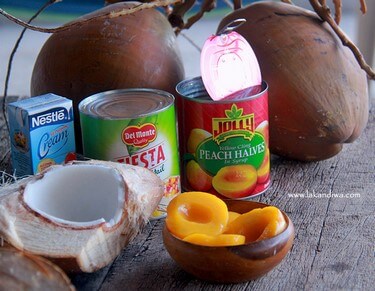 Ingredients
1000 grams shredded young coconut
825 grams Del Monte Fiesta Fruit Cocktail
825 grams canned Peach, cut into bite sizes
300 grams fresh crimson grapes
600 ml all-purpose cream
165 grams Eden cheese, cut into cubes
Directions
In a large bowl, mix everything together put in a freezer for at least 1 hour.
Serve with cherry on top. Happy Eating!