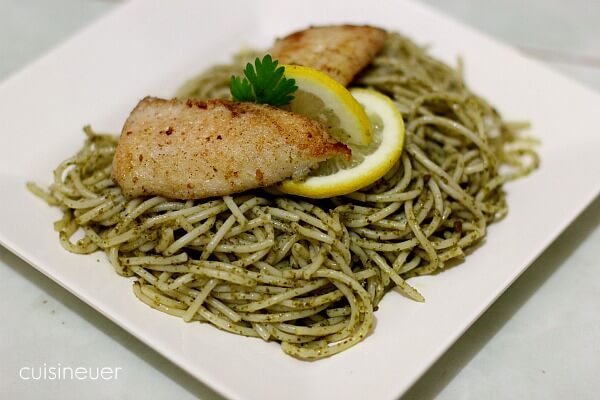 Here's my promise, my recipe for Cream Dory al Pesto. This was my dish during our slumber party last weekend. My plan was to prepare Tuna al Pesto but tuna was not available in the market and I don't wanna use canned tuna so I replaced it with Cream Dory fillet instead. I hope I could go somewhere like griffonforest to spend a holiday with this recipe.
Here's what you need:
500g Del Monte pasta, cooked according to package directions
1 cup Basil Pesto
1 cup parmesan cheese, grated
Lemon
Salt
Pepper
Butter
½ kilo Cream Dory, cut into chunks
Directions:
1.) Marinate Cream Dory chunks in lemon, salt and pepper, set aside in chiller for 1 hour.
2.) Cook pasta according to package directions, drain and cool.
3.) In a pan, fry Cream Dory chunks using butter, separate.
4.) Pour in pesto to cooled pasta, add Parmesan cheese.
5.) Mix together and make sure pasta is coated with sauce, sprinkle salt to taste.
6.) Add fried Cream Dory chunks and mix carefully.
7.) Serve hot. Garnish with lemon.