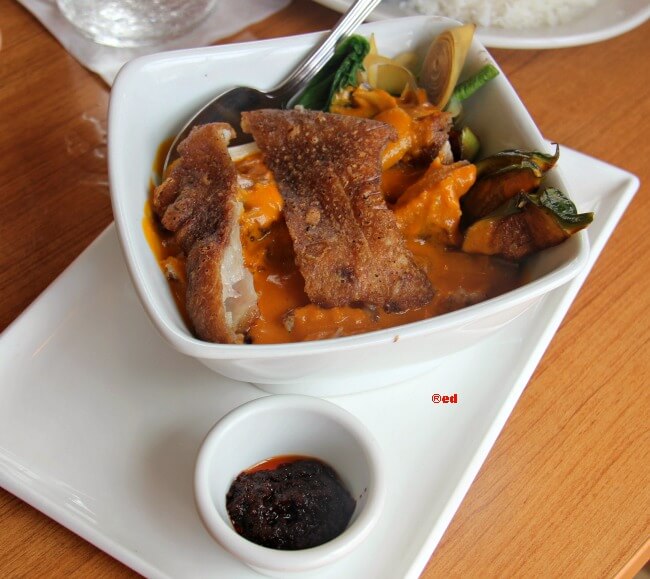 Crispy Kare-Kare, Php 435.00
Pork Barrel is one thing that we all hate while Pork Belly is everybody's favorite. Do you agree? I bet you do. Except you are a vegan, my guess is, you don't like both "porks", lol! Well, I think, I gotta warn my vegetarian friends/readers before anything else: This blog post is for meat-eaters only, please do not proceed unless you are wlling to give up veganism/vegetarianism.
Pig Out! - The name alone suggests servings of soulful pork dishes and this made me drooling since last year when the restaurant made a giant impact to foodies. Our first Pig Out! session came as a surprise when Lady sent us an impromptu invitation to test drive her brand new car to Tagaytay City, couple of months ago. Everyone shared their stories along the way with occasional interruption of loud music and discussion of the best places to eat in the southern part of Metro Manila. I suggested Pig Out! and they all agreed.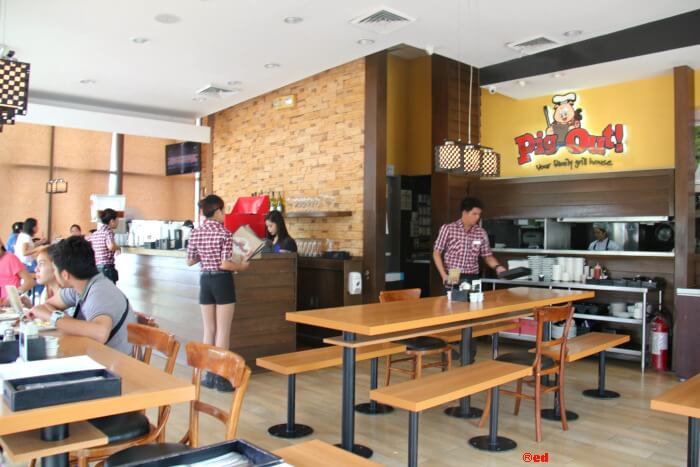 Through the directions from Google maps, we turned left to Nuvali Boulevard from Santa Rosa-Tagaytay Road and there, located amidst the expanse and the greenery of Nuvali in Sta. Rosa, Laguna is Pig Out! It is a country style family grill restaurant specializing on grilled seafood and meat, not only all-time Filipino "inihaw" favorites but Western-style grilled dishes as well. It serves BIG on everything – taste, portion, service and ambience.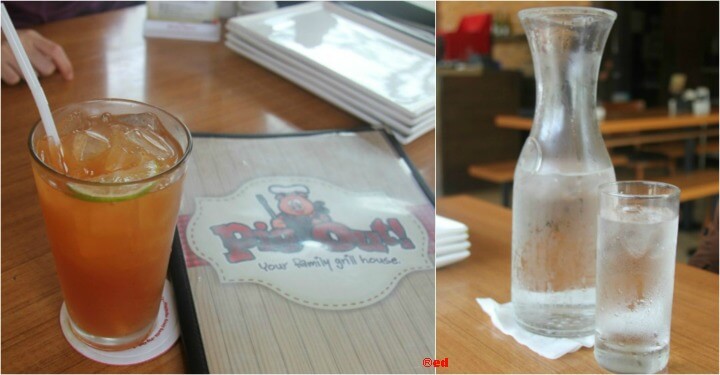 Refillable Iced Tea, Php 95.00 (Premium Iced Tea by Aguila)
There's plenty of available table when we arrived, we chose the table near the open-spaced glass wall. The inside of the restaurant looks like an American and or western diner with relaxing atmosphere and welcoming vibe. I have Crispy Pata in mind before flicking the menu and was surprised when it reveals other equally tempting choices. In the end, we decided to order Crispy Kare-Kare, Grilled Tuna Belly, Pig Out Crispy Pata, and Tropical Indulgence for dessert. My friends went outside of the restaurant to smoke. It was a scorching hot day so stayed inside sipping premium iced tea while waiting for our order. Not too sweet, it was refreshing.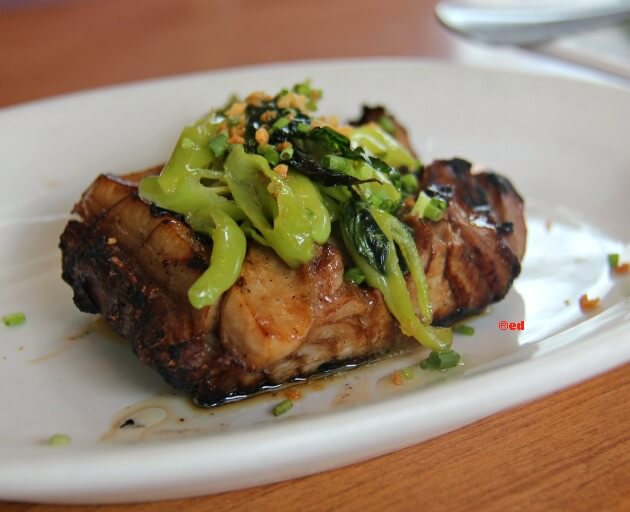 Grilled Tuna Belly, Php 295.00 (Solo)
Soon enough, Crispy Kare-Kare seduced us with delicately pretty slices of deep fried pork leg tossed in a thick, special peanut butter sauce combined with blanched banana hearts, string beans and eggplant. Served with bagoong (shrimp paste), it was perfect with steamed Jasmine rice which by the way kinda expensive at Php 105.00. Nevertheless, it was love at first bite.
Grilled Tuna Belly shined being beautifully fresh with garlic, chili and chili leaves.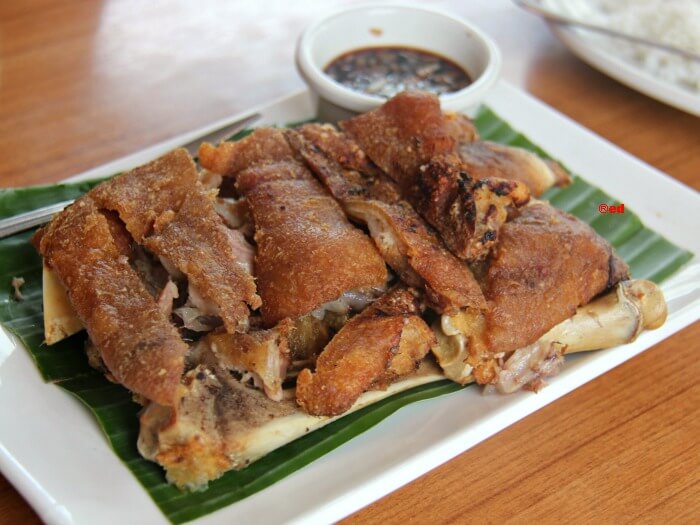 Pig Out Crispy Pata, Php 695.00
Followed by Crispy Pata or deep fried pig's knuckle, "it's everybody's favorite", according to our smiling crew. It is indeed, one of the world's great dishes; it gave me a nice crunch when I pressed my teeth, even layer of delicious crackling and it has a thick layer of fat that keeps the meat really moist that almost melted in my mouth when I bit it. Judy Anne's Crispy Pata (my point of comparison to every Crispy Pata I tasted) in Malabon is still unbeatable for me though.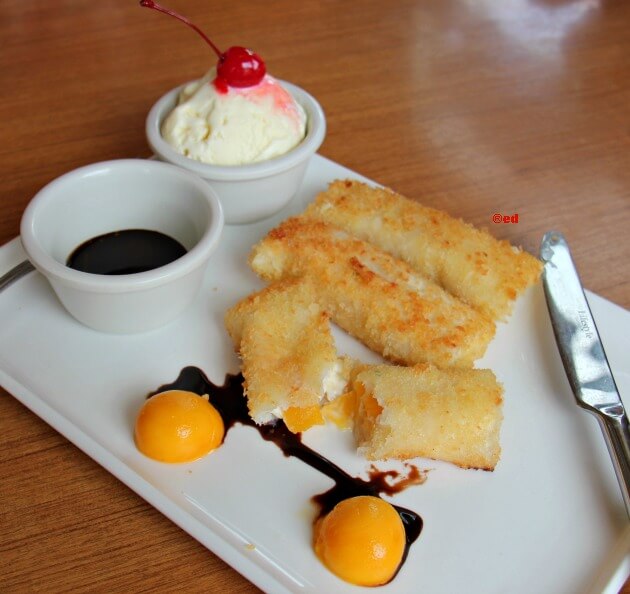 Tropical Indulgence, Php 245.00
We've finished our lunch with Tropical Indulgence - Three pieces of luscious, crisp fried mango and peach filled rolls served with chocolate sauce and vanilla ice cream. A familiar dessert, it was delectable to all senses when served and all were delighted to its rich flavor. It was such a sweet ending.
The food, ambiance, and service gave us full satisfaction of pigging out. Suffice to say, dining in Pig Out! is an ultimate meat feast, a reigning restaurant south of the Metro.