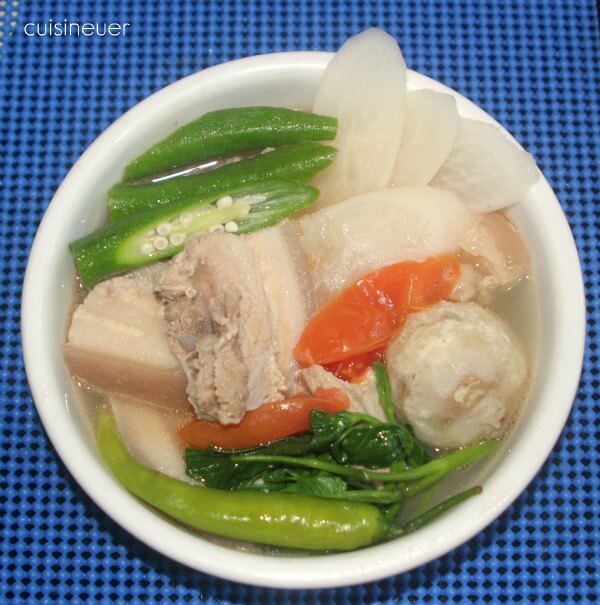 What are the best things to do during cold and rainy weekend aside from playing free bingo? Eat and eat and eat, lol!
Apart from the fact that I'm so envious with my cousin Peachy's
Sinigang na Lechon
(Roasted Pork in Tamarind Soup), it has been raining here in the past two weeks and the best food (and most requested) to eat during lunch on that rainy weekend was the Filipino classic, Sinigang. So, I made one. We have different variants of Sinigang, what I want in my Sinigang is the slow cooked pork belly. I always have a food orgasm when the pork fat melts in my mouth, priceless!
Here's what you need;
750 g Pork Belly, cut into chunks
6-8 cups water
½ kg unripe tamarind, boiled and juices squeezed out or 1 ½ packets of instant tamarind soup base
1 horse radish, sliced
5 pcs, taro/gabi, cut into pieces
3 pcs green chilies
2 pcs tomato
1 pc onion, sliced
200g of swamp cabbage leaves
200g okra, cut into 1-inch pieces
Fish Sauce (serve as condiment)
Directions:
1.) In a pot, boil pork belly, taro/gabi, and onion for 1 ½ hours on medium heat.
2.) Add okra and horse radish simmer for 5 minutes.
3.) Add tomato and green chilies simmer for 2 minutes.
4.) Add the tamarind juices/instant tamarind soup base. Stir.
5.) Add the Swamp Cabbage and simmer for another 2 minutes.
6.) Serve with rice and fish sauce.
I want my Sinigang soup, thick. I boiled the taro/gabi long enough to melt to achieve the natural thickness of the soup. Fish sauce should be served separately giving us the liberty to adjust the level of saltiness of the dish.