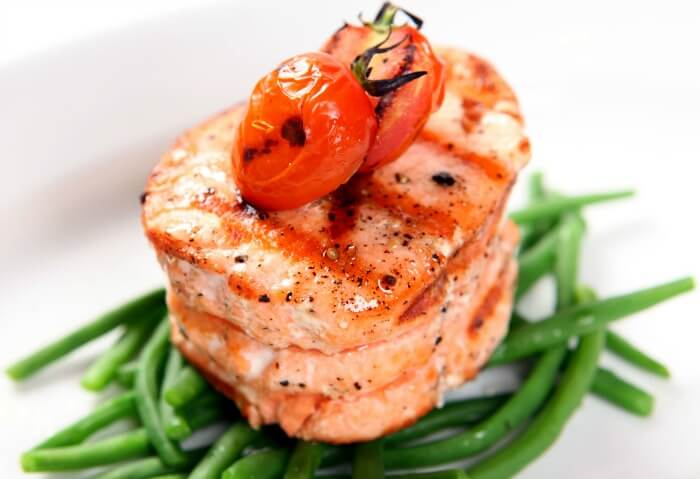 Have a taste of the best salmon in the world, Tasmanian Atlantic Salmon, that comes all the way from one of the purest and most pristine environments on the planet. This famed Atlantic Salmon makes up only around 1.5% of the world's salmon production and is one of the world's most delicious, visually appealing and versatile fish varieties, which makes an excellent ingredient for many types of cuisine. It's low in calories and cholesterol, high in protein, and is a rich source of proteins and omega-3 essential fatty acids, which are vital for healthy hearts and minds.
The Fireplace in Hyatt Hotel and Casino Manila sensationalizes its fine texture and taste with an exquisitely crafted menu by Chef NoeL. Discover the richness of this Atlantic salmon variety with selections like Roasted Herbs Crusted Salmon with Creamy Spinach , Peppered Salmon Steak with Cognac Pepper Cream Sauce and more.
TASMANIAN SALMON SELECTIONS
Marinated Salmon, Mixed Green Salad 800
Apple, capers, balsamic vinaigrette
Seared Salmon tartar 850
citrus dressing
Baked Salmon, Julienne of Vegetable Wrapped in Filo Pastry 1400
bell pepper coulis
Roasted Herbs Crusted Salmon 1450
creamy spinach, tomato concasse
Poached Salmon, Green Asparagus 1550
cherry tomato, dill mustard foam
Peppered Salmon Steak, Thin Beans 1600
cognac pepper cream sauce
Prices are in Philippine Peso and subject to 10% service charge


End you culinary curiosities with a perfect sweet conclusion: the luscious Hot Chocolate Soup - A signature dessert at The Fireplace. This rich, velvety and creamy dark chocolate is topped with a scoop of cracked pepper vanilla ice-cream, a unique chocolate creation that has a reputation of its own.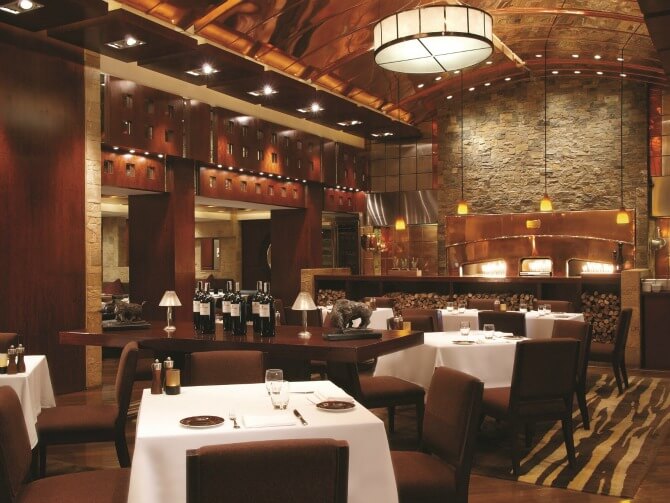 About The Fireplace
The Fireplace is an upscale grill room offering perfectly cooked prime meats and seafood. A perfect spot for wining and dining, the restaurant charms guests with its elegant brass interiors and open kitchen concept. In full view is a large wood-fired oven where chefs prepare their culinary masterpieces. A wine library with a vast collection of European and New World wines is another attraction. With its relaxing atmosphere and excellent cuisine, The Fireplace provides a dining experience like no other. For enquiries, please call +63 2 247 8666 or email cath.mn@hyatt.com.