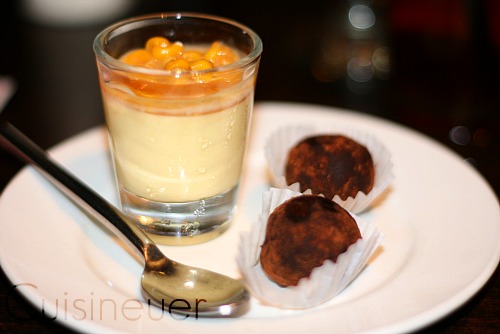 Sweet Corn Panna Cotta & Chocolate Truffles
The Cuisineuer was part of an exclusive culinary event last week at Buenisimo in Eastwood Mall. Graced by Chef China Cojuanco, we feasted in a whole new dining experience with the goodness of Carnation Milk. The Good Eats Menu were Lengua Legislativa, Croquetas de Pollo con Huevos, Canadian Glazed Ham and Tricolor Pasta in Salmon Cream sauce. For dessert, we had Sweet Corn Panna Cota and the delicate, melt-in-your-mouth Chocolate Truffles (picture above), my utmost favorite.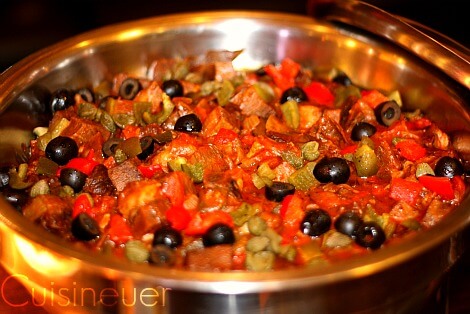 Lengua Legislativa
We were given a scorecard to rate each recipe at the start of the event. Majority of us chose the Lengua Legislativa cooked with Carnation Milk as the Good Eat of the event.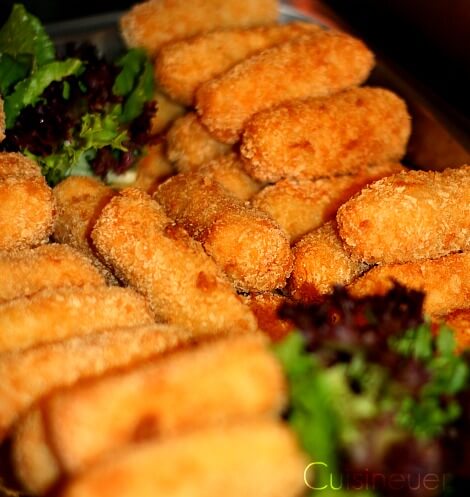 Croquetas de Pollo con Huevos
Another breakthrough star of the night is the Croquetas de Pollo con Huevos. I liked the crispy texture of the croquetas outside and the soft, good taste of the cheese inside together with the prepared sauce with Carnation Milk. I lost the pictures of Canadian Glazed Ham and Tricolor Pasta in Salmon Cream sauce. You can check it out on The Peach Kitchen. All the dishes are magnificent.
Who said that China and Rome are Continents apart?
Another good thing was Carnation gave us a bag of Carnation Milk. Hmmmm, what should I do with this, y'all know that I am dependent on the fastfoods and restaurants scattered around the Metro because I am living alone. Is this an omen to start cooking at home and unleash my culinary talent? I'll give it a try. For the first time, I'll cook for y'all on my next post. I'll ask Chef China how or better yet limme check out Carnation's website, Cook at Home for a good Carnation recipe.