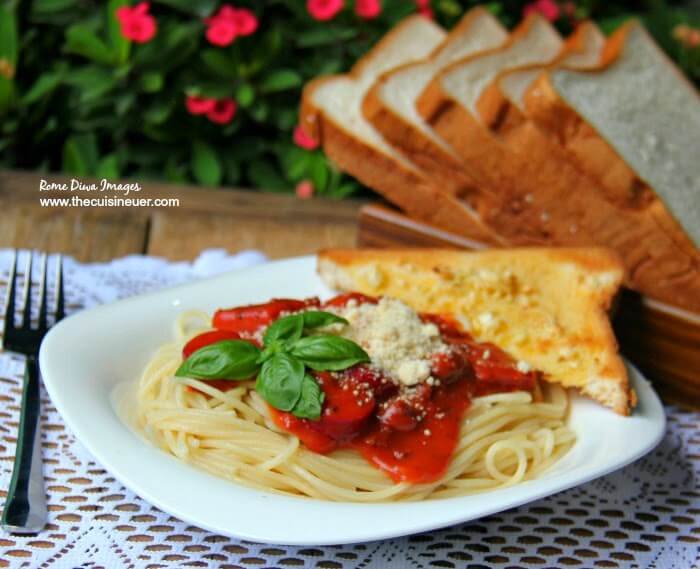 It was a hard January 2015 for me and I'm glad it was over. It's a month-long of self-denial as I struggled to get back into shape - both financially and physically - after the festive and expensive season.
Office works had filled-up because I was on leave for almost two weeks, ugh! I don't even know where to start when I came back but I have to pick-up the shattered pieces of my corporate life. I knew, I can.
Oh, I gotta start working and quit being so melodramatic! The moment that my month-end reports are done and everything are back into its proper places, I promised to treat myself to something sweet and special. And it finally happened last weekend...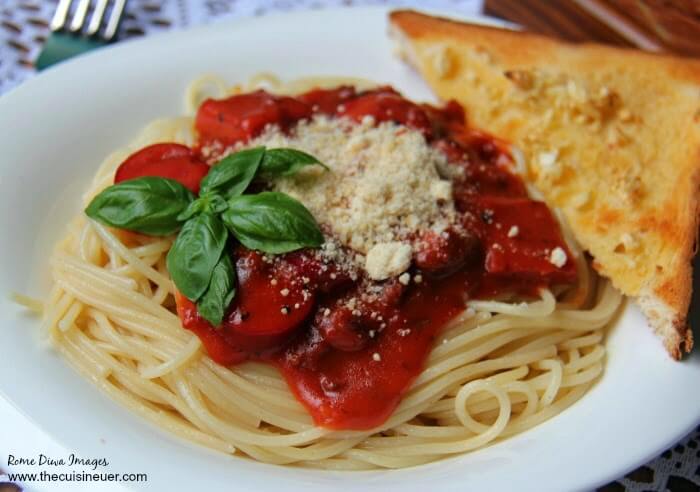 La dolce vita! I made Pinoy-Style Sweet Spaghetti, one of the few dishes that make me happy. With some heavyweights on the side: Garlic, buttered toast, this is not the low fat, calorie and carb - not even the "healthy" meal that I planned to consume after the holidays but boy, it's yummy! Hickory Smoke Flavor Spam adds little sophistication that makes it taste quite special.
When I slurped-up the sweet tomato-slick strands and I tasted P.L.E.A.S.U.R.E., Pinoy-Style Sweet Spaghetti is there for good reason - this dish really made me so happy.
I don't care if I'm fat and broke, money can't buy happiness but this Sweet Spaghetti comes pretty close, lol!
INGREDIENTS
500g Spaghetti noodles, cooked according to package directions
250g coarsely ground lean beef
500g Del Monte tomato sauce
1 cup Condensed milk
2 tbsps Cooking oil
2 tablespoons minced onion
2 tablespoons minced garlic
2 cups thinly sliced Tender Juicy hot dogs
2 cups sliced Hickory Smoke Flavor Spam
1 cup water
Black pepper and 1 tbsp Ginisa seasoning mix to taste
Grated Parmesan Cheese
Procedure:
1) In a large saucepan or skillet, saute garlic and onion in oil for 3-4 minutes or until soft and fragrant.
2) Add the ground beef and brown the meat until it's completely cooked. Add Del Monte tomato sauce and water to the meat and continue to simmer the mixture for another 10-15 minutes. Add the condensed milk, pepper and seasoning mix, stir until incorporated.
3) Add Tender Juicy hot dog and Hickory Smoke Flavor Spam, cook for 10 more minutes or until sauce has thickened.
4) Prepare your serving plate, use fork to twirl the pasta and put first into the plate then pour the sauce on top of it. Garnish with grated Parmesan Cheese and basil leaves. Serve with crusty bread or Garlic, buttered toast. Enjoy!