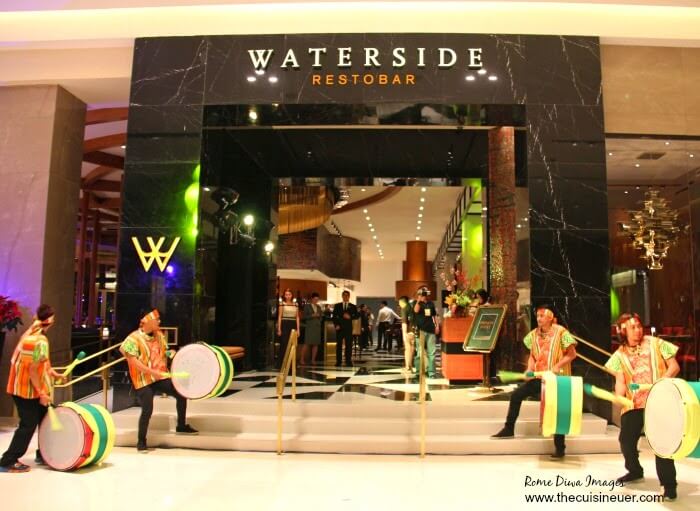 Solaire, has become a new foodie hub in the metro with wide selection of 15 dining options that includes four signature restaurants, casual dining outlets, and cafès featuring a myriad of exquisite cuisine and choice beverages. Newest is the Waterside Restobar at Sky Tower atrium near The Theatre.

It has a sophisticated yet enticing welcome, courtesy of stylish interiors and a distinct laid-back atmosphere, an all-day dining restaurant that appreciates a fascinating bayside ambience showcasing Manila's spectacular sunset. It serves Latin American and Mediterranean specialties and features a unique ensemble of show kitchens, which includes a paella cooking station, churrascaria, rotisserie, and tapas bar.



Take it! On top of the dishes is the classic, saffron spiced Paella Valenciana with chicken, prawns and pimento. This is the house where paella is always reliable while Boquorones is an eggy excellence.
Their show kitchen and paella cooking station are brilliant and Tapas bar, charming. The following are the samplers in our delightful culinary affairs.
Sardanillas - olive oil, crusty bread
Banderillas - olive, piquilo, garlic
Chorizo sweet - melon and mint
Boquorones - soft cooked egg, aoli
Jabugo ham - pineapple, blue cheese
Co-Stars
Asparagus lemon, goat milk
Crushed scruffled carbonara potatoes
Humita sweet corn baked in husk
Jasmine Rice
The star attraction was from the grill, exceptionally served by the restaurant staff. There's cuisine innovation and dazzling detours from the Spanish classics. And I liked it. I really can't remember having a bad bite here. In fact, writing about the restaurant gives me pangs of cravings that are impossible to resist.
Beef Brisket twice cooked poached and charred
Crack Back chicken whole chicken brined
Jumbo prawns lemon, garlic and pimento
Inihaw na Liempo
Sauces:
Chimichuri
Bordelaise
Red Pepper Spackle
Show Stealer Sweets
Chocolate Tart - Raspberry jelly
Pineapple - ravioli chili and sorbet
Sweet ending: A culinary art chocolate dessert is definitely not to be missed at Waterside Restobar.
Congratulations! It was my honor to witnessed and be a part of its grand opening ceremony and and I'll pray for your prosperous year after year. Cheers!