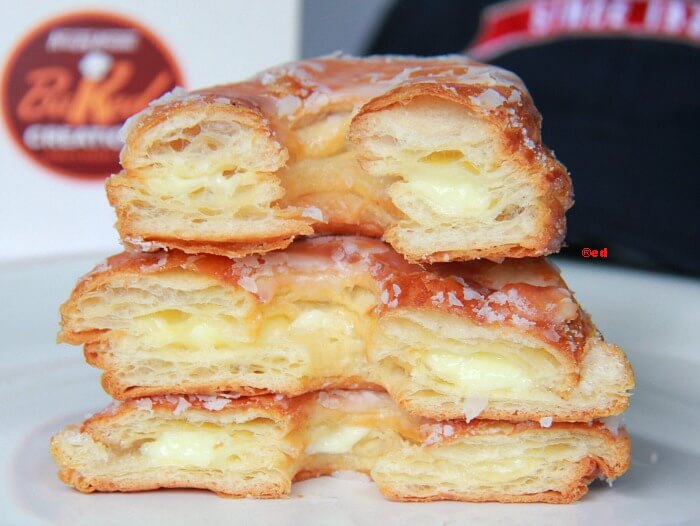 To all croissant and doughnut aficionados who are curious about what this delectable hybrid tastes like, brace your palates.
A hot new snack, the CRONUT - a combination of a croissant and donut which is currently all the rage, debuted yesterday at our favorite confectionary store,Krispy Kreme. Branches all over Luzon serve the croissant-donut hybrid in the name of "KRISPY KROISSANT".
Yesterday I had the first taste of Krispy Kroissant. I was supposedly on no-sugar-no-carbo diet for two weeks but when I got home yesterday, Krispy Kreme surprised me with a box of Krispy Kroissant. It smelt pretty good and the four variants looked so DIVINE when I opened the box. Immediately, my diet was out of the window and I've decided to have some yum yums!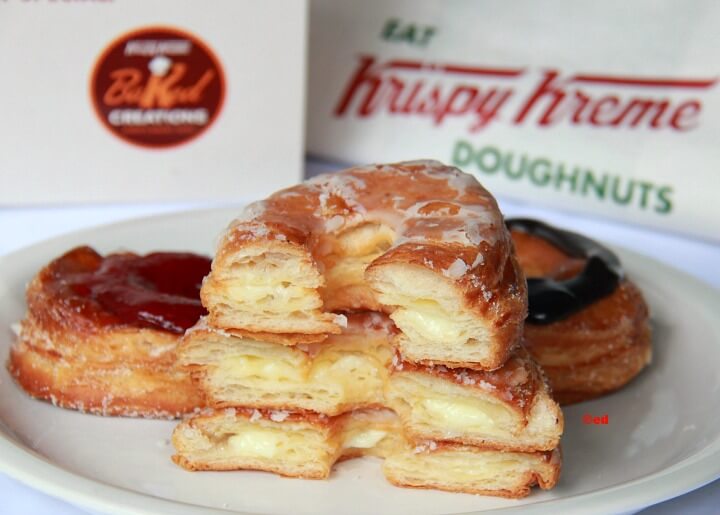 So, what does Krispy Kreme's Krispy Kroissants taste like?
Flakey but chewy, it's a little bit heavier than a croissant but fluffier than a donut. With the vanilla cream inside, there's an element of the éclair about it. There's a soft crunch when I sank my teeth in, followed by an injection of cream and a whiff of apple cinnamon, thanks to the aromatic taste of cinnamon and the delicate sweetness of apples on top.
This new tasty treats from Krispy Kreme are insanely addictive. My Krispy Kroissants disappeared in seconds. Other variants are Chocolate, Strawberry and Vanilla Cream. Krispy Kroissants are perfect breakfast sandwich or a snack but you can't have a large Coke, lol!
Tips on how to enjoy the cronut: Peel off the layers one by one like a mille crepe cake or cut with a serrated knife to avoid crushing the layers.