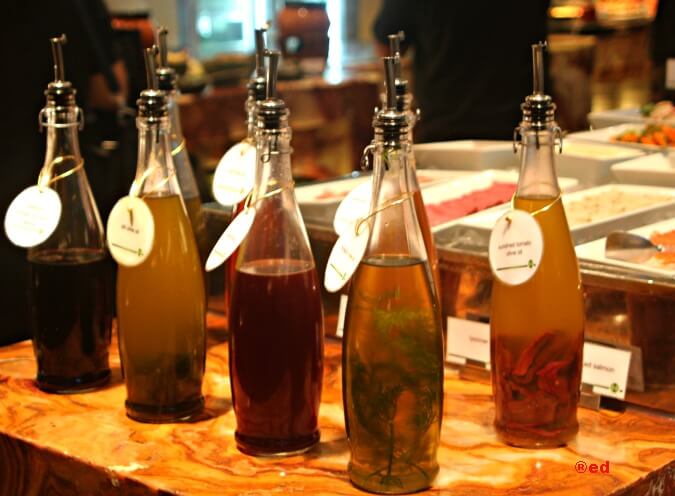 You have no idea how arduous it is to edit and collage all pictures of the food I have sampled whenever I go in a buffet with uncountable dishes. These images I've took during Marriott Manila's Flavors of Asia buffet are some of the finest cuisine (selected out 200 images) I have ever eaten in the world-class hotel to feast your eyes on, guaranteed to seduce and send a strong desire for you to savor a charming Asian dinner that assures an enjoyable age-old tradition of bonding through a delicious mix of aromatic, spicy, rich, sweet, and hot Flavors of Asia.
This post is your last call to try Marriott Manila's Flavors of Asia Buffet before the month-long celebration of oriental flavors ends...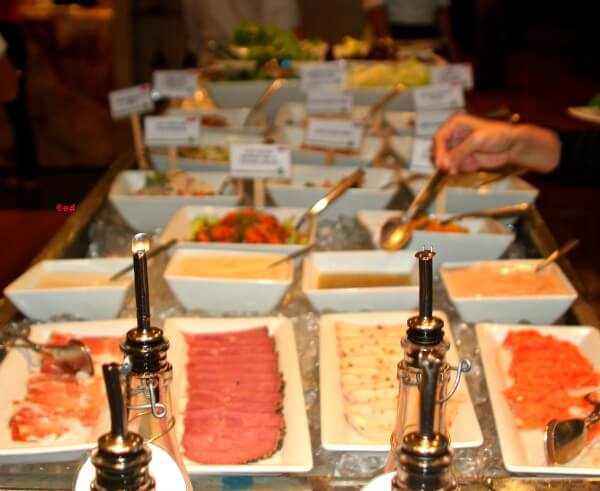 With familiar sights and swish sound from a nearby specialist chef who worked his magic and created steaming hot pot meal - Vietnamese Pho in front of our eyes, the elegant M Cafe has a feel of zen-like when I entered. Bamboo steamers, native place mats and crews dressed in Asian uniform made a palatable atmosphere mix in a modern ambiance. From a wide range of dishes that cover a spectrum of Asian cuisine, exotic aroma filled the huge and highly decorated dinning room which I thought more appropriate to describe as Chinatown-feel hence on a luxurious level.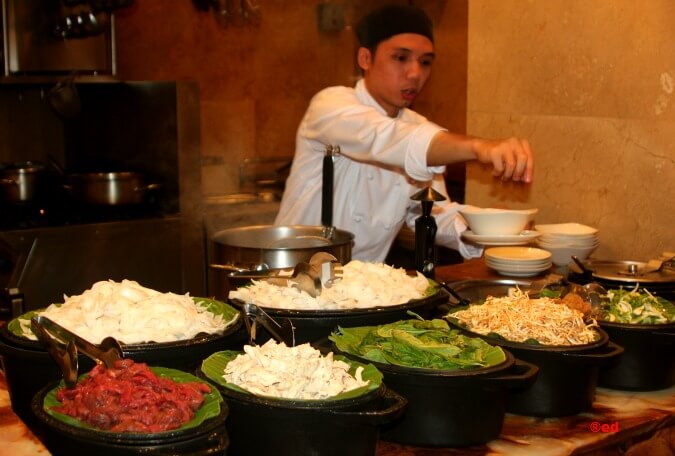 A 360 degrees glimpse of a hundred and more Asian dishes while looking for a spot to settle was overwhelming, I seated next to Eugene of Hefty Foodie. The inviting salad table with 8 different types of dressing in bottles that was beautifully placed on one side and ample selections of toppings on the other side captured my attention. I was thinking to try it first but I was held up at the grill station.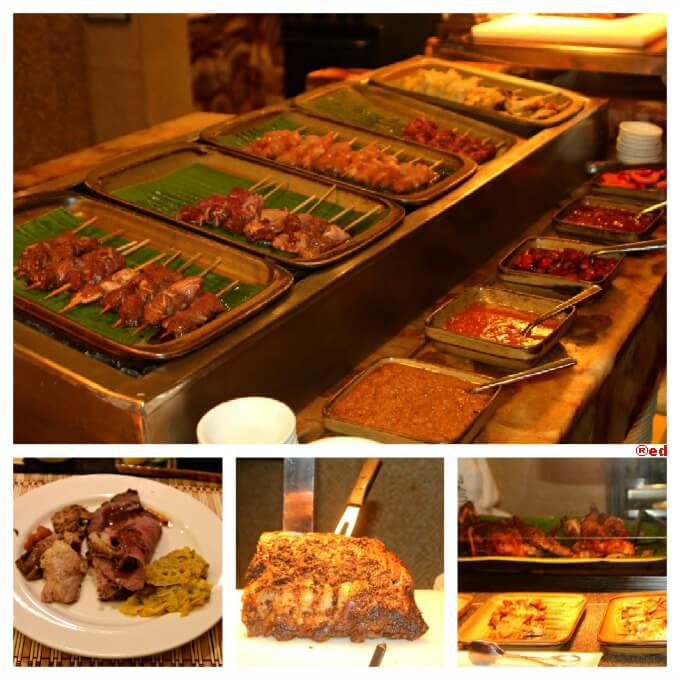 I began my dinner with two skewers of satay from a wide range of satay made of lamb, beef, duck, pork, and chicken in different kinds of sauces such as peanut, chili and soy. My first plate includes shrimp and pork crepe,
crispy
roasted duck and huge chunk of succulent beef steak with
peppercorn and red wine sauces.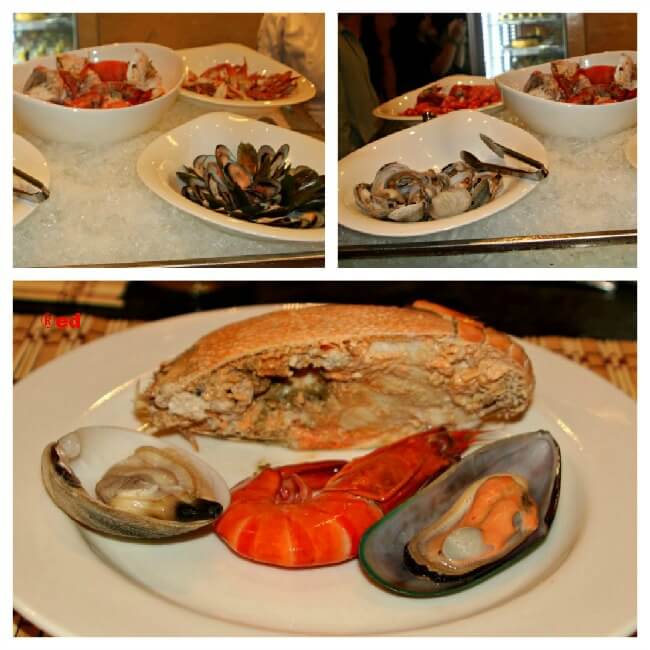 The cold cuts station was really hard to resist so I gave in to the mind boosting precooked seafood patiently waiting to be picked. "Somebody give me a calcibloc", I joked halfheartedly to my fellow bloggers while shelling out fresh tiger prawns meat. Taking the crab fats out from its shell was challenging but brought so much glory in my taste buds when I locked my lips. Hmmmm, who said I care about heart attack? lol!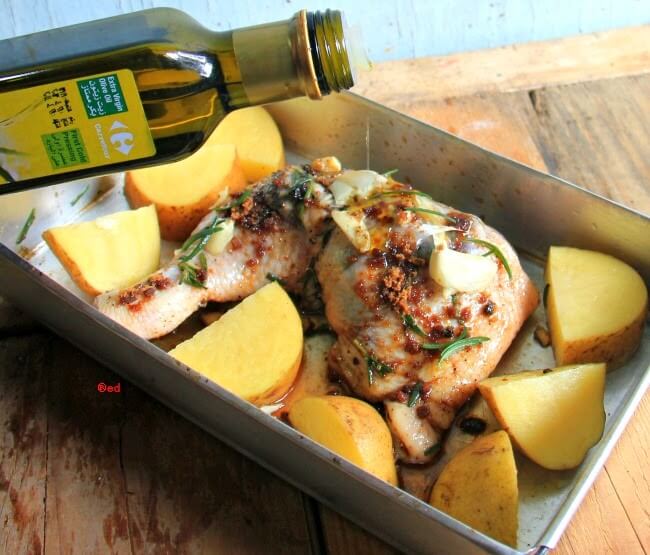 Flavors of Asia will not be complete without Japanese cuisine, albeit not the highlight of the buffet, tempting display of maki, tempura, sushi and sashimi were also available from the Japanese station. Who am I to say no to this famous Asian cuisine?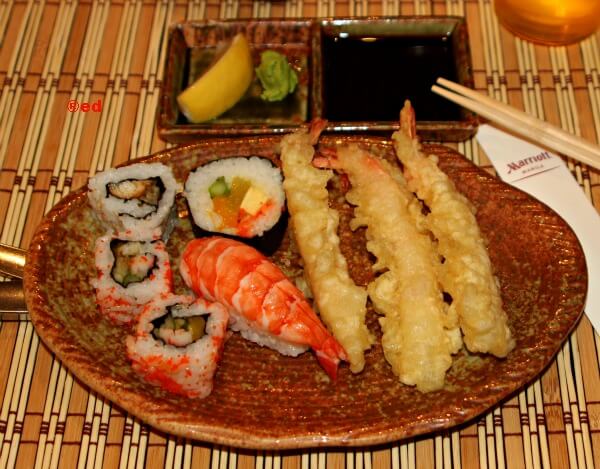 I was reaching saturation, but there are more
Asian
dishes to enjoy. I get an injection of Malaysian and Thai cuisine that everyone was raving about, a fragrant mix of punchy aromas and dynamic chilli heat ranging from a warming stew, red and green curry, to sweet and sour sauce dishes. It's a great blend of flavours, everything was well presented.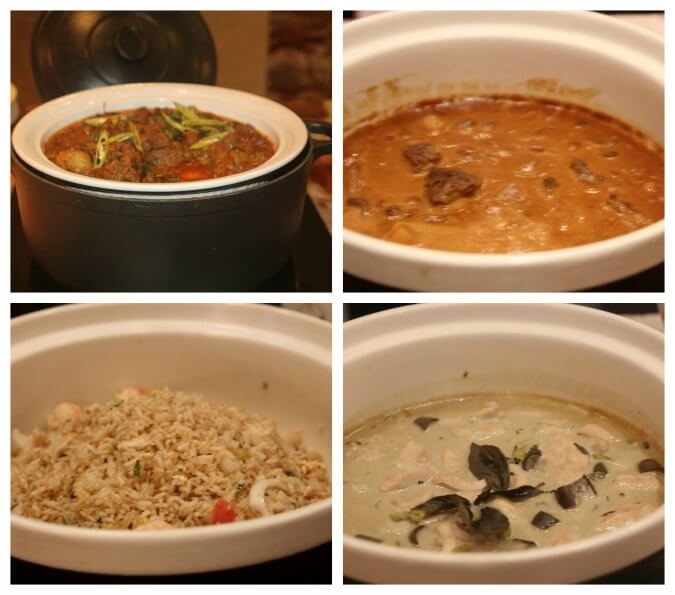 These are the dishes that marries the pungent and the assertive with the smooth and silken; Kalio daging (braised beef spiced with turmeric and coco milk), par lad prik (deep fried fish with chili sauce), ayam rendang (chicken with coco milk), sauteed squid with pineapple and cucumber, massaman near (massaman curry with beef). I almost swoon when i tasted the green curry chicken.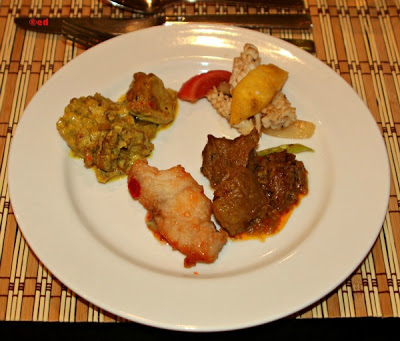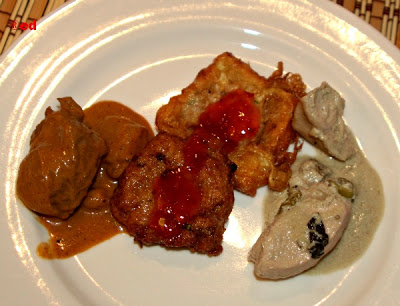 Dessert was my final stop in sealing the evening to remarkably sweet and truly special. With Marriott's buffet, I made sure to have a room for luscious desserts regardless of the amount of food I've taken. There is no doubt about it, from fresh tropical fruits, gelato, ice cream, cakes to chocolate fondue, M Cafe is the premier brand when it comes to dessert. I could honestly say that it was a taste of heaven.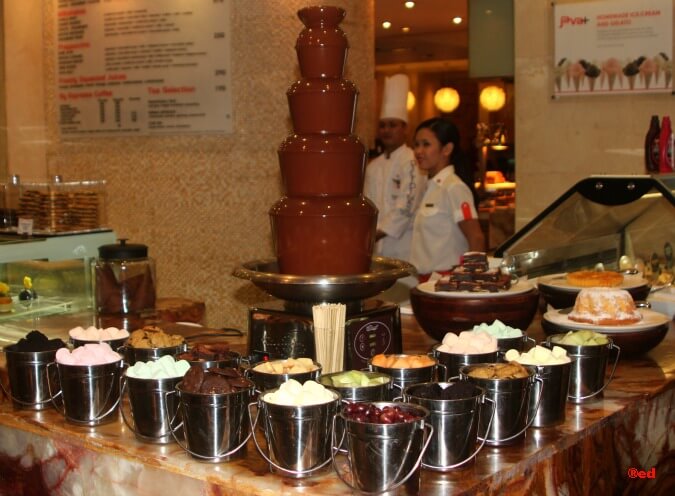 The towering chocolate fountain was surrounded with fresh fruits, marshmallows, cookies and brownies. I dipped some grapes into the thick chocolate while thinking what would be my next sugar intake. The dessert station was a mix of western and Asian desserts. Signature cookies, finest chocolates, breads, cakes, pralines and other unique confectioneries were sophisticated inside the glass chiller.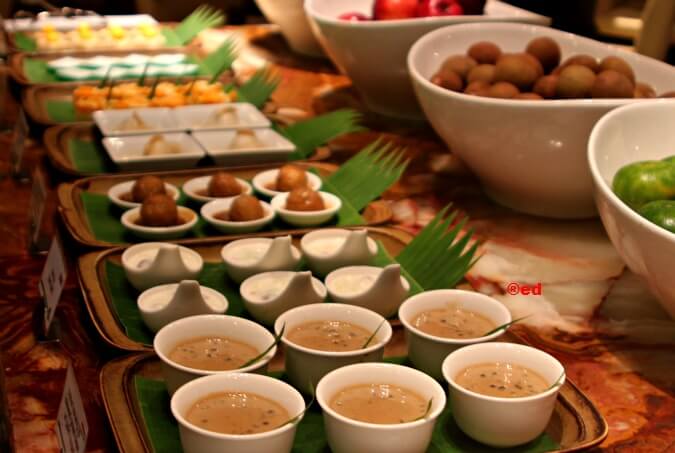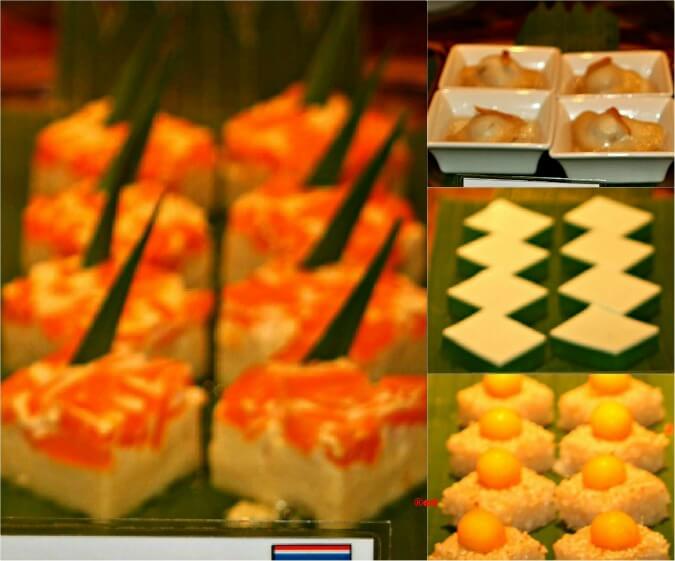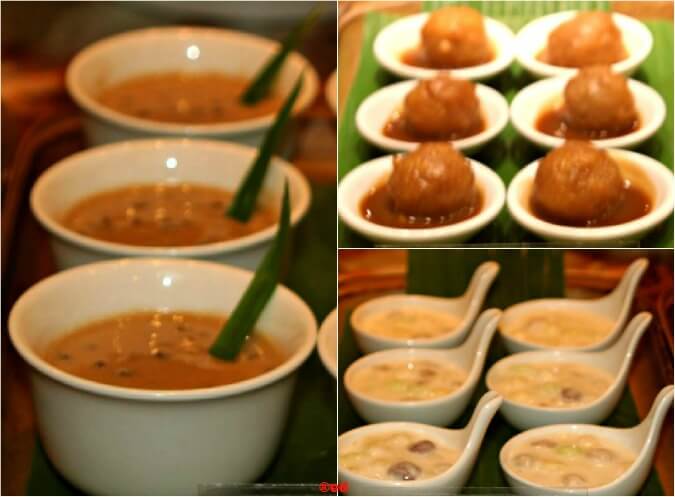 Asia's healthy sweet treats were morale boosters: Baoloy (taro ball), kolak biji salak (stew sweet potato ball with palm sugar in coconut milk), che troi nuoc (dumpling in ginger syrup), pumpkin custard, vun bai tury (pandan leave jelly), xoivi (sticky rice cake), and banh chuoi nuong (banana cake) were blissfully lined up on a table.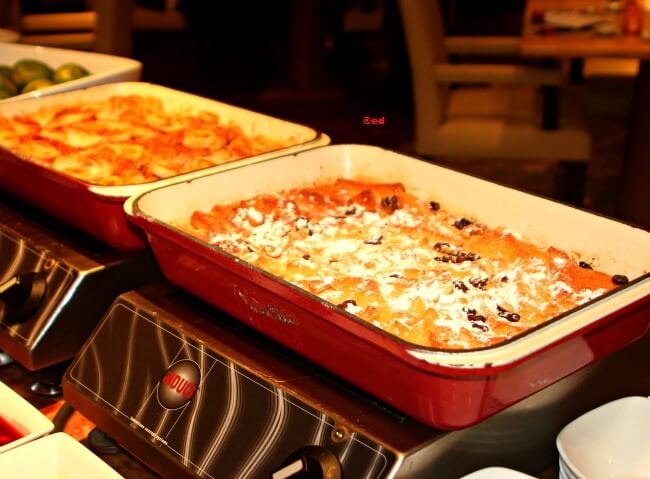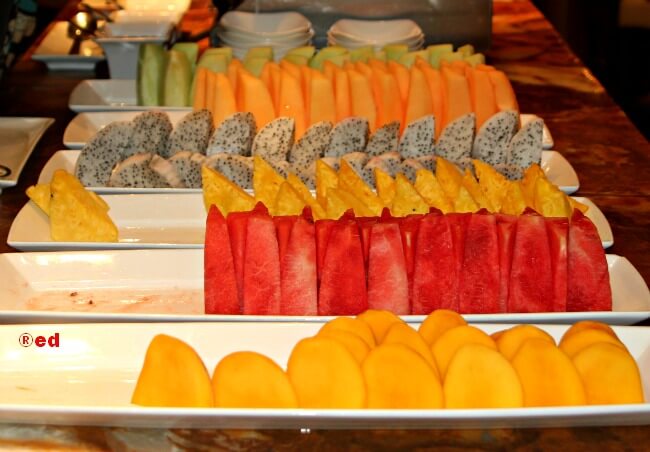 The complex Asian cuisine was undeniably oriental. Not only I had a fantastic sociable evening fueled with Asian inspired refreshment. Quite apart from the food though, so much of the charm of M Cafe lies in its ambiance.

It's a restaurant, it's a cafe, and it's a destination.
Marriott Manila still running its Flavors of Asia Buffet until the end of this month. For inquiries or reservations, call Marriott Café at 988-9999.