Isdaan Floating Resto-Park
Calauan, Laguna
Philippines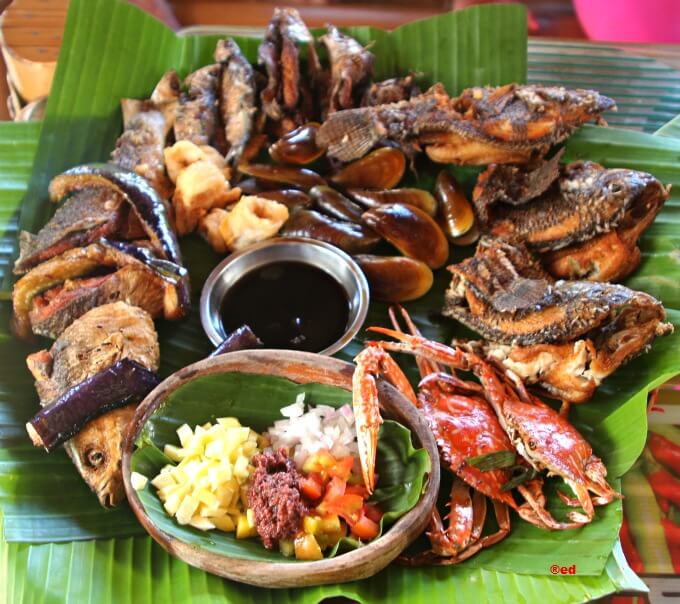 Fried Seafood in a Bilao, Php 614
After featuring
Palaisdaan Restaurant
in the province of Quezon, I'm going to bring your culinary curiosities to the Isdaan Restaurant in the historic Laguna province this time. Both of the restaurant names were rooted from the same word
isda
or "fish" but were managed by different owners. Although the menus were identical, serving Filipino dishes, Isdaan Floating Restaurant is larger and had an impressive fiesta atmosphere... and its where I'm going to choose to dine all over again to the billionth times.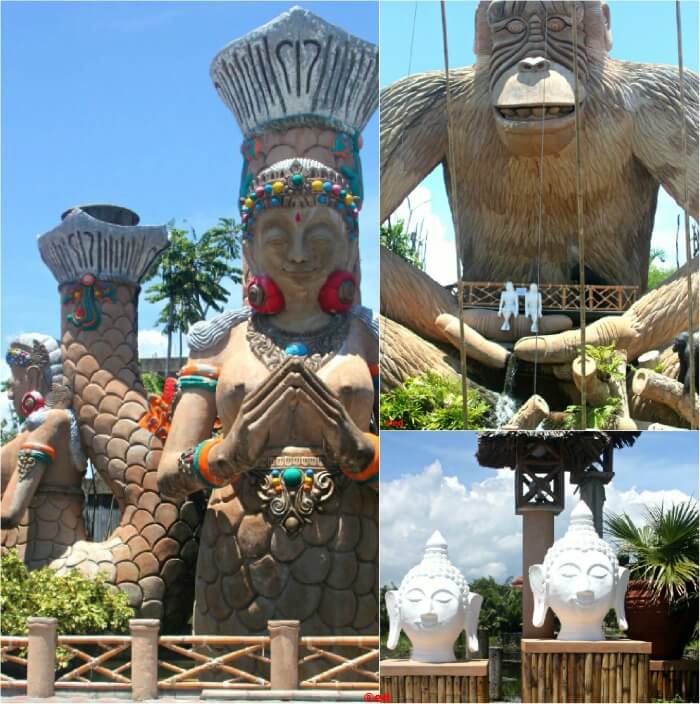 The restaurant-slash-theme park has an Asian appeal. There are towering concrete sculpture of mermaids , gorillas, giant Buddhas, dinosaurs, and life-size replicas of the different Disney characters such as angry birds, incredible hulk and other super heroes that occupied our time (photo-shooting) while waiting for a cottage to be vacated. The kids had great time riding on bikes, swings and other fun rides.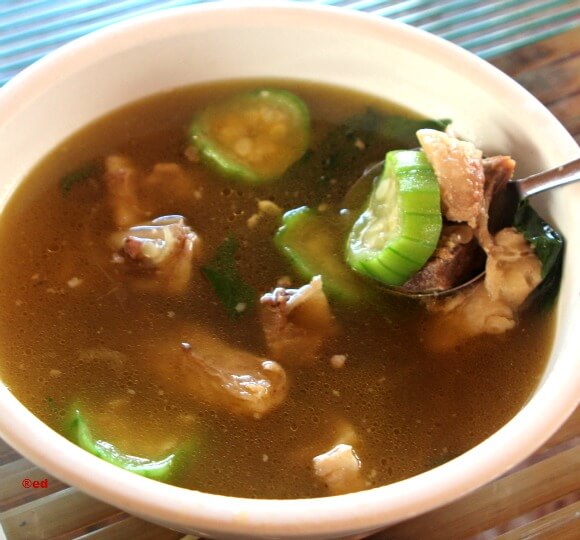 Pinatolang Baka, Php 391
For starter, we ordered steamy Pinatolang Baka (beef stew and luffa). Peachy who for some odd reason doesn't eat Patola, tried it and she liked the soup but still vowed not to eat Patola at home unless it would be cooked as this one. For me, the soup delivered a promise of good gastronomical experience in this Filipino restaurant.
Marinated and Grilled Liempo, Php 292/half kg
Anney liked the familiar Marinated and Grilled Spareribs and Kinalabasang Hipon (shrimped in creamy squash puree). I agree with Anney, I also liked the tasty and fatty liempo (pork belly), who doesn't? lol! The fat was so soft that almost melts in my mouth and that's exactly the way I want it cooked.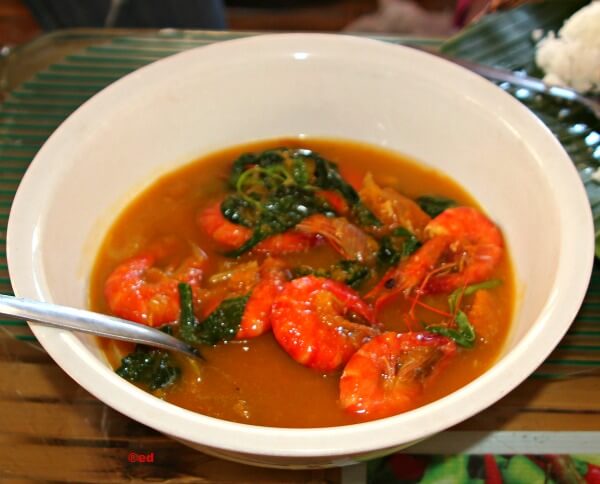 Kinalabasang Hipon, Php 409
A humble but popular Filipino dish, Adobong Kangkong was meaty, its taste blends in perfectly with any of the fried seafood we've ordered such as mussels, squid, tilapia and crab. My Filipino taste buds meditated on the sensation it brought....hmmm.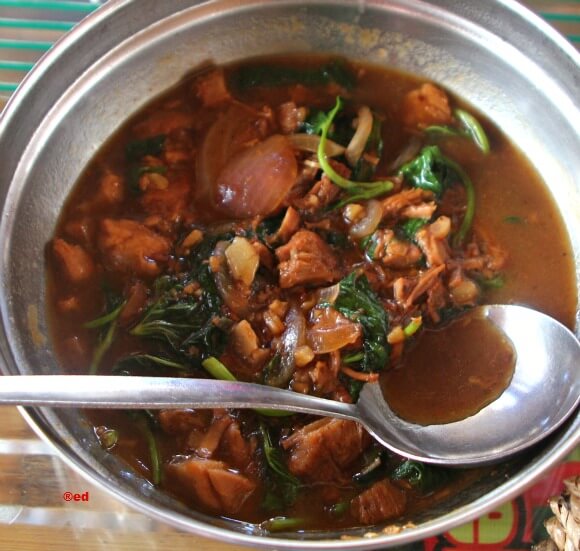 Adobong Kangkong, Php 108
My first taste of Tacsyapong Gulay was remarkable. Although I could make it at home, it would be my utmost pleasure to travel 3 hours again to this restaurant just to untie the banana leaves and devour on the fresh vegetables with fish sauce.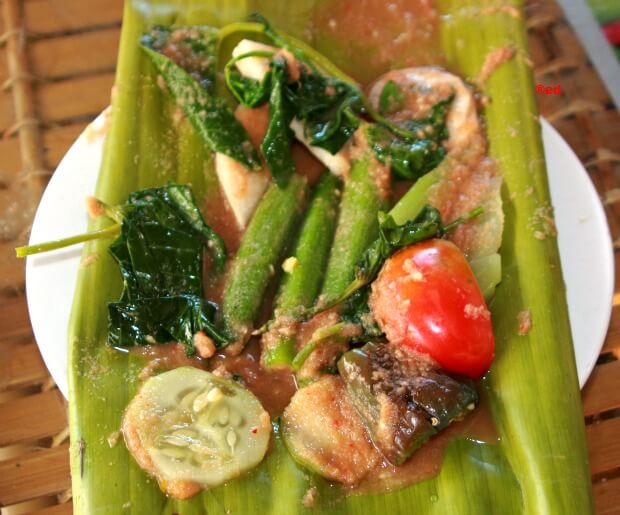 Tacsyapong Gulay Php 106.50
Quite apart from the taste of the food though, I noticed that the presentation of the Filipino food was indigenous and I found it appetizing. The chicken was cooked in milky coconut, wrapped in banana leaves then grilled for a few minutes.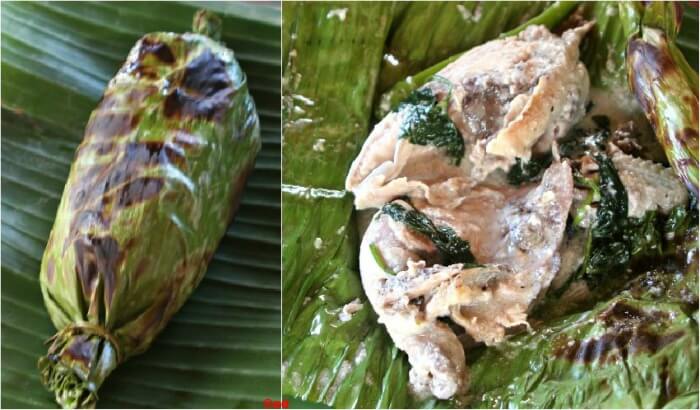 Manok sa Gata, Inihaw sa Dahon, Php 303
While dinning, we were entertained with cultural shows and serenaded with songs. The magic and acrobatic shows were blockbusters to my nieces. Dinners wont have time to be bored.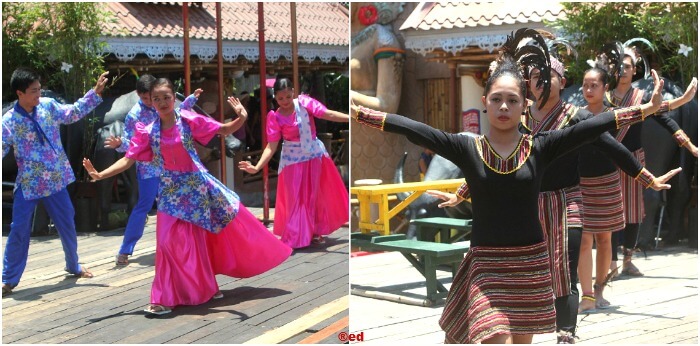 Our beautiful culinary affairs ended with a tropical pitcher of each: Watermelon Juice, Mango Juice, and Melon Juice. We also ordered Melon Sago and Mango Sago to complete the extraordinary experience.