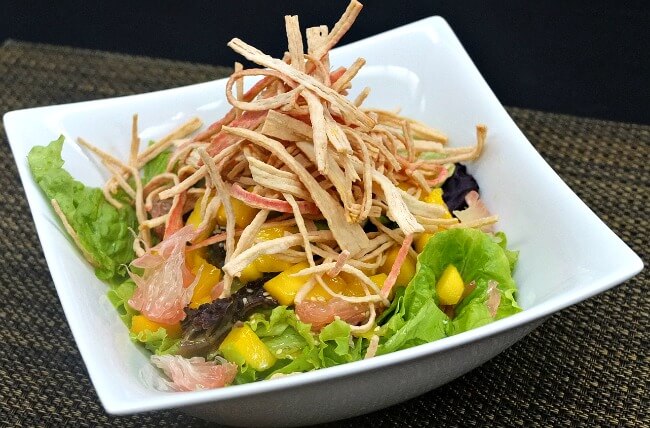 I feel it!
The rainy days are very slow and your favorite tv series is playing all day long.
All of a sudden, you feel hungry and need to have a break from watching it ...you gotta hit that pause button.
I guess, its good to fix a crispy Kani Salad...'twill just take a few minutes.
Put your "Revenge" excitement on hold, this dish will excites you more.
Here's our monthly dose of easy recipe courtesy of renowned Japanese Chef Seiji Kamura. He showcased his unique recipes and immense talent at a recent demonstration at The Maya Kitchen later last month.
2 pieces crab stick, shredded, coated with MAYA All Purpose Flour & fried until crisp
Mixed greens (Romaine lettuce, Lolo Rosa, iceberg)
40 grams pomelo, shredded
40 grams ripe mango, sliced
Sesame dressing: Mix together and pour over Kani Mix
¼ cup vegetable oil
3 tablespoons vinegar
2 tablespoons calamansi juice
2 tablespoons Kikkoman
2 tablespoons sesame oil
40 grams white sesame, toasted & processed in a blender
2 tablespoons honey
For other class schedules, culinary tips and recipes log on to www.themayakitchen.com or email contactus@themayakitchen.com.