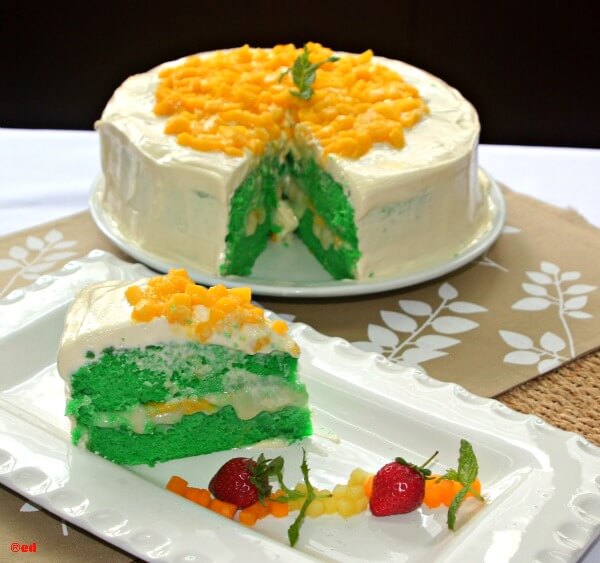 Why is it that after a huge meal we can always find a corner for a delicious dessert
... even though we knew we shouldn't?
I am addicted to ice cream, chocolates, and yes ...cakes.
Cakes, among the desserts I've lived by is a pleasure I've never outgrown.
The Maya Kitchen has dreamed up the ultimate dessert in last month's cooking demonstration,
blending mango on top of a pandan cake covered in white chocolate ganache.
A delicious retro-colored cake - Surprisingly easy to make and a perfect season treat for everyone.
PANDAN-WHITE CHOCOLATE MANGO CAKE
Pandan Cake
2 ½ cups MAYA Cake Flour
¾ cup sugar
3 teaspoon baking powder
½ teaspoon salt
½ cup oil
7 pieces egg yolks, separated
¾ cup pandan water
1 teaspoon pandan extract clear
2 teaspoons green food color
7 pieces egg whites
½ teaspoon cream of tartar
¾ cup sugar
White Chocolate Ganache:
500 grams white chocolate, chopped
1 cup cream
Frosting:
2 cups whipping cream (Pour N whip)
Filling and Garnish:
4 pieces ripe mango
Mint leaves
Procedure:
•Preheat oven to 350°F. Prepare 10-inch round pan. Line and grease bottom, ungreased pan sides.
•Sift together the flour, sugar, baking powder and salt in a bowl.
•Make a well at the center and add oil, egg yolks, pandan water, pandan flavoring and green food color. Beat until smooth and no lumps occur. Set aside.
•Using a stand mixer or electric hand mixer, beat egg whites until frothy. Add the cream of tartar. Continue to beat on high until soft peaks begin to form. Add sugar very gradually and continuously beating until meringue is glossy and stiff.
•Gently fold the egg yolk mixture into the meringue until well blended, ensuring that you scrap the bottom of the bowl as you fold.
•Pour into prepared pan.
•Bake until golden and middle springs back when touched for about 45 minutes.
•Cool completely upside down.
•FOR THE WHITE CHOCOLATE GANACHE: place chopped white chocolate in a bowl. Boil cream and pour over chopped chocolate. Let it stand for 5 minutes then whisk until all chocolate dissolves. Set aside. Slice cake into 2 – spread chocolate ganache. Cover cake with whipped cream frosting and decorate with sliced mango and mint leaves.