As always, my phone alarmed its usual tune on the exact time when I less expected it. "Gimme five more minutes and I'm ready to rock the world", I declared to myself while turning the alarm off. The five minutes snooze didn't prolong and it rang again no matter how I begged not to, I turned it off but never leave my bed. Oh, my bed felt so amazing everytime the alarm goes off?...ugh!

I was half awake lurking for nothing in bed until something sweet touched my face - the first hint of morning light. My eyes slowly opened and I can't help but smile for the first time as I watched a ray of morning light slowly moved in my bed. Ahh, I had a long and well rested night, its time for me to get up.

I got up from bed, opened my kitchen's window up and stretched my arms looking at the dramatic shades of morning light creasing the horizon. I watched it for a minute until I remembered this omelet series project. Immediately, I squeezed some oranges and gulped before I start preparing one of my favorite breakfast dishes of all time, Corned Beef Omelet.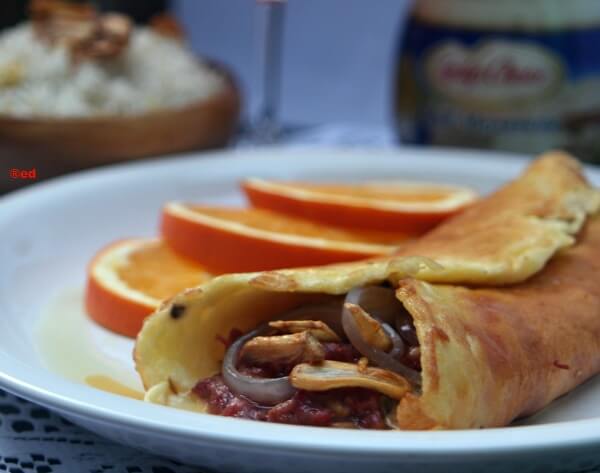 Ingredients:
150 grams Highlands corned beef
3 eggs
3 tbsp LADY'S CHOICE Mayonnaise
1/4 teaspoon salt
1/8 teaspoon black pepper
2 tablespoon butter
1 medium red onion, sliced into full moon
1 bulb garlic, sliced and fried.
Preparation
In a bowl, whisk eggs lightly. Add LADY'S CHOICE Mayonnaise, salt, and pepper together till foamy, set aside. In a large skillet, sauté onions in butter until cooked. Pour over the eggs mixture and cook over medium heat; as the eggs set, lift edges and let the uncooked portion flow underneath. Cook for 5-8 minutes (until it is well set but not too dry). Place on a plate.
In same skillet, sauté onions and garlic until onion has softened. Add the corned beef, salt and pepper, cook for 5 minutes. Spread the corned beef on top of the egg, sprinkle some fried garlic and fold.
Serve with garlic fried rice or pandesal. Enjoy!