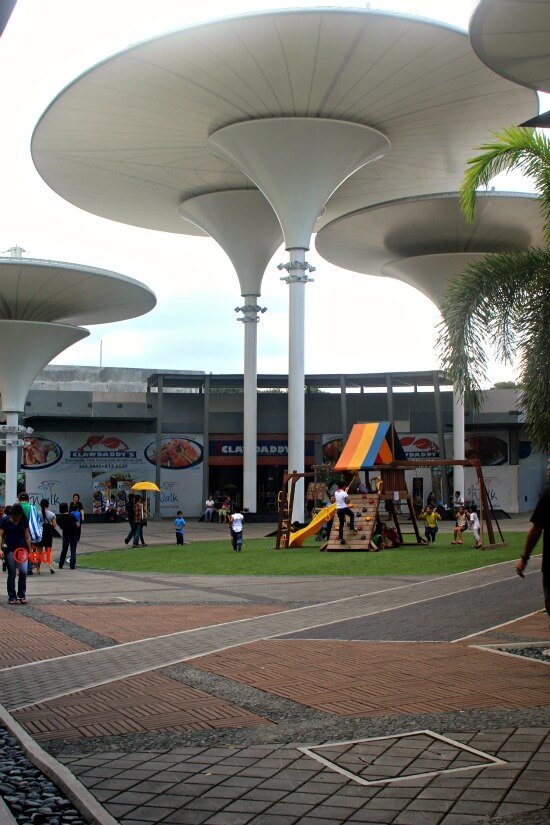 A beautiful day should be spent strolling. So one fine day, my cousins, nieces and I found ourselves strolling in "Centris Walk", a new, open-space commercial center strategically located within Eton Centris – a 12-hectare mixed-use complex that epitomizes the vibrant work-shop-play-and-live concept in Quezon City.
I was amazed with it's promenades, I noticed that they used "green architecture" featuring lush landscape, covered walks and pedestrian-friendly pavements. A playground
on artificial grass was installed at the center
of different restaurants was a big hit to my nieces, while the shopping area was dominated by Anney and Peachy.
I mentioned from my previous post that I'm planning to go back in our home town this summer. I was planning to revive our front lawn and I was gathering model lawns and information. An idea flashed in while I was admiring the patios...I'm going to transform our front garden with artificial grass so my folks would not deal too much care on it. I was thinking of a tiered patio with steps if could be possible, that will make our backyard the envy of our neighborhood!
I found INSTALL-IT-DIRECT on the internet when I went home. They are the premiere paver installers. Installing driveways, pool decks, walkways and patios for decades including artificial grass for pets, landscape turf, putting greens and athletic turf. A master riverside pavers installing paving stones and synthetic lawn. Sharing this to y'all for your next lawn project. To learn more about Installitdirect and the paver installation process, please visit their website.