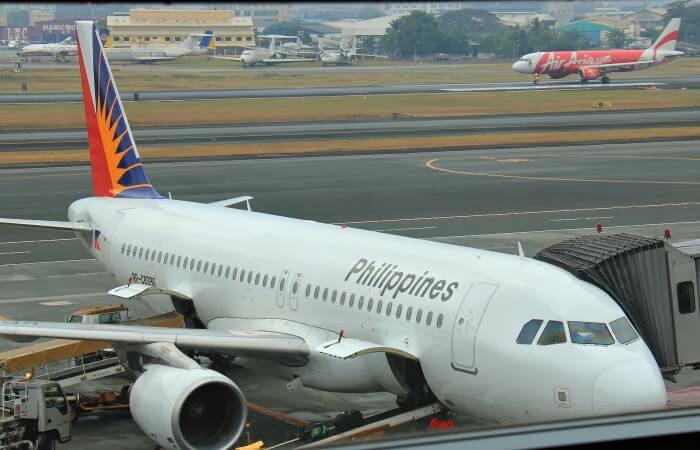 Pre-Airport Experience - Three weeks before departure, I requested to modify my roundtrip (PAL and PAL Express) airline tickets that was supposedly used last December to be rebooked on January 30 and February 8. Changes and payments transaction were made over the phone through respective customer care hotlines. It was a long call, presumably an hour including the usually unbearable waiting time, but all my concerns were attended accordingly in just one phone call, not a single follow-up was made. The experience was more convenient rather than going to the nearest ticketing office to make changes.
Travel Tip: How to Get a Window Seat without Paying More
I have flown a lot and on each flight, I want to be seated next to the window. I hate airplanes' middle and isle seats and I think I'm not alone in thinking that they are the worst. When I booked and rebooked my tickets, I skipped the airline seating chart because I won't and didn't pay that extra charge to choose my seat. I don't have an assigned seat until I checked in but I'm not worried. With an experience attending Air Philippines' (now PAL Express) check-in counter during my OJT in college, I know what to do to get that seat next to the aircraft's window.
From what I've experienced in handling flight manifest and check-in counter during my OJT days, some number of available seats are on hold and block till the last minute, reserved for emergency cases and super VIPs they say. (Wikipedia: A flight manifest is a list of passengers (or in the case of a cargo flight, parcels) and crew of an aircraft compiled before departure based on flight check-in information. It is securely guarded to protect passengers' privacy)
Here's the drill: You can get a window seat but it's a gamble, depends if there's a vacant window seat on your flight.
Here's what you have to do: Check-in two hours early for domestic flight. Give your nicest smile and beautiful eyes to the ground attendant and nicely request them that you want to be seated by the window. Unless all of the window seats have been selected and paid for, you have a pretty good chance of getting a seat with uninterrupted view of the sky.
I requested a window seat with my signature puppy dog eyes that the pleasant ground attendant could not resist. He placed me near cockpit, next row from senior citizens and PWDs, 7F of Airbus A320-214 as per my boarding pass. Man, I was very lucky!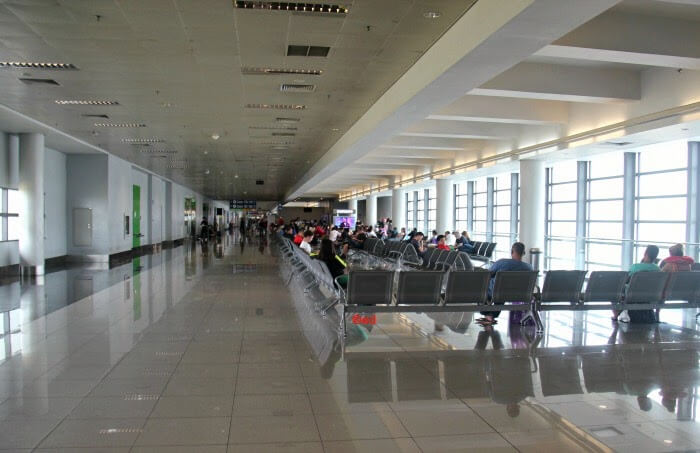 Airport Experience - Passing through usual baggage and security checks, frisking, x-ray and metal detectors, shops and restaurants, I found gate 119 in Ninoy Aquino International Airport's domestic flight area. There are restaurants, clean restroom, and smoking area near the gate. Passengers bound to Puerto Princesa were lounging at the brightly lit terminal with nice cushioned seats and large window. There's a group of high school students carrying trophies wearing oversize glasses and baseball caps giggling, some were seating on the floor blocking the entrance gate although there's lot of vacant seats. I seated near the entrance next to old couple who coincidentally my seatmate in the plane, sleeping and looked tired - from probably connecting flight. On the other side was a nun silently praying the rosary, her eyes are closed.
From where I seated, I saw Philippine Airlines Airbus A320-214 unloading baggage from the aircraft. It was a gloomy day signifying that tropical depression Basyang was slowly coming in the Philippine area of responsibility. I have plenty of spare time and surprised when I learned that WIFI access was free. My remaining 1:45 hrs of waiting was spent in the smoking area updating my social media accounts and checking the weather bulletin. The typhoon will reach the southern part of the country in a day or two according to PAGASA. I gotta have a safe flight, I told myself.
The boarding process was very organized. I commend the ground stewards for repeatedly announcing the order of embarkation. We were divided into three groups: Rear-Middle-Front. Seats in the back of the plane are boarded followed by the middle section and then the front area. Our group was the last to go onboard as final boarding passes were checked.
When the boarding door was closed, I prepared myself for a bumpy ride, fastened my seat belt tight, checked my exit door and switched my electronic gadgets off. As we taxi from taxiway to the main runway, the usual in-flight safety demonstration was performed by the poker-faced flight attendants, lol!
"When the seat belt sign illuminates, you must fasten your seat belt. Insert the metal fittings one into the other, and tighten by pulling on the loose end of the strap. To release your seat belt, lift the upper portion of the buckle. We suggest that you keep your seat belt fastened throughout the flight, as we may experience turbulence...."
We took-off Manila on the dot which is unusual to happen. After passing above clouds and the plane reached its highest altitude, the captain turned the fasten seatbelt sign off and announced that passengers can now release their seat belts if needed. The aircraft was still climbing to its cruising altitude when the tropical rays of the sun touched my face. It was unexpected, considering that there's a typhoon coming in and was really cloudy when we left Manila. I peeked through the window, below was a huge cloud formation, probably the advance party of the upcoming tropical depression, lol!
Philippine Airlines' aircraft flew higher away from the clouds that cause turbulence. We float above the clouds and had a seamless flight. Accommodating airline crews served brewed coffee, tea, mineral water, greaseless peanuts and skyflakes in the middle of an hour flight to my lovely provincial capital, Puerto Princesa City. Before landing, the plane circled the famous Honda Bay with it islands and islets dotting the blue waters, giving the European tourists behind me a trailer of a grand vacation.
We arrived safe and a bit early from our scheduled arrival time. The crews and the passengers were both organize and sensitive as we disembarked. It was indeed another memorable and enjoyable flight.