I was so lucky last Saturday when Sissy Peachy of The Peach Kitchen invited me to accompany her to attend an event in McKinley Hill, Fort Bonifacio. I had a chance to experience a lunch full of flavors at Restaurant 101 in Enderun Colleges. The foods we had indulged in will be posted next.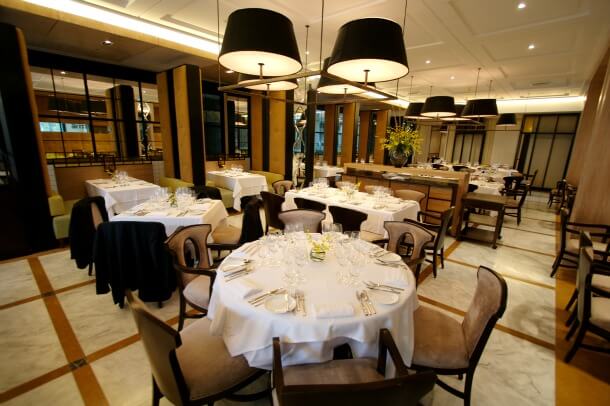 Press Release
If you are armed with a hefty appetite and the insatiable zest to try out new things, Restaurant 101, the application restaurant of Enderun Colleges, is certainly the place to be! Home to Southeast Asia's leading undergraduate culinary arts program, 101's seasonal menus are conceived by Enderun's world-renowned culinary faculty, showcasing the techniques of traditional French cuisine, the bold flavors of the Asian market, and a commitment to innovating with fresh, sustainable local ingredients.
Serving lunch and dinner Mondays to Saturdays, Restaurant 101 already enjoys name recall that mere mention of it creates visual images of things jaded palates yearn for. With Chef Thomas Wenger at its helm, it bursts with a myriad of flavors. Some of the offerings include ADF+Enderun signature dishes such as: Salmon Fillet, Mi-cuit, with Caper Herb Dressing and Warm Potato Salad; Lemongrass-scented Shrimp Broth Soup, with Crisp Vegetables; Chilled Tomato Soup with Basil Granité; Pompano Fillets a la Nicoise, with Tomato Fondue and Virgin Olive Oil Emulsion; Fillet of Sea Bass, Clams, Baby Squid, Shellfish, in Butter Sauce; Chicken Basquaise, with Stewed Sweet Peppers and Bayonne Ham; and Stewed Tagaytay Vegetables, with Vanilla Barigoule and Coriander.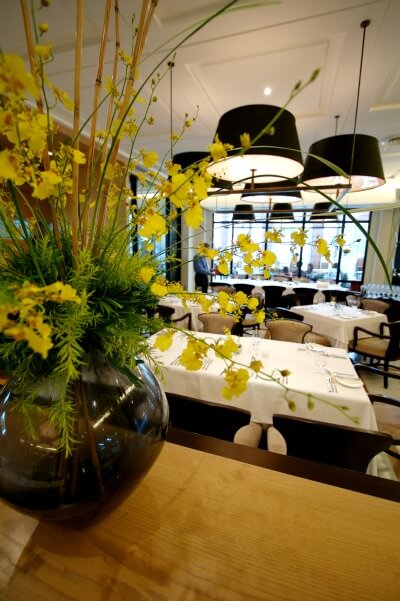 The restaurant's stylish interiors evoke the casual elegance of a contemporary Parisian bistro, while the student wait staff, working under the watchful eyes of the College's food and beverage faculty, brings freshness and unique charm to the 101 experience. It also offers monthly wine tasting dinners, and with an open kitchen exhibit that stands out from the surfeit of Manila's restaurants, it has definitely become a landmark, taking the spotlight in dining places to frequent.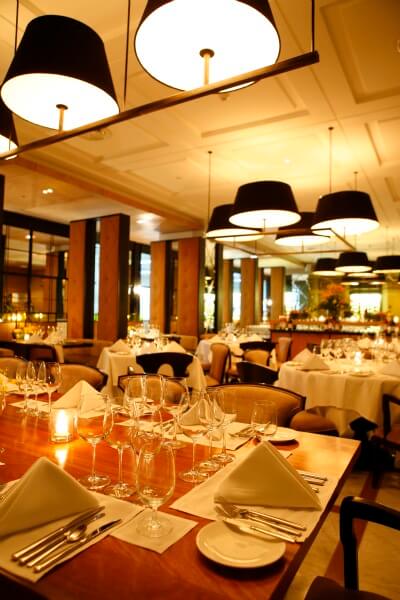 Restaurant 101 also welcomes the return of its popular Prix-Fixe menus, affordable three-course daily lunch specials for only PhP 300. It can also accommodate private parties and large-scale banquets, in two salon privés and its magnificent, high-ceilinged 240-square-meter Atrium. The chic Bar d'Etoile, adjacent to the restaurant, serves some of Manila's finest cocktails under a stunning canopy of glass and starlight.
For private parties and corporate gatherings, two adjoining wood-paneled rooms seat twelve guests each, and two rooms may be used together to create a single space for up to twenty-four guests. It features state of the art IT equipment, which can be configured for a wide variety of audio-visual presentations.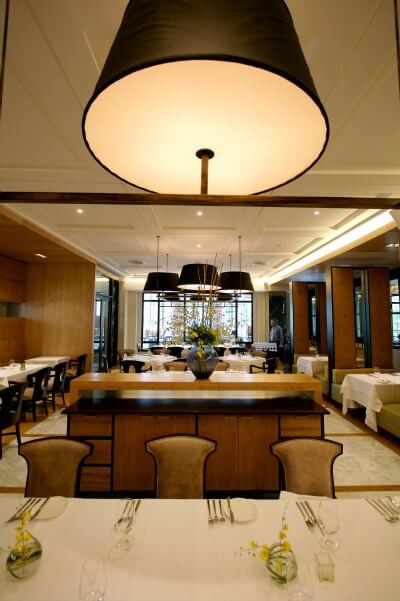 Restaurant 101 at Enderun Colleges is open Mondays to Saturdays, from 11:30am to 2pm for lunch, and from 6 to 10pm for dinner. For more information and reservations, call 856-500 local 101.
For more information, please contact:
Lou Molina
External Relations Manager
Mobile: +63917 8038617
lou.molina@enderuncolleges.com
Mark Tan
External Relations Associate
Mobile: +63917 5933398
Mark.tan@enderuncolleges.com
Enderun Colleges
1100 Campus Avenue
McKinley Hill, Fort Bonifacio
Taguig City 1634 Philippines
Telephone: (632) 856 5000
Facsimile: (632) 856 4656
www.enderuncolleges.com