"Our goal is to introduce food that's not only healthy and tasty but convenient as well as in-sync with the emerging fast and busy lifestyle nowadays", that's what Imelda Madarang, CEO of Fisher Farms said when I attended Fisher Farms food blogger's event held at Marco Polo Hotel in Ortigas, couple of days ago.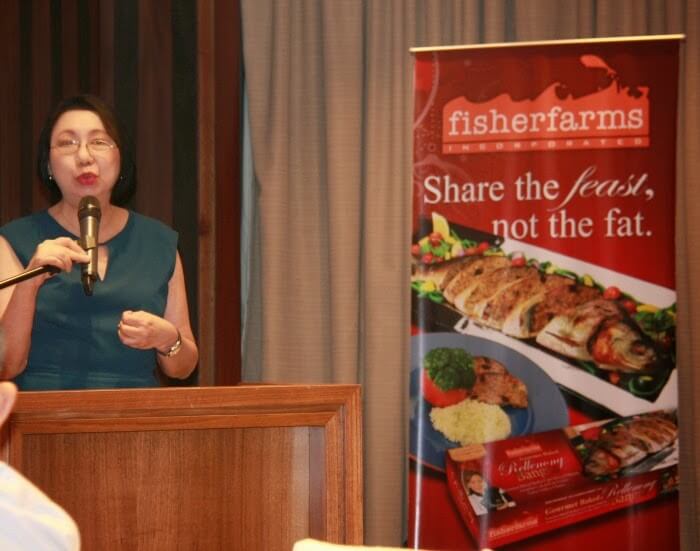 She explained that they are taking care of the whole supply chain, from the production of safe feeds which has no antibiotic, to the hatchery offshore grow cages to processing plant in Bulacan where they use state of the art technology and the highest quality and sanitation standards to ensure sustainable supply and of course to evoke consumer confidence. "We are fully integrated", she said.
They have local and international certificates such as USDA, EU certification, HACCP, BFAR Accredited (A and B Rating), Halal Certification, and received Superior Taste award from International Taste Quality (ITQI) based Europe as well as ASIAN seal top innovation award.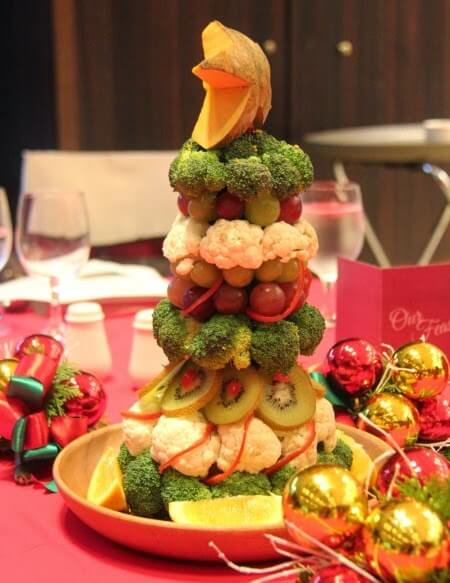 Now shipping to 17 countries in the world - 60% export, 30% food service and 10% to local retail. They are now planning to increase local retail market by launching and promoting variety of products from the frozen and value added to microwaveable meals, gourmet loins and a wide range of healthy deli - all made from fish.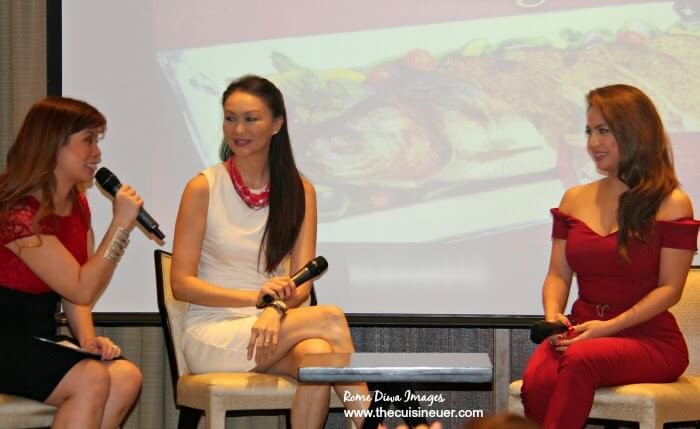 Supermodel Marina Benipayo and TV personality Regine Tolentino were present at the Fisher Farms launch of Gourmet Rellenong Bangus (Stuffed Milkfish) and shared some tips on how their family managed to eat healthy. As per Marina, they do the grocery together as family and they dont purchase too much of the fatty stuff, protein and meat at the grocery. "Always choose fish, chicken and vegetables", she said.
Regine Tolentino on managing food and healthy diet: "I try to cancel it out by doing Zumba, working out, dancing and then just lessening the portion just a bit and make sure to get the flavor so I don't feel deprived". It was a tasteful exchange of ideas. Everyone agreed that motivation to exercise is good food and the motivation to eat more of good food is exercise.
On video, we have the creator of Fisher Farm's Gourmet Baked Rellenong Bangus speak, Chef Reggie Aspiras – one of the country's paramount chefs with an expansive culinary repertoire that ranges from classical, continental, classic, Asian and dietary cuisine discussed why Rellenong Bangus should be the star of any table this Holiday. "The whole process is world-class from the way they feed, catch and clean, debone, and package Bangus", chef Reggie emphasized. "Not a Relleno lover" she confessed and creating Fisher Farms' Relleno is a challenge to make her love relleno.
Baked to golden perfection, savory and sweet, rich but not cloying, flavorful yet subtle, and indulgent yet won't leave you feeling guilty. The relleno comes in three generous sizes to suit the Filipino family: 800-grams, 1.1 kilos, and 1.3 kilos. It combines childhood and modern flavor – the relleno of your lola plus more exciting flavor. "This dish would make you feel happy, made for you to feast and enjoy with family and friends. Happy time – that's what is relleno all about", Chef Reggie conluded.

Fisher Farms Other Products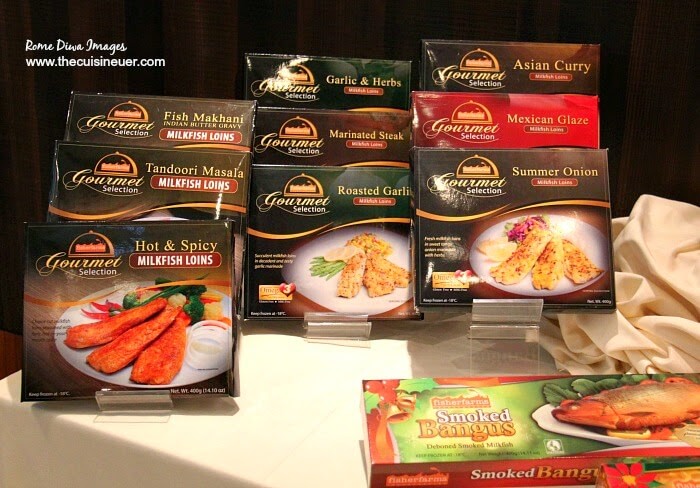 FFI Bangus Lemon Butter 482g
2-4 servings
Available in S&r
SRP: Php 257.00
1 pc of cooked belly inside
Microwaveable
Exported to US (Seafood City), Middle East
Certified Halal
Gluten Free
FFI Hungarian Sausage 310g
4 pcs/pack
Available in Alabang Supermarket Corporation, Cheery Foodarama, Landmark, Crossing Supermarket, Daily Supermarket, Metro Gaisano, Pioneer Centre, Puregold Duty free Subic, Robinsons, Rustans, Savemore, Shoppers center, Shopwise, SM Hypermarket and Supermarket, South supermarket, Unimart, Cash and Caryy
SRP: Php 112
Good Source of protein
No trans fat
Gluten-free, casein-free, nitrite-free
Made from Bangus/Milkfish
No fishy taste
plant-based casing (cellulose)
best if pan-fried or grilled
exported to US, Middle East
certified halal
FFI All-Naturals Fish Frankfurter 1 kg pack
12 pcs per pack
Available in S & r
SRP: Php 393.00
gluten-free, casein-free, nitrite-free
No chemical ingredients
No artificial preservatives
exported to US, Middle East
certified Halal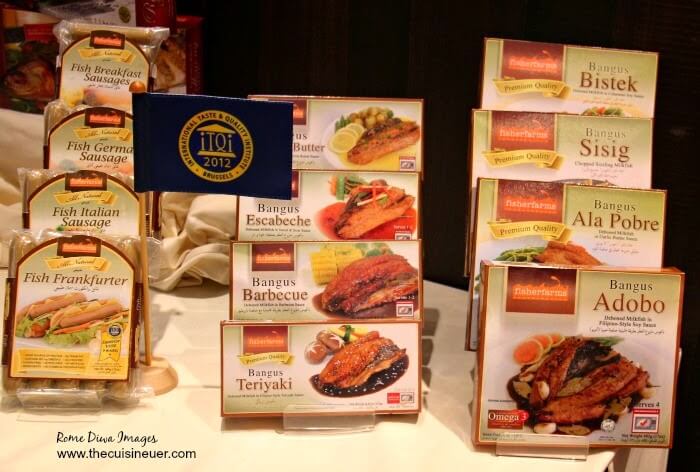 FFI Fish Nuggets 200 g
12 pcs per pack
SRP: Php 67
FFI Gourmet selection Roasted Garlic 4S 400g
4 pcs per pack
SRP: Php 165
FFI Smoked Deboned Milkfish 400g
4 pcs/pack
SRP: Php 140.00