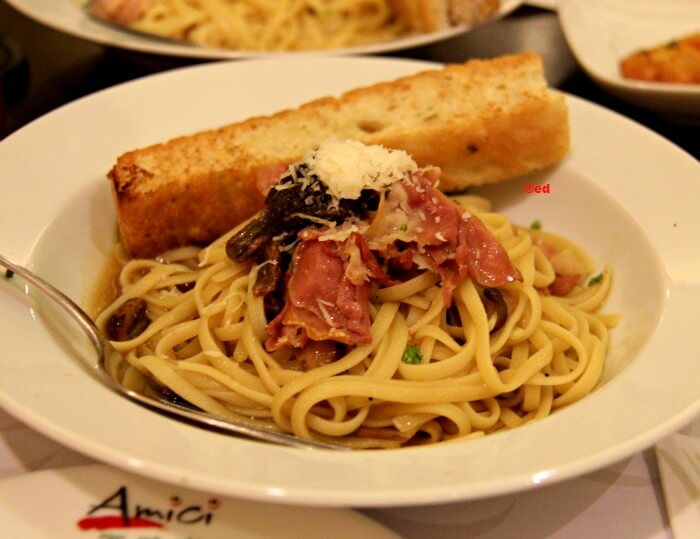 Linguine Al Prosciutto E Tartufo, Php 288
Mama Mia! Amici was sooo Italian. We felt like we were on Italian holiday when me and my two good old friends, Lady and Jim, dined here two months ago.
It was "pay" day and as I've expected, Makati yuppies were all heading to Ayala Triangle Gardens. The parade of restaurant that I passed through Amici were crowded. Dissapointed when I can't find vacant table inside, I stepped outside to smoke and told one of the crews to reserve 3 seater table. She handed me their menu and I chose our dishes while waiting at the al fresco area. As usual, both of them sent me an sms that they will be arriving a little bit late.
Amici is located at the farthest side of Ayala Triangle Gardens. Like the other restaurants in the garden that I've featured, it has a cozy ambiance. Occupying inside is Caramia Gelateria, an extension of Amici that serves homemade Italian gelato.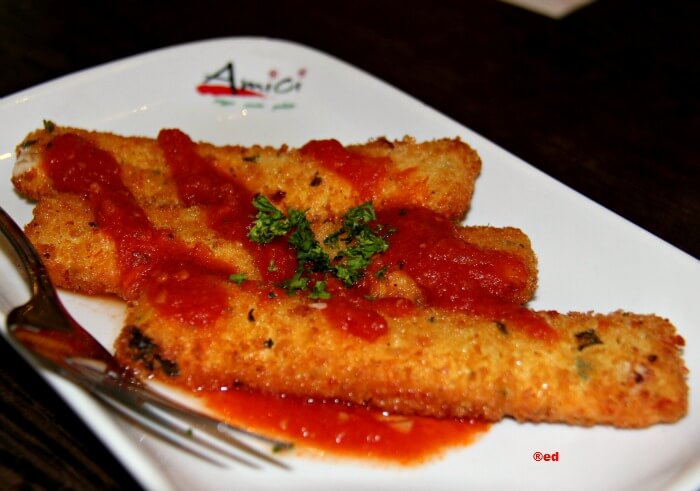 Mozzarella Frito, Php 225.00
My friends, whom I met when I worked in Cisco, arrived soon in perfect time when the crew called me to show the just vacated table. We settled down and requested for our drinks to be served - a large pitcher of iced tea. We started our conversation and over the three pieces of golden fried mozzarella sticks served with tangy pomodoro sauce. It was crunchy on the outside and creamy on the inside. Each bite was so flavorful and left us craving for more.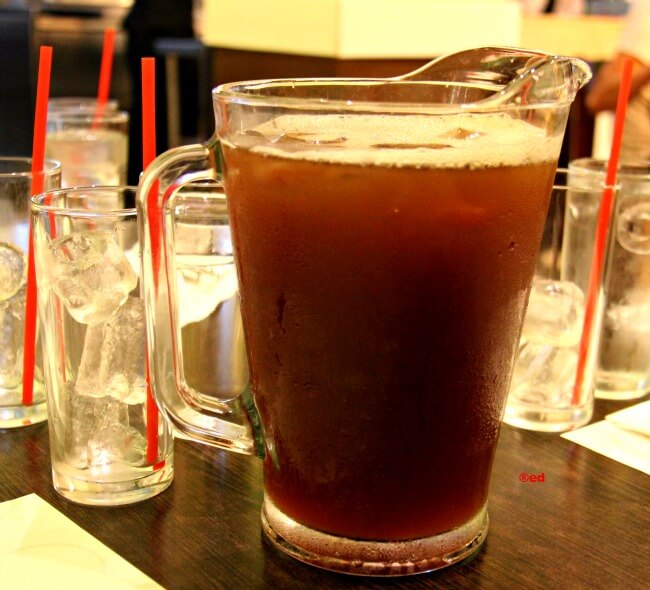 Iced Tea, Php 170.00/Pitcher
Gossip sharing was interrupted with the familiar scent of the salt in the sea from the freshly baked Pizza Napoletana, the smell awakened my Italian palate. We dug in immediately when served. I was expecting the first bang of an authentic Italian cuisine and on my first bite, I found out that the anchovies with olives and mozzarella cheese pizza was kinda salty but indeed, a remarkable Italian classic.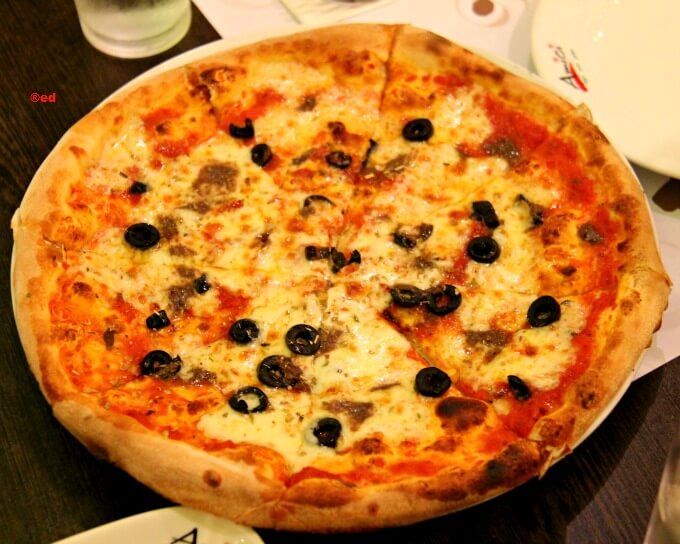 Napolitana, Php 318.00 - Anchovis and Olives
Soon enough, oil and cream based Linguine Al Prosciutto E Tartufo and Linguine Al Salmon Cremoso were served. Linguine Al Prosciutto E Tartufo is a flavorful combination of prosciutto, truffle oil, porcini, and shitake mushrooms. This dish became my utmost favorite in an instant - and is highly recommended. Linguine Al Salmon Cremoso on the other hand, is an Al dente Linguine pasta in thick cream mix with zesty salmon, and glorious white sauce. The servings were big and good for two. In the spirit of fairness among my Amici (friends), we divided the few salmon cubes into three, lol! Seriously though, I think, more salmon cubes would make this dish extra special.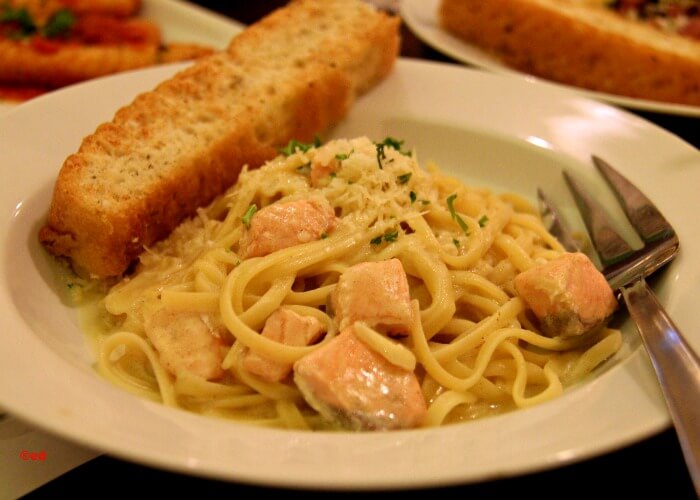 Dinning in Amici is like living la dolce vita where good food has that power. And this is as good as it gets with our beautiful desserts from the dessert and Italian gelato extension of Amici, Caramia Gelateria.
Mango Passion is made of Mango chunks mixed in gelato nestled in layers of rich shortbread pie crust and covered with luscious stripes of mango slices - a fresh and tangy take on a hot summer day while Rouge is a refreshingly fruit-bursting treat of delightful blueberry strawberry, and vanilla gelato on a crust of crushed graham recommended for a romantic Italian dinner date.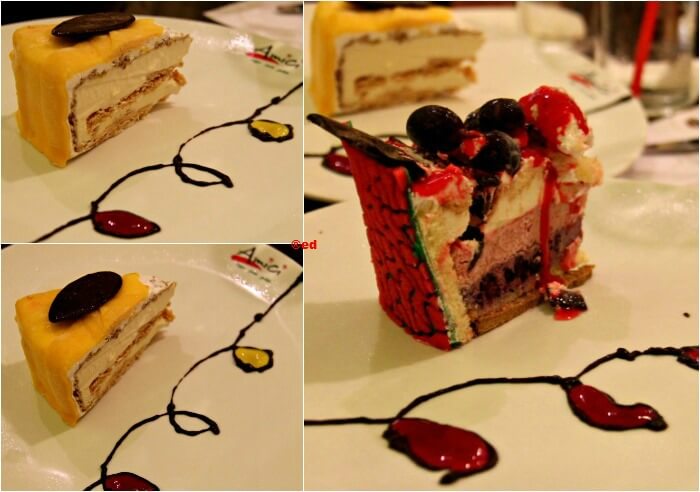 Mango Passion Php128.00 / Rouge Php 134.00
| | |
| --- | --- |
| Criteria | Score |
| Food Quality | 5 |
| Ambiance | 4 |
| Service | 4 |
| Cost/Prices | 4 |

The project's criteria are; Food Quality, Ambiance, Service, and Cost/Prices, where Five (5) indicates "Exceptional Experience", Four (4) indicates a place "worth a comeback", three (3) means "a casual place to eat", two (2) means "acceptable", and one (1)) means "poor".