There are 40 kinds of 'high-quality' toppings to cover the top of your pizza, 4 kinds of dough and 4 types of all-star sauces, thats what you'll get for just paying Php 285.00 per pie.
Hold your breath, this is not your typical Pizza night...
The new "Make your own Pizza", Mad for Pizza, is open from 10 AM until 12 Midnight, located at 2/F Il Terrazzo, Tomas Morato Avenue in Quezon City, Metro Manila.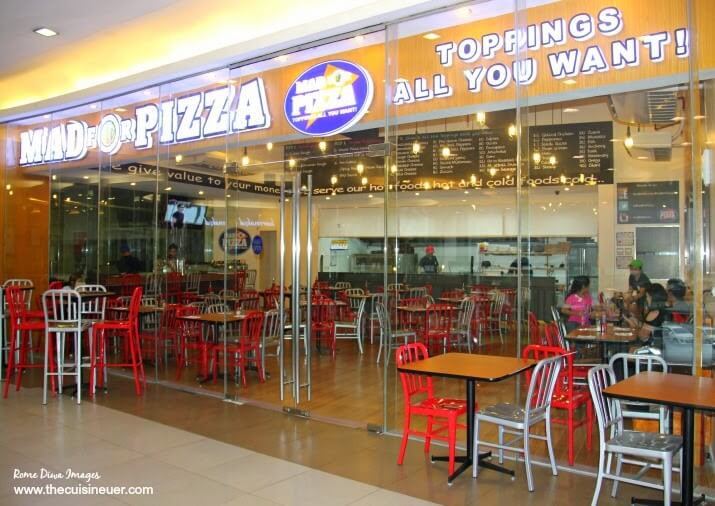 First, let me tell you about their yummy and refreshing beverages? Ugh! Those 'fashionable' drinks and coolers are to die for. You gotta try their salted caramel shake at Php 98.00.
We also had Strawberry-Mango Iced Tea (Php. 88.00), Frozen Iced Tea (Php 88.00) and Belgian beer, Hoegaarden – which is perfect for grownups who love to wash down their pizza with it. Your dad would definitely love this place, hehehe.
We started the meal with a plate of healthy House Salad (Php 158.00) - Fresh and crunchy romaine lettuce, boiled eggs, peaches and tomatoes highlighted with lightly sweet ranch-like dressing.
House Salad,
(Php 158.00)
1/2 kilo of deep-fried and hot Buffalo Wings (Php268) is a perfect partner for our customized pizzas.
Buffalo Wings (Php 268.00)
The concept behind Mad for Pizza surely has its strong points but feel to look for something more...
Apart from their "Toppings All You Want" pizza, they also serve meaty and delectable dishes , guaranteed to satisfy you and your friends who have meaty appetite.
The Amboy (Php 218) is a special Beef belly mixed with the traditional Filipino adobo sauce, spices, and herbs is where the melting taste of east and west met. I would go back for just one more mouthful of this. In fact, I'd go back for pretty much everything we ate.
Amboy Angus Beef Belly,
(Php 218)
Dish after dish was served up and devoured, as lunch flowing into the afternoon. And I slowly fell in love when another mouth-watering meaty creation was served, Tennessee Pork Ribs (Php 268) - smokey, tender, juicy, and slathered with thick and flavorful barbeque sauce. It was served with french fries and buttered corn on the side.
Tennessee Pork Spareribs,
(Php 268)
The Spaghetti Bolognese (Php 188.00) was gorgeously meaty with a chilli kick! The portions are big and good for two.
Spaghetti Bolognese, (Php 188.00)
Mmmmmmmm Pizza!
While it's virtually impossible to make the best pizza that would suits everyone's palate, Mad for Pizza managed to pull it off. Here's how they do it;
Step 1) Choose your Dough
Classic Dough
Herb Dough
Garlic Parmesan Dough
Spinach Dough
Step 2) Choose your Sauce
House Pizza Sauce
Roasted Garlic Alfredo
Fra Diablo (Spicy Tomato Cream Sauce)
BBQ Sauce
Step 3) Choose ALL the toppings that you want.
Mozarella Cheese
Parmesan Cheese
Romano Cheese
Asiago Cheese
Cream Cheese
Cheddar Cheese
Blue Cheese
Feta Cheese
Provolone Cheese
Red Bell Peppers
Green Bell Peppers
Onion
Roasted Garlic
Sliced Mushroom
Spinach
Zuccini
Capers
Olives
Pineapple
Artichoke
Corn
Oven Roasted Tomato
Meatball Crumble
Italian Sausage
Grilled Chicken
Pepperoni
Steak Slices
Pharma Ham
Ham
Bacon
Calamari
Shrimp
Clams
Mussels
Fish
Anchovy
Basil
Rosemary
Oregano
Cilantro
Our pizzas were created by The Peach Kitchen's Peanutbutter and Ykaie.
The late-lunch-early-dinner ended with splendidly sweet Banoffee Cubbler (Php 88.00). It was a great gastronomical experience once again with the Adarnes. Service was warm and assured, but soft and seamless too. There are no grating interruptions, or shameless up-selling of the beer list.
Banoffee Cubbler,
(Php 88.00)
With DIY Pizza restaurants opening here and there, hungry diners may argue about what pizza restaurant to dine in to satisfy their pizza appetite. But "Mad for Pizza" is better that the other DIY Pizza restaurant I've been to, because;
1) There's beer! Plenty of beers to choose from.
2) More dough, sauces, and wide range of ingredients.
3) There are salad, pasta, meaty dishes, appetizer and sweets.
4) Friendly and accommodating staff.
5) Spacious and well lit dining area. Plus, clean restroom.
Mad For Pizza serves food you want to eat, at prices you're happy to pay.
2nd floor Il Terrazzo Building,
Scout Madrinan St. Tomas Morato QC
(02) 351 2621
Follow them on Facebook : facebook.com/MadForPizzaPh