Little birds told me that there is new and unavoidable potato snack flourishing around the city. Something that's fun and healthy... and doesn't taste cardboard like my everyday favorite potato fries. This is something that captured my attention and finally decided to try a new way on how to keep me going throughout the day.
So, what is trending among foodies in Manila?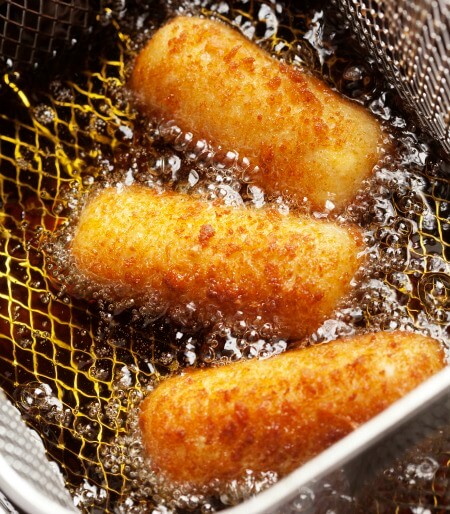 Introducing Kroketten, Netherland's favorite snack as the Dutch word means a little, round ball."Kroketten is one of the best ways to enjoy potato—crunchy, filled with cheese and meat, while they're deep fried in a healthy corn oil. For only P35 per order, Kroketten offers three varieties: Original Kroket, the original oblong shape with ground beef, chicken, and cheese; Kroketballen, by far Filipinos' most favorite and has three pieces of crunchy potato balls which come with dips.
Revealed: miniballen, the bite sized potato balls considered best for sharing. If you plan to tweak your group's usual snack gathering at your place, Kroketten's potato balls are worth serving. These perfectly composed and polished potato balls are also considered a masterpiece without the guilt. The taste is impressive since it offers a snacking experience that is never boring. Since the product can last days if stored properly and has the same great taste when properly reheated, Kroketten is an absolutely healthy snack that will satisfy your guests whether for private gathering or a party! With miniballen's assorted flavors, it's no surprise that this type is deemed the most popular. From cheese, chicken, beef, bacon, hotdog, longganisa, pork adobo, mango, and tuyo flakes, all flavors offer an exciting taste with a Filipino twist, especially when paired with the tasty dips. Five pieces mini ballen P20 and the four pieces mini ballen with the 6.5 oz revitalize 10 or Nutri 10 fresh fruit drink is just P35
Speaking of fresh fruit drink, it's also amazing to know that these delicious balls are best paired with invigorating fresh fruit juices one can ever imagine! And why not? They're made of the purest and natural fruit juice minus the white sugar, branded exclusively by Vers En Snel by Kroketten. A Dutch word means fresh and fast, it has two signature thirst quenchers. One is a certified health booster made of mango and guyabano, the Nutri 10 while the other one is made of succulent combo of strawberry and passion fruit called Revita 10. "Since these drinks have no preservative, our health buff habitués can't surely get enough of it! If one needs an immediate vitamin boost, we recommend the Nutri 10. But if you're feeling tired and heavy, our Revita 10 gives an instant uplift. "And because of the ever growing demand for this product, we're also working on bottling these drinks soon so anyone can take with them this healthy beverage", says Kroketten president/owner Maribel Bosch.
Confident about the potential of the product, the company is also open for franchise for a very affordable total investment of P195, 00 (vat exclusive). To date, it operates in twelve malls with Mall of Asia in Pasay coming up very soon. Ultimately, the brand's international flavor in design with a unique Filipino appeal will surely make history for being the first healthy Dutch potato snack to expand in the country.