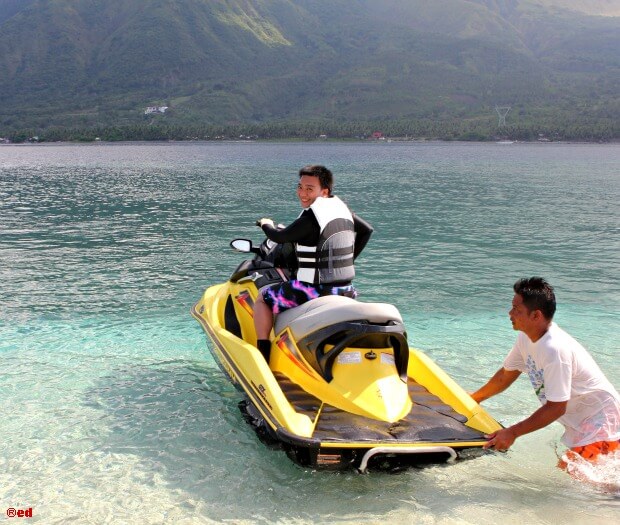 Their last day in Bellarocca was full of adrenaline-fuelled fun as they took water sports activities available on the island. The windsurfing was all fun and fear-defying activy but tiring. They rest and took photos for a while on the Bellaroccan seaside.
"Let's go for a spin!", Rome exclaimed after a few moments of boredom. The rest of the group hesitated at first. Anney for one, was afraid of waters and they thought Ykaie won't be allowed to ride on the watercraft, PLUS the price of jet ski ride was kinda expensive, around Php 2500 for just 15 minutes!!! But he was very persistent to ride on the water bike. He tempted all of them to ride on the marine vehicle regardless of the fact that they would exceed to their Php 20,000 welcome value credit, they agreed to cover the excess evenly. *end of discussion*
Their instructor taught and demonstrated them the basic controls - it's like plug and play, very easy. Fearless Rome in his black rash guard, board shorts and life vest looked like a seasoned pro as he jetted around. Fact is, it was his first chance to play that extreme water action. Just to have a photo opp riding on a jet ski, Anney conquered her fears and rode with Rome. Rome in controls, Anney held on tight and looked delighted as they zoomed around on Bellaroccan waters but when Rome steered the high speed craft up, she screamed like there was no tomorrow.
The Adarnes had their chance of riding the water bike, Ykaie was so giggly while her dad maneuver the jet ski smoothly. They rest of the 15 minute session was consumed by Rome. He tested his skills and tried some tricks as he revved the jet ski. He fell in love with the activity, jet skiing is absolutely brilliant and highly satisfactory water sport. He enjoyed even the last few seconds cruising the Bellarocan sea. It was indeed, another perfect day full of sun and fun!