Its been raining non-stop for five days, do you miss the sunny days?

Geez, me too. I hate the flood all over the metro.

Lets feel the summer one more time with this treat from The Maya Kitchen.

This fruity dessert will add a summery touch to any dining table,

A tempting dessert to satisfy even the sweetest tooth.

This Chef Hasset's Banana Jubilee Crepe is a delicious dessert and would be lovely with a cup of coffee when friends drop by.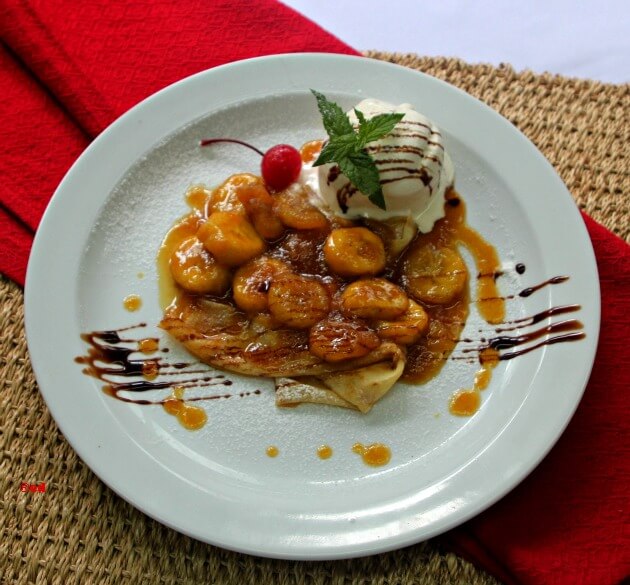 For the Crepe
1 cup MAYA All Purpose Flour
Pinch of salt
1/8 cup sugar
2 cups fresh milk
2 tablespoons butter, melted
4 pieces eggs, beaten
For the Banana Jubilee Crepe:
1 cup sugar
½ cup butter
½ cup cream
1 piece fresh orange juice
1 tablespoon orange zest
10 pieces bananas (lakatan)
Pinch of salt
Garnish:
Vanilla ice cream
Chocolate sauce
Mint leaves
Procedure:
• Crepe: In a bowl, combine flour, salt and sugar. Make a well, add milk, butter and beaten eggs. Whisk/stir well until well combined and no marks of lumps. Set aside.
• Cook crepe.
• Banana Jubilee: Caramelize sugar in a non-stick and heavy bottom sauce pan until brown in color. Add butter and cream. Add orange juice and zest. Add sliced bananas. Add pinch of salt. Cool and set aside.
• Assemble: Fold crepe in two. Spread the banana jubilee on top.
• Top crepe w/ scoop of ice cream, drizzle with chocolate and garnish with mint leaves.