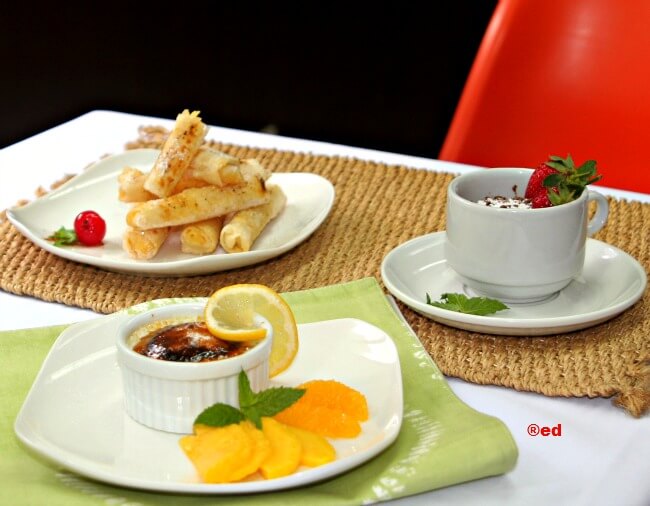 I am hoping that you are not on a diet.
You gotta kill me for this post and the upcoming six posts this week.
It's all about fattening desserts that we all love.
Since it is rare to share my own recipes,
I'll share chef Hasset's unique and affordable dessert recipes.
From Chef Hasset's quick and remarkably easy 15 minute energy mug cake
to utterly delicious Pandan - White Chocolate Mango cake,
that all looks spectacular, and incredibly delicious,
would definitely satisfy your cravings,
Only if you made one.
Brace yourselves for the sweetest recipes, coming up.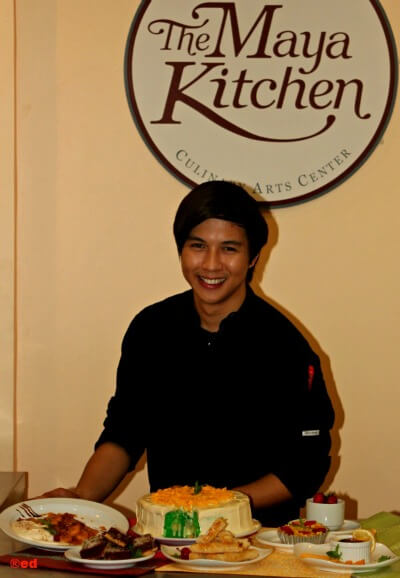 The recipes were from Chef Hasset and brought to us by The Maya Kitchen when they held a cooking demo "Desserts to go" last month. This month's cooking session is "Authentic Thai Flavors". Chef Tum Supawade Lungtip of Jatujak Thai Restaurant will share the secrets of this fabled cuisine on August 4, Saturday, 9am to 1pm at The Maya Kitchen.

Other classes for the month of August include Lifestyle Courses: Kiddie Workshop, August 11, 18 and 25, Saturday, 8:30-10:30am, Day 1 cookies and cupcakes, Day 2 . salad and pizza, Day 3 chicken and pasta meals. European Breads, August 25, Saturday, 10am-3pm. Kakanin, August 25, Saturday, 1-5pm. Baking with Maya Mixes, September 1, Saturday, 1-5pm.

Certificate Courses with Hands On: Fundamentals of Bakery Production, August 1-4 and 22-25, Wed-Sat; August 11, 18, 25, and September 1, Saturday, 10am-3pm. Cake Decorating (Basics and Advanced) August 9-11, Thursday-Saturday, 10am-4pm; Catering, August 9-11 Thursday-Saturday, 10am-4pm and Advanced Culinary, August 28-31, Tuesday-Friday, 9am-3pm.

TESDA Registered Program (pre-registration required), Commercial Cooking NCII, 400 hours lecture-demo workshop with on-the-job training, starts on August 14, 9am-3pm.

For more information, log on to www.themayakitchen.com or e-mailcontactus@themayakitchen.com or visit The Maya Kitchen Culinary Center every Tuesday to Saturday at 8F Liberty Building, 835 A. Arnaiz Avenue (Pasay Road), Makati City or call 8921185 / 892-5011 local 108.