This is a Sponsored post written by me on behalf of Scotts® for SocialSpark. All opinions are 100% mine.
The colorful spring and bright summer days are my favorite seasons of the year and are just around the corner. This is the most exciting times that brings flash back to my memory of good times during my college days, living in the countryside with my parents.
Back in my province where my parents still chose to stay in our old provincial house, the balcony over our front lawn was my favorite spot while cooling off with home-made iced tea or lemonade. From the balcony, I would always adore our green, manicured lawn that's surrounded by a tapestry of star apple, mango, citrus trees and adorned with different kinds of tropical orchids that my mother used to collect. Ahh, memories of laid back times that I longed to experience again.
The last time I went home, I noticed that my oldies had forgotten to take care of the lawn. The lawn's gone brown - it's full of mole-hills! Maybe because they are kinda old and have other priorities that I understand.
If time and work permit, I'm going home this summer and I planned to revive the green grass at home. So, I started looking for some ideal lawns and gathered some gardening techniques online. The lawn in the park near my office where I eat my lunch everyday captured my heart. This would be my model lawn when I get back in the province....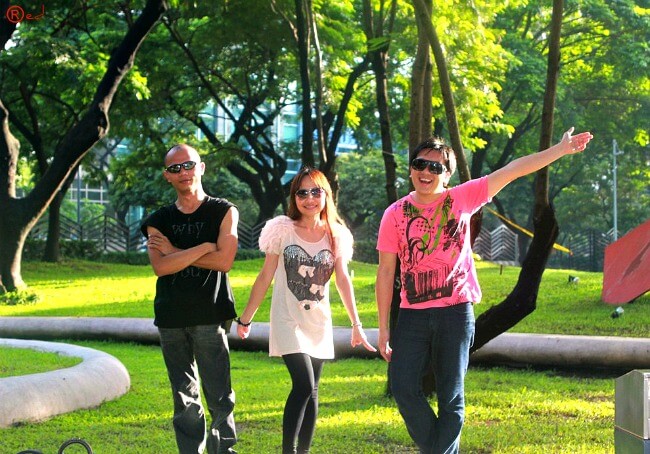 I approached the gardener/caretaker one afternoon and asked him some tips on how he take care of the grass. He gladly demonstrated using Scotts® Snap® Spreader System I was fascinated with how easy it was! The Snap Pac connects directly to the Snap Spreader – no cutting, no opening and no pouring from heavy bags – no spilling or waste! The system auto-sets the proper flow rate. No Spreader settings required! It also has a unique EdgeGuard feature that keeps product where you want it…. on the lawn! When he was done, the Snap Pac self-seals upon removal making it easy to store – No more half empty bags on the garage floor. Its a no mess, no guess spreader system I would say.
"Your Grass is Alive…and the single most important thing you can do for it is feed it", he mentioned. And Now its easier to do so with Scotts® Snap® Spreader System! I thanked him and now I know how to get a beautiful lawn without the mess and guesswork. All we have to do is just Snap, Lock and Go! Get a great lawn in a ---- Snap®!
Let me share to you some more good news, Go on and "like" the page Scotts Snap perks on Facebook for the chance to win amazing prizes! The Scotts® Snap PERKS Program begins March 7, 2012.