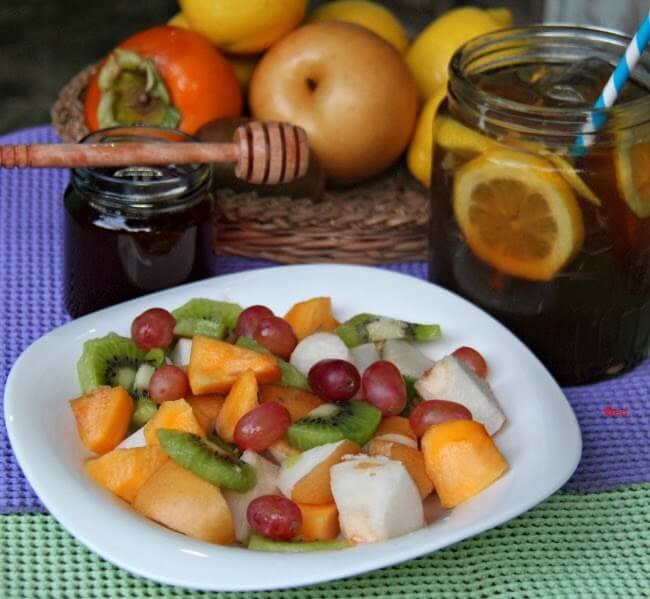 LISTEN!
Before you dig into the holiday dishes made of that sugary, fattening and artificial cream, keep in mind that the next season is summer. You gotta have a killer body by the next three months or you gotta regret and blame eating that unlimited, frozen and creamy fruit salad when summer comes.
Minimize your gluten, sugar and carbs intake tonight as much as you can. If you are panicking about cooking Christmas dinner or have no time to cook and prepare festive dinner for your family, you can order healthy food online.
Here's my healthy idea on how to make light and healthy fruit salad for tonight's noche buena and upcoming media noche. DO NOT use canned fruits if at all possible, you can use any fresh fruits that you have. This Au Naturel fruit salad is good for 2 - 3 servings. Below are some tips and tricks on how to make a polished fruit salad.
Ingredients:
1 persimmon
1 sugar pear
1 kiwi
1/4 kilo seedless grapes
Juice of ½ lemon
2 tbsp honey
Optional: fresh mint leaves or coriander leaves
Prepare the fruits:
Wash the fruits under cool running water and dry.
Peel the persimmons and cut into bite size.
Cut sugar pear in half lengthwise and remove the core before cutting it into slices. Its up to you if you want the persimmon and pear peeled.
Peel and cut the Kiwi. The best way to peel the Kiwi is to peel it round the middle instead of peeling it from top to bottom or you'll end up with slices that look like 50p pieces.
Combine all fruits. Toss in lemon juice to stop any of the fruits from browning.
Arrange the fruits attractively on a large platter and drizzle the honey over them.
Cover the platter with foil and chill for 30 minutes before serving.
(0ptional) Add fresh mint leaves or coriander leaves to serve.
More Tips:
If you are going to use mango, here's a cutting tip: cut the two plump halves away from the stone, score a criss-cross pattern on the flesh of each half, turn the halves inside-out to separate the chunks, and slice away the flesh.
For Oranges, segment oranges rather than slicing. Using a small, serrated fruit knife, cut the top and bottom off, then cut from top to bottom, removing the peel and pith, keeping the shape as round as possible. Then remove each segment by gently slicing between the flesh and membrane.