Whew! that was a long pause. Again.
Do you missed me?
I do missed you all!
Now that the holidays is over,
the gaps between work and other activities are long...and boring.
I was spending too much time counting our state-of-the-art office chairs, lol.
So I decided to go back in updating my blogs.
While every blogger started their posts with their respective goals for this year,
I'm going to skip it.
I've tried that last year but I did not succeed.
My priorities changed throught the year.
Might as well, let life surprise me everyday.
The above statement is a lie,
Honestly, I have limited goals this year.
But I wont share it to y'all,
Sharing goals to the world wide web might ruin it, someone said.
One thing is definite though,
I WILL START COOKING AGAIN.
Cross my heart.
Well, before cooking demos begin,
I'm going to share to you some of memorable experiences I had last holiday season when I've visited several restaurants in the Metro.
You know, 'twas the season for reunions, thanksgiving and parties.
Here, let me introduce to you to Chef d' Angelo....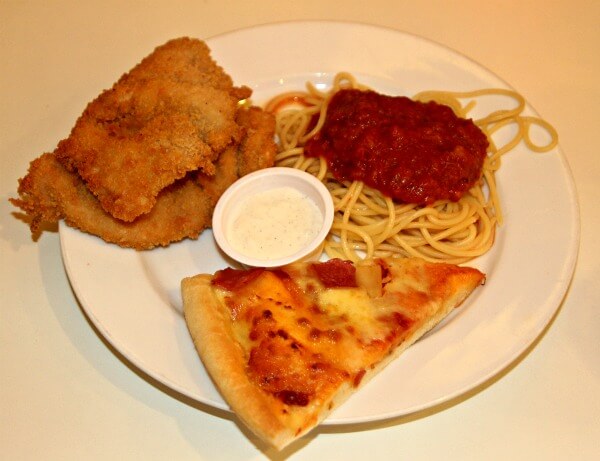 Chef Sampler, Php 148.00
Chef d' Angelo is located on the 3rd Level, Glorietta 5, Ayala Center in Makati City.
Because of the restaurant's proximity to our office,
"The Canadians" chose Chef d' Angelo days ahead to celebrate the year-end.
Amidst the holiday rush, we've decided to meet up at the restaurant before heading to work.
I heard about their Eat-All-You-Can Promo, we were very excited.
We came in late because of the heavy traffic that day.
The promo ended at 8 PM, we weren't able to catch it.
Nope, they didn't accept our reservation for 10 people, couple of days prior.
On what reason? Unreasonable! forget it.
Chef Sampler 1, Php 148.00
We ended up with the a la carte of our choice.
Nath and Ert ordered Chef Sampler 1, it includes; One piece of Big Bird Fried Chicken served with Country Gravy, choice of Spaghetti or Caesar's Salad and a slice of Sweet Parky Pizza.
Nothing extraordinary with their Fried Chicken nor their pizza. Sorry, but I am a Pizza Hut baby.
Gemma, Ryan and Lenard, had the same combination except Fried Chicken, they chose Fish Fillet.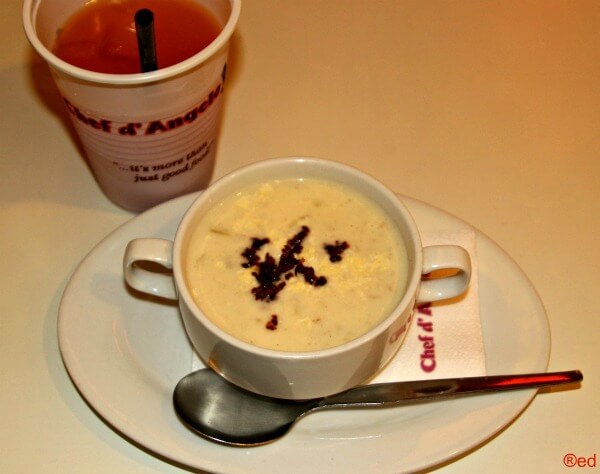 Bacon Potato Cheese Chowder, Php 55.00
On that same day, our account will be having Christmas Party on the floor.
I need to save some space in my stomach, I thought.
I just ordered Bacon Potato Cheese Chowder, a Chef d' Angelo specialty, rich, hearty potato soup topped with cheddar cheese and toasted bacon bits.
It was creamy, thick, tasty, and hot.
I was in love...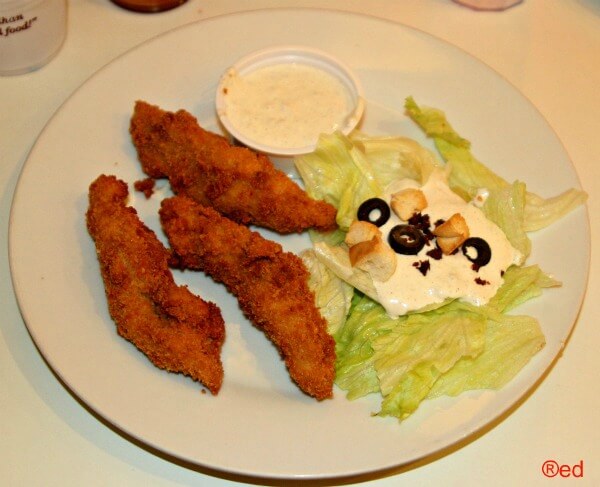 Fish 'N' Chips, Php 170 Chicken Fingers Salad, Php 140.00
Just when I was about to finish the soup,
I was hungry for more.
I decided to order another dish, Fish 'N' Chips,
I paid PhP 170.00 to the fast food style counter.
That soup was a real appetizer bitch, lol!
A tired crew in the counter told me that they ran out of chips and will replace it with French Fries if that would be okay with me.
"Fine".
The day was almost ended, I figured.
To my dismay, after 15 minutes of waiting, they served Chicken Fingers and Ceasar Salad,
which, by the way only cost Php 140.00
I just shrugged my shoulders. I was not in the mood to complain besides it was Christmas season.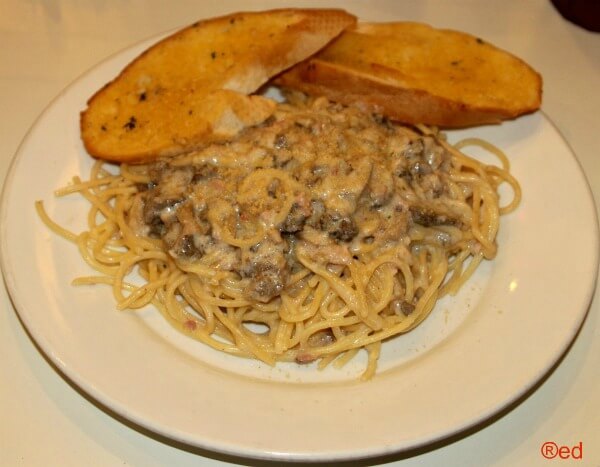 Spaghetti Carbonara, Php 160.00
Rush tried their cream based pasta. She chose Spaghetti Carbonara.
I guess, she was satisfied with it's generous serving of Spaghetti noodles, topped with diced bacon, strips of ham, petite peas, in a parmesan flavored cream sauce.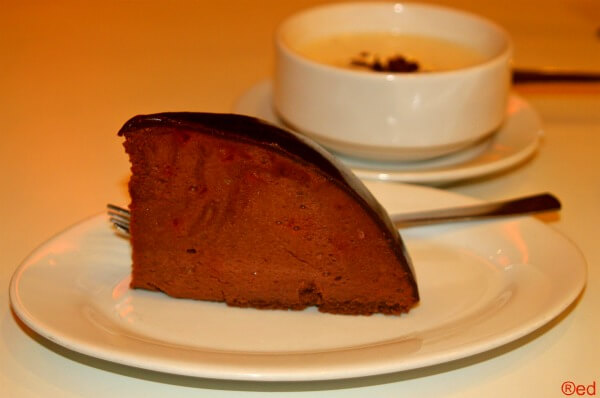 Choco Dome Cake, Php 85.00
Nathalie also ordered Choco Dome Cake for dessert,
This Chocolate fudge cake and moist chocolate sponge filled with cherry compote was superb!
Highly recommended!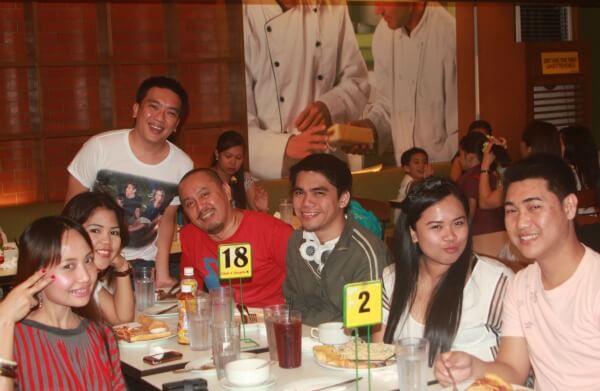 "The Canadians" L-R Nath, Gemma, Rome, Ert, Lenard, Rush, and Ryan. John and TJ were absent.
We exchanged gifts after dinner. We had a lot of fun!