Press Release:
Spain has always been known as an incredible tourist spot. All over the country there are a large number of events that draw tens of thousands of people annually to witness the culture, modern nightlife, and age old traditions of the Spanish. However, there is one celebration that is renowned above all others: San Fermin. San Fermin is a festival that is held each year in Pamplona, a small city in Navarre. Beginning on the 6th of July, the afternoon Opening Ceremony draws a huge crowd around Town Hall, where the Pamplona party kicks off with the firing of a small rocket, then leads into a huge celebration with live music, champagne, and plenty of dancing. But that is only the first day of the festival, and from then until the Closing Ceremony (14th July) there are a number of activities and events to enjoy. The most well known and exciting events of the San Fermin festival is the Bull Run. This is a daily spectacle, and every morning a collection of bulls are run through the streets to the local arena, but the real excitement of this morning stampede comes from the many people who choose to run alongside them.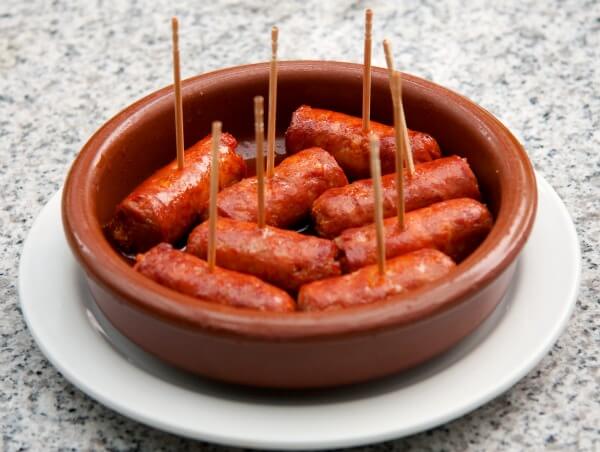 Here in the Philippines, Gaudi Restaurants brings San Fermin in Manila with a twist. They won't have any opening ceremony around the town hall and definitely no bulls to run with, but a huge evening celebration of wine buffet paired with tapas , dancing and a lot of free items. Just come-in-your-white to Tapella or Gaudi on July 15 and you will be treated right with a free glass of wine, free chistorra sausage and a free redkerchief too!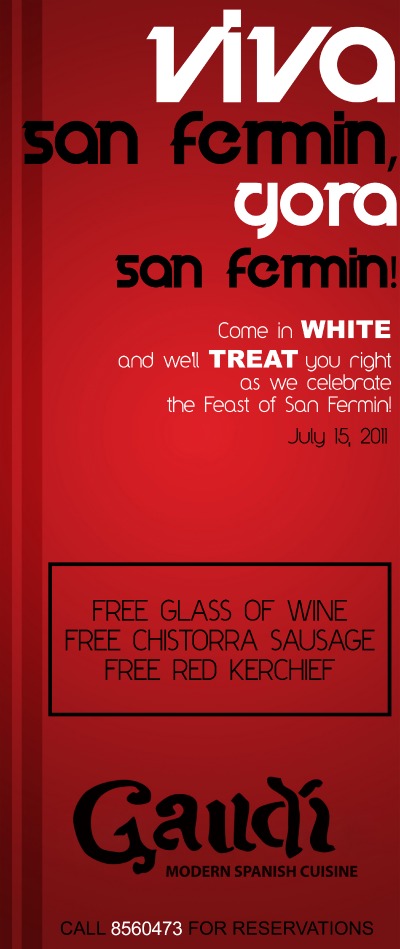 "The feast of San Fermin is very well known not only in Spain but in the whole world. It's a tradition that all the participants had wear traditional white pants and shirts with a red neckerchief tied at the front that's why we would like to invite our guest to come in white on this day to feel the celebration and we are giving away glass of wine and sausage", said Executive Chef- Alexandra Cacho.
Head to Gaudi Restaurants for the San Fermin festival, and have the time of your life at one of the world's most famous celebrations. Gaudi is located at Ground Floor of Serendra while Tapella is at Ground Level of Greenbelt 5, both restaurants are ipen daily from 11am to 1am. For more information or reservations, call 8560473 or 7572710.