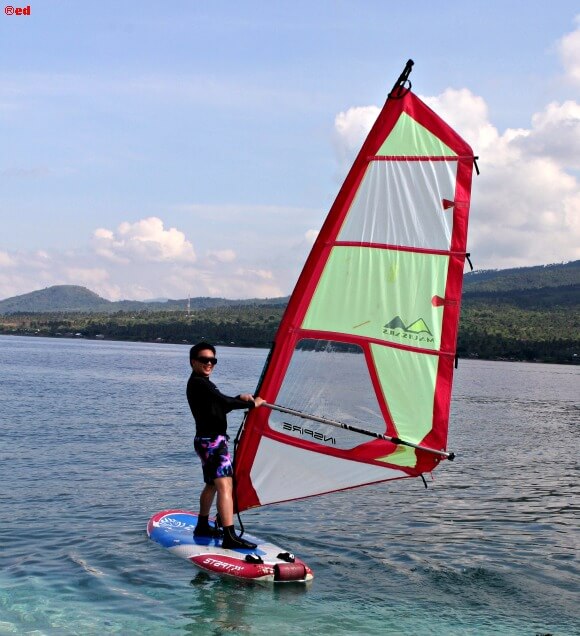 What they did in Bellarocca was not just kayaking. On their third day, they headed straight off to the shore after breakfast to experience more thrill and action in the warm Bellarocan waters. They've decided to try windsurfing and jet-skiing to spend the rest of the Php 20,000.00 welcome value credit from the package they've availed.
Although Rome tried surfing in Baler last November, it was his first taste of windsurfing. Their patient and enthusiastic instructor taught and demonstrated them the basics – how the wind works the sail, how to stand, steer and turn the sailboard. For Rome, it was all sounded simple when explained.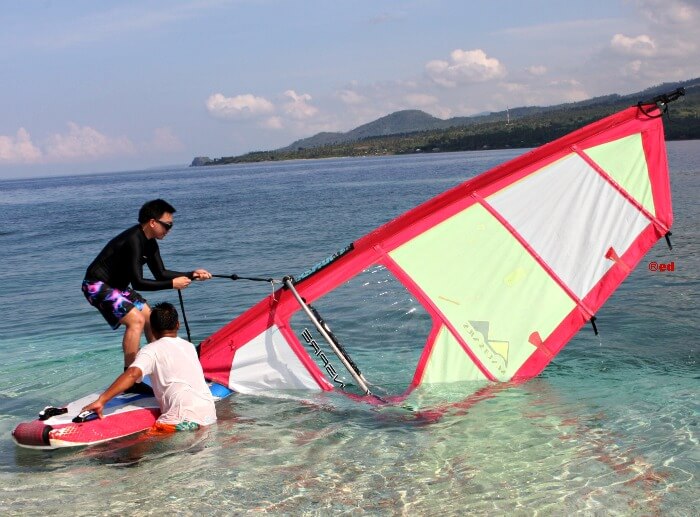 The moment of truth came, he slides his feet on the board against the mast and one towards the rear. He placed his both hands onto the boom, his left, next to the mast and will be used for steering, while his right was positioned halfway along the sail to control the wind acting as an accelerator, employing his shoulders, forearms and lower back to control the force of the sail. He bent his legs, and signaled the instructor to release the board onto the crystal clear sea.
He struggled at first to remember which hand to use and which leg to keep straight. After a few painless falls he soon began to get the hang of it, managed to stand on the board and he began to really enjoy himself.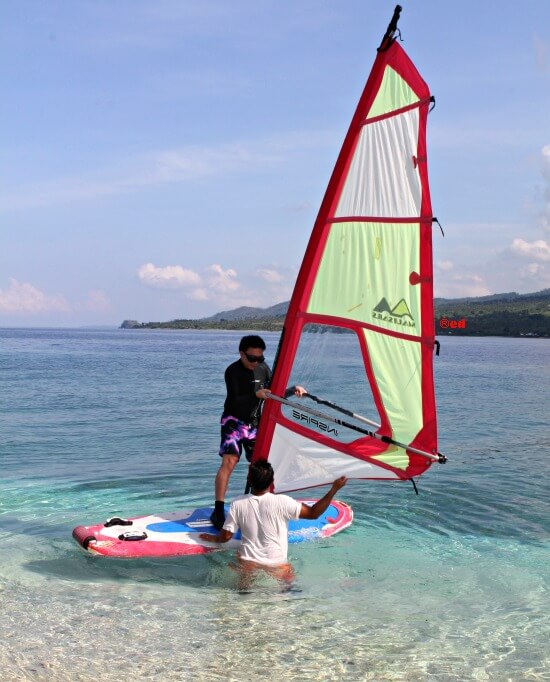 A strong wind blew and forced him at top speed to the deep end of the water. He started to panic when he can't maneuver the sailboat to turn around. He tried different maneuvering, pushing his hips in and lean backwards, using his weight to get the board up on its edges and pushed to do a return to no avail. His instructor shouted at him to change the position of his feet if he wanted to return and he obeyed. Thankfully, he managed to shift the direction of the boat back to shore. Once again, he headed across Bellarocca bay beneath a sail full of wind blowing against his face.

His windsurfing experience was elemental: feeling the monstrous and warm Pacific wind while managing to keep him standing and sailing. He felt proud of himself and sailed one more round. For him, windsurfing is more fun than surfing.