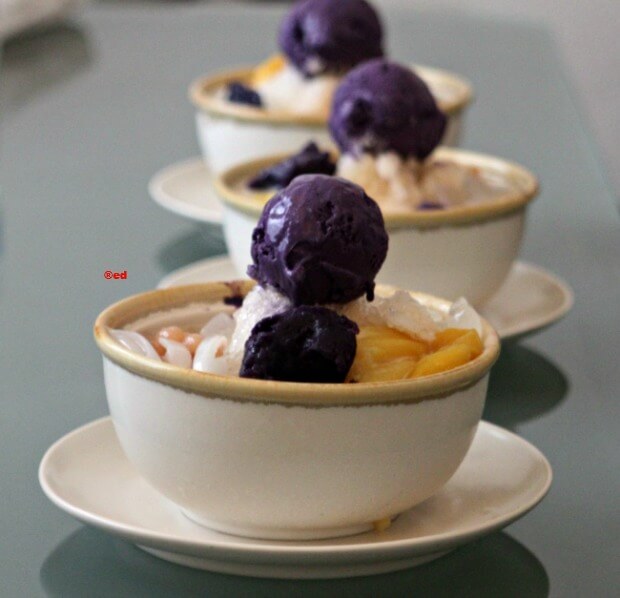 Halo Halo, Php 185.00 ++
"Is it the cleverest idea to post summer treats during rainy season?", I heared you asking.
Because I felt you, like me, you missed hot weather too ...and the snacks our favorite season brings.
In between meals, Meryenda is what we call snack/s here in the Philippines. A small or light meal to fill the gaps between breakfast, lunch and dinner. Another legacy from Spanish colonization, the word itself was adapted from Spanish word, Merienda. We have a wide array of snacks from savory to sweet, hot to cold. Among the local snacks, Arroz Caldo, Banana Spring Rolls, Mais con Heilo, Bananaque, Champurrado, Ginataang Halo-halo, Pancit, and Rice Cakes are my favorites and are among the popular snacks here in my homeland.
A refreshing snack during summer, Halo-halo is the most popular one. Ingredients includes but not limited to; sweetened kidney beans, nata de coco (coconut gelatin), kaong (sweet palm fruit), sago (pearls similar to boba), coconut sport (macapuno), chickpeas, plantains caramelized in sugar, gulaman, tapioca, and nata de coco placed inside the tall container or bowl, followed by the shaved ice then sprinkled with pinipig ( pounded crushed young rice ) and topped with either (or a combination of) leche flan, purple yam (ubeng pula), or ice cream.